Patrick Macnee: Avengers star whose career was dominated by his suave portrayal of the dapper, bowler-hatted John Steed
Macnee, like his close friend Roger Moore, was always self-deprecating about his qualities as an actor
Robert Sellers
,
Pierre Perrone
Friday 26 June 2015 21:59 Comments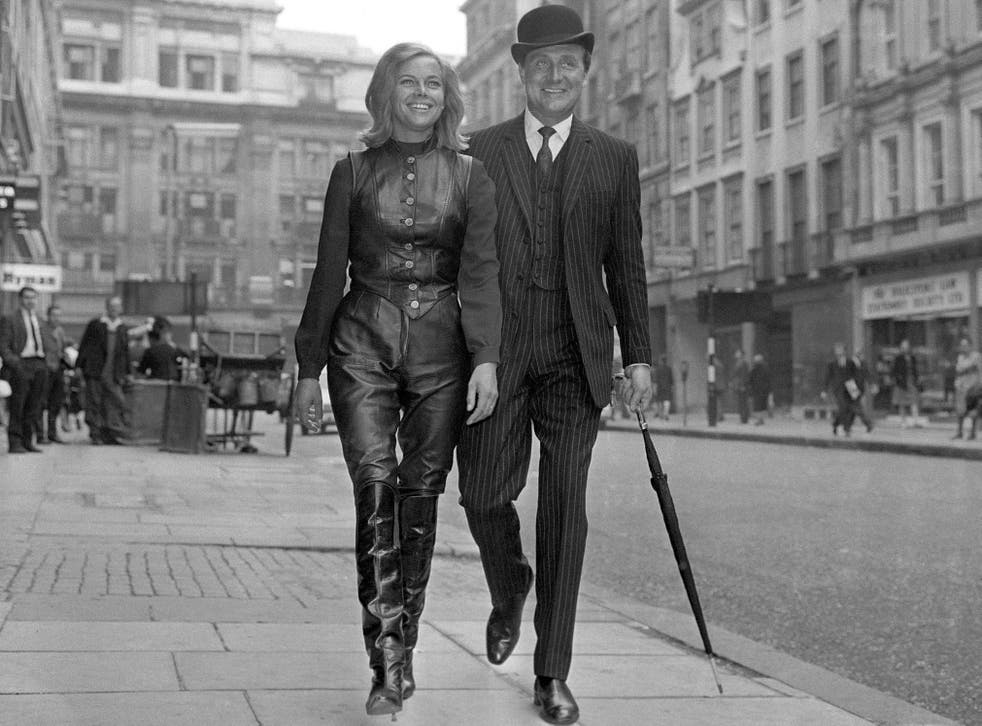 With his trademark bowler hat, umbrella and carnation John Steed is one of the most instantly recognisable characters in television history. For the man who played him, Patrick Macnee, it was an image he was never to truly shake off. Not that he particularly wanted to. Patrick Macnee waltzed through life only too happy to be associated and constantly reminded of his time on The Avengers.
"I take great pride," he once said, "in recalling that I could open in a play on Broadway or in London's West End and fill a theatre on the strength of my name – Steed's name." His cult image as John Steed was still as fresh as ever 30 years later when he appeared, twirling an umbrella in a Steed-esque manner, in a video for the rock group Oasis.
John Steed was the gentleman's 007, Bond with a bit of extra breeding – a part Macnee was literally born to play, raised as he was in an aristocratic English family. His father was a successful racehorse trainer, his mother a niece of the Earl of Huntingdon (putative descendants of Robin Hood). Alas, his father drank and gambled the family's money away, and when he ran off to India, ingratiating himself with the British Raj, young Patrick was left in the care of his mother and her lesbian lover, whom he subsequently referred to as "uncle" Evelyn.
Macnee's education followed the familiar course for a boy of his class: boarding school from the age of five, where he played a policeman in the school panto, his first stage experience, followed by prep school and Eton, where he took an active role in the school's dramatic society. Unfortunately he was rather too active in other areas, like a gambling ring and the selling of erotic photographs to fellow pupils. In his final year his shadowy shenanigans were uncovered and he was politely asked to leave.
By now Macnee's father had returned from India in disgrace after urinating on a party of dignitaries at a race meeting. Concerned about his son's future, he thought he might make a good jockey, until he grew too big. His mother favoured something in the diplomatic corps. But Macnee had already decided on a theatrical career and enrolled at the Webber Douglas Drama School in London.


There he met and later married fellow student Barbara Douglas. After a stretch in local rep Macnee got his first real start in the business with a walk-on role in a 1941 stage production of Little Women. He made his film debut a year later as an extra in the Powell and Pressburger classic The Life and Death of Colonel Blimp.
At the point of landing his first West End starring role Macnee's call-up papers arrived and he entered the Navy as an ordinary seaman. He soon rose to the ranks of the officer class and served with distinction in the English Channel protecting allied shipping from German attack. Struck down once with bronchitis and ordered to hospital, Macnee heard the following day that his boat had been sunk the previous night. The deep sense of shame at not being there with his crew was something that never left him.
After the war Macnee attempted to resume his career; his first audition after demob was for John Gielgud, along with another young hopeful, Alec Guinness. Stage roles and small film parts, notably alongside Olivier in Hamlet, did begin to trickle in but there were also deep troughs, and though he tried convincing himself that one day his big break would arrive there were periods of doubt and depression, and more than once he considered quitting the profession altogether.


Indeed Macnee, like his close friend Roger Moore, was always self-deprecating about his qualities as an actor. He even confessed to feeling inferior alongside Diana Rigg in The Avengers, as she had come to the show with a reputation from the RSC. Another factor, he felt, was that he was brought up to feel inferior. "But that's quite good for an actor, because you strive even harder."
Eventually tired of haphazard theatrical employment, Macnee, on the advice of a colleague, left for Canada, where he was promised lucrative work with the new Canadian Broadcasting Corporation. Leaving his wife and two children behind, Macnee arrived in Toronto with £10 in his pocket. Over the next few years he commuted between Canada, Britain and the US, appearing in more than 30 television plays, most of them going out live, and more than a dozen films, including The Battle of the River Plate (1956). But all this commuting put a huge strain on an already faltering marriage that finally ended in divorce in 1956.
After being asked to help produce a television film about Winston Churchill, The Valiant Years, Macnee's resolve to quit acting hardened. Had the time come to pursue a more steady job, perhaps behind the camera? Then he was invited to dinner by an old producing friend from his Canadian days, Leonard White, and asked to join Ian Hendry in a new thriller series entitled The Avengers. When Hendry left to pursue a cinema career Macnee's John Steed character took centre stage and things really hit their stride with the introduction of the leather-clad Honor Blackman as Cathy Gale.
She was followed in turn by Diana Rigg and Linda Thorson. A huge cult hit, The Avengers ran from 1960 to 1969 and was shown in more than 70 countries. Macnee became a huge international star, but it was only in retrospect that he realised that the show had been his finest hour. He had considered the show merely a stepping stone to even bigger successes – successes that, sadly, were never really to come.
The show also brought romance back into Macnee's life. The actress Catherine Woodville had appeared in an early episode and the two married in 1965, though it barely lasted four years and Macnee vowed never to marry again. One woman changed all that, Baba Sekely, "The first woman I have ever allowed myself to love," Macnee said. So at 66 Macnee married for the third and final time in Palm Springs, which had been his home since 1969.
He certainly enjoyed a fruitful post-Avengers career, appearing in numerous films and TV shows ranging from Battlestar Galactica to A View to a Kill (1985) opposite Roger Moore's 007. He also returned to the theatre, notably in a production of the classic whodunit Sleuth, which played for 16 months on Broadway.
But never again would he reach the dizzying heights of popularity he had enjoyed as John Steed. Even when the show was resurrected in 1976 (famously with Joanna Lumley as Purdey) the magic was never quite the same. Bumping into Peter O'Toole in a hotel elevator once in Toronto Macnee was asked what he was up to. "Oh, I'm doing The Avengers." To which O'Toole replied. "But Patrick, you're always doing The Avengers!"
***
John Steed proved a defining influence on thousands of baby boomer Anglophiles, like myself in France. Indeed, along with Roger Moore's suave turn in The Saint and Patrick McGoohan's eerie, claustrophobic creation The Prisoner, The Avengers arguably played as big a part as the Beatles, the Rolling Stones, the Kinks and the Who in spreading the gospel of Swinging London and making us all want to work twice as hard to learn English at school.
The popularity of The Avengers in France, where it was called Chapeau Melon Et Bottes De Cuir ("Bowler Hat and Leather Boots"), and across much of continental Europe, eventually exceeded its standing in the UK, with every incarnation attracting bigger audiences. The cult grew with repeats through the early-to- mid-'70s until a Laurent-Perrier champagne commercial featuring Macnee and Linda Thorson – Tara King, Steed's third female sidekick in the original series – proved such a hit on French TV that a French production company provided the impetus for a revival of the franchise as The New Avengers in 1976.
When he published his autobiography, Blind In One Ear, in 1992, I finally had the opportunity to interview Macnee in London. He couldn't have been more gracious or generous with his time or delighted to meet someone whose life and destiny he had so obviously helped shape. He was critical of The New Avengers and its hodge-podge of French, Canadian and UK storylines and locations, and stressed that it had been the launch pad for The Professionals – Lewis Collins and Martin Shaw had tangled with Joanna Lumley (Purdey), and Gareth Hunt (Gambit), in a 1977 New Avengers episode entitled "Obsession".
However, when reflecting on The Avengers, as well as stressing the ground-breaking nature of the powerful female leads, as played by Honor Blackman and Diana Rigg, a development he had very much welcomed, he was magnanimous in his praise for the "big star turns" such as Fenella Fielding, Wanda Ventham, Michael Gough, Roy Kinnear, Warren Mitchell, Peter Wyngarde, Ron Moody, Christopher Lee, Peter Cushing and Stratford Johns, who portrayed baddies, crackpots and eccentrics while he had simply held firm and steady in the centre amid the nuttiness.
Macnee also enjoyed cameos in pop videos for the Pretenders and Oasis and created Sir Denis Eton-Hogg, the very British but not very humble record company boss in the mockumentary This Is Spinal Tap. When I asked him about recording the novelty hit "Kinky Boots" with Blackman, first issued in 1964, re-released in 1983 and a Top 3 single in 1990, he told me he had no musical ability whatsoever and that the musical director Mike Leander simply tapped him on the shoulder when his turn came, hence the rather staccato, stuttered performance.
However, when I suggested that he record some jingles for Chapeau Melon Et Canotier – Bowler Hat and Straw Hat – a music show I presented for the World Service, he was word perfect, happy to say "Chapeau Melon" in his rich voice. Hats off indeed!
Daniel Patrick Macnee, actor: born London 6 February 1922; married 1942 Barbara Douglas (divorced 1956; two children), 1965 Catherine Woodville (divorced 1969), 1988 Baba Sekely (died 2007); died Rancho Mirage, California 25 June 2015.
Register for free to continue reading
Registration is a free and easy way to support our truly independent journalism
By registering, you will also enjoy limited access to Premium articles, exclusive newsletters, commenting, and virtual events with our leading journalists
Already have an account? sign in
Join our new commenting forum
Join thought-provoking conversations, follow other Independent readers and see their replies