Paul Walker obituary: Co-star of the 'Fast & Furious' franchise which turned the world of illegal car racing into a huge box-office success
Chris Maume
Tuesday 03 December 2013 01:00 Comments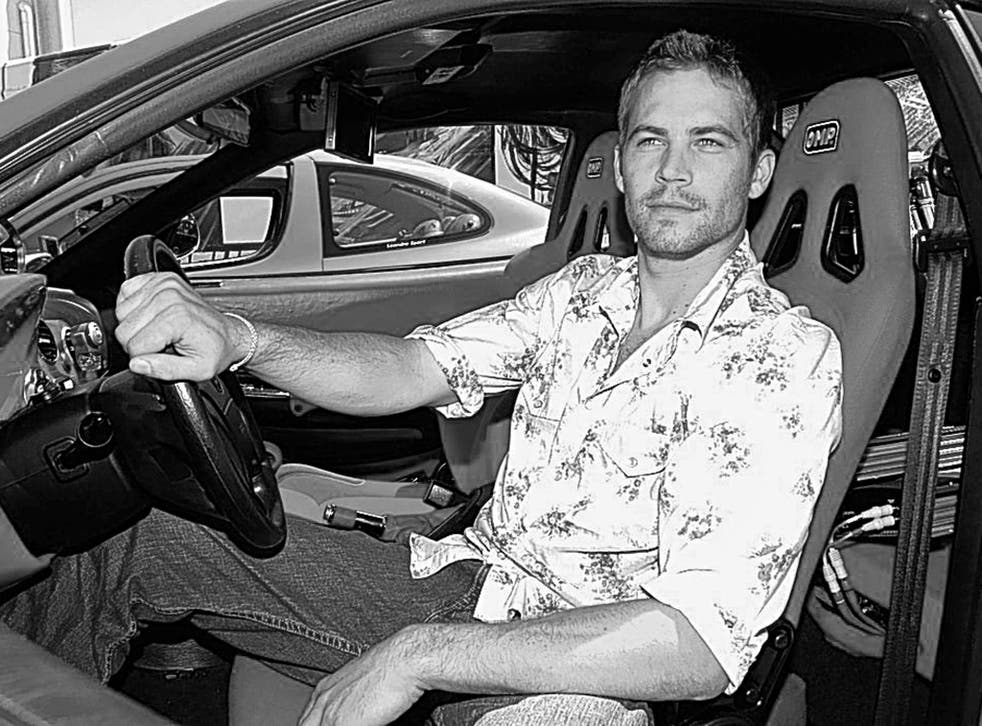 Paul Walker was one of the actors who helped make the Fast & Furious film franchise so successful, with its heady mixture of petrol and testosterone. He died in a car crash along with his friend Roger Rodas when Rodas' Porsche Carrera GT, in which Walker was a passenger, crashed into a tree in the Santa Clarita valley in California. He was in the area to attend a charity event at a racing car shop to benefit victims of the recent typhoon in the Philippines, under the auspices of his organisation Reach Out Worldwide, which he formed in 2010 to help those struck by natural disasters.
Walker rode the Fast & Furious franchise to stardom, featuring in all but one of the six action blockbusters, beginning with the first film, in 2001. The blond-haired, blue-eyed Los Angeles-native brought California-surfer good-looks and an easy, warm charm to the street-racing series. Walker did some of his own driving in the films, though the insurers prevented him from doing as much as he would have liked. He said it was the driving and working with the stuntmen that he enjoyed most.
The son of a fashion model, Cheryl, and a sewer contractor, Paul, Walker grew up in a working class Mormon household in Glendale, California, the oldest of five children. His mother began taking him to auditions as a toddler and he was a child model by the age of two. He said his early induction to showbusiness wasn't to start him on a career path, but as simply a way to help provide for the family.
He made his big-screen debut as a 13-year-old in the 1986 slasher-comedy Monster in the Closet, and after a string of television roles, including small parts in Who's the Boss and Charles in Charge, he drifted away from acting for a while, but was then tracked down by a casting director with a long memory who gave him a role in the television series Touched by an Angel. He also had a recurring part in the soap The Young and the Restless
His returned to films in the 1998 comedy Meet the Deedles and had supporting roles in Pleasantville, Varsity Blues (as a young quarterback – "I got to play the meathead jock that I hated in high school," he recalled), Flags of Our Fathers and the 1999 teen comedy She's All That. His performance in the 2000 psychological thriller The Skulls, which explored the conspiracy theories surrounding Yale's Skull and Bones student society, caught the eye of producer Neal H Moritz despite the film's poor critical reception.
Moritz then cast him alongside Vin Diesel in The Fast and the Furious. Adapted from a Vibe magazine article, "Racer X", about underground street racing, the film became an unexpected hit. Walker's undercover police officer, Brian O'Conner, is ordered to infiltrate a ring of illegal street racers suspected of stealing electronic equipment and finds himself drawn to their adrenaline-fuelled lifestyle.
Walker, a self-styled "gearhead", had taken part in street races, and he used some his fee for the first film to import a Nissan Skyline R34 sports car, the model he drives in the 2003 sequel, 2 Fast 2 Furious, in which he starred without Diesel. He wasn't in the third instalment, but the pair were reunited for the fourth film, known simply as Fast and Furious (2009). It became the biggest hit in the series and the producers stuck with the formula for Fast 5 (2011) and Fast and Furious 6 (2013), each successive film garnering bigger box-office grosses. The most recent has made nearly $800 million worldwide so far.
Walker starred in other films between Fast & Furious outings, including the crime thriller Running Scared, the Antarctic adventure Eight Below and the heist film Takers, in which a gang of young criminals carry out a series of minutely planned bank jobs to bankroll their expensive lifestyle. Although he didn't make as much of an impact beyond the franchise, he continually drew praise from his co-stars and directors as a kind-hearted and eager collaborator. "Your humble spirit was felt from the start," Ludacris, one of his co-stars, said on Twitter. "Wherever you blessed your presence you always left a mark, we were like brothers."
In 2006 he was cast by Clint Eastwood in Flags of our Fathers as one of the six US Marines who famously raised the American flag at Iwo Jima during the Second World War. The seventh Fast & Furious instalment began shooting in September, with a release planned for next July. The film's production was on break with more shooting to be done, which producers said would go ahead despite Walker's death.
Walker also stars in the forthcoming Hurricane Katrina drama Hours, due to appear later this month. He plays a father stranded with his newborn daughter in a New Orleans hospital in what Walker described as "a passion project". Reading the script, he said, "I just wanted to believe that if I was faced with a similar situation, I would see it through the same way. You want to believe you have the make-up to do what it would take to keep this baby going." He is also in Brick Mansions, a remake of the French action film District B13, due for release next year.
Walker and Rebecca McBrain, a former girlfriend, had a daughter who lived with her mother in Hawaii for 13 years and then moved to California in 2011 to live with Walker.
Roger Rodas, who died with Walker, was a financial adviser and the CEO of Walker's company Always Evolving; the pair met through their shared passion for cars. Another passion for Walker was martial arts, and he held a brown belt in Brazilian Jiu-Jitsu. He was also interested in marine biology, and made a series for the National Geographic Channel, Expedition Great White, in which he helped tag great white sharks off the coast of Mexico.
Vin Diesel posted a photograph of him and Walker arm-in-arm on Instagram with the message: "Brother I will miss you very much. I am absolutely speechless."
Paul William Walker, actor: born Glendale, California 12 September 1973; one daughter; died Valencia, California 30 November 2013.
Register for free to continue reading
Registration is a free and easy way to support our truly independent journalism
By registering, you will also enjoy limited access to Premium articles, exclusive newsletters, commenting, and virtual events with our leading journalists
Already have an account? sign in
Join our new commenting forum
Join thought-provoking conversations, follow other Independent readers and see their replies