Peggy Cummins: actress who made her name as a ferocious femme fatale in noir classic 'Gun Crazy'
The British actress made a comeback after being stripped of her Hollywood break in 1947's 'Forever Amber' – as a memorable femme fatale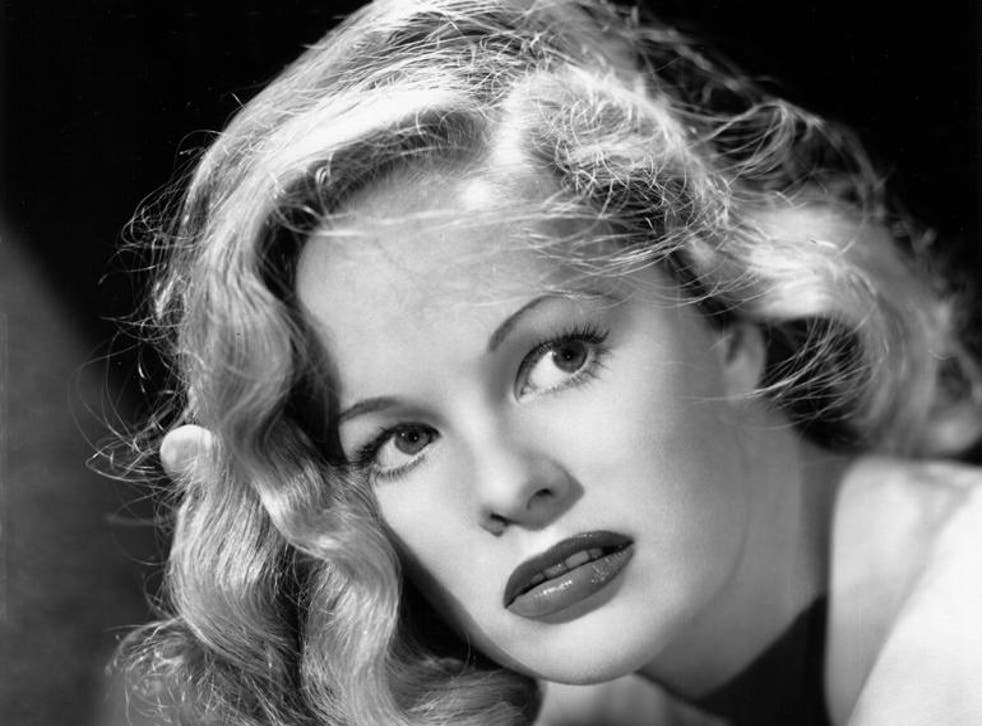 "I wasn't sexy enough," said Peggy Cummins, in 2013, explaining why she was replaced in the lead role in the 1947 film Forever Amber – she had been shooting for months.
The actress, who has died aged 92, was speaking in San Francisco at a screening to mark the film that came to define her career – the 1950 film noir classic Gun Crazy.
In that movie she played fairground cowgirl Annie Laurie Starr who teamed up with a gun-obsessed former soldier played by John Dall – the duo, who improvised much of their dialogue, set the template for 1967's Bonnie and Clyde.
Gun Crazy was the pinnacle of the Irish actor's brief but never dull career, which also included a British horror classic and a Carry On.
The youngest of three siblings, she was born in Wales to her Irish parents who were on a visit to Prestatyn – her mother had gained some work as an actress and her father was a journalist.
As child she had wanted to be a ballet dancer. She was eight years old when she got a role in a "silhouette" part with the Gate Theatre in Dublin.
They cast her in the lead role of Let's Pretend, making her London stage debut on her 13th birthday. In her teens she went on star in various radio plays, stage productions and films such as Mr O'Dowd (1940) and Welcome, Mr Washington (1944).
In 1945, when she was just 18, Cummins was spotted by a 20th Century Fox scout while performing in Junior Miss on the London stage. It catapulted her into her first major role, as the Amber St Clair, for Otto Preminger's lavish Hollywood period drama Forever Amber. She had particularly impressed the film's producer Darryl F Zanuck who cast her above 200 other actresses who had auditioned for the part.
At the time comparisons were inevitably made with Vivien Leigh's casting for 1939's Gone for the Wind. However, Cummins's delight was shortlived. After nearly two months of production, the movie mogul Zanuck changed his mind. Cummins was considered too inexperienced for the role.
So the young actress was summarily replaced by Linda Darnell, an experience Cummins later described as "shattering" after getting "a part like that".
However, she went on to make her 20th Century Fox debut with Joseph L Mankiewicz's comedy The Late George Apley (1947), in which she played the daughter of Ronald Colman's rich Bostonian. She went to display her enviable range with lead roles in Moss Rose (1947), starring as a Cockney singer-dancer opposite Victor Mature, Louis King's Western Green Grass of Wyoming and British-American thriller Escape (1948), alongside Rex Harrison.
Cummins was never less than compelling in these solid but unspectacular Fox productions, but it was her role of manipulative femme fatale in Gun Crazy that she'll be remembered. Initially dismissed by The New York Times as "pretty cheap stuff", Joseph H Lewis's tangy B-movie, which was secretly co-written by the blacklisted screenwriter Dalton Trumbo, is now revered. In 1998 Gun Crazy was even preserved in the Library of Congress for being "culturally, historically and aesthetically significant". This honour wasn't only for Cummins sexually charged performance but for an exquisite (and ground-breaking) off-camera heist sequence, executed in a single, three-minute take.
Gun Crazy was to heavily influence Arthur Penn's brutal Bonnie and Clyde (the beret Faye Dunaway sports seems like a direct reference to a beret-wearing Annie) and a swathe French New Wave film-makers. The film writer Eddie Muller has described Cummins's performance as earning "her lasting fame as the tiniest, but most ferocious, femme fatale in the history of film noir".
While Cummins never reached such giddy heights again, she stayed in work throughout the 1950s (and away from Hollywood) in England, also marrying the late London businessman Derek Dunnett in 1950. In the same year she starred alongside Edward G Robinson in Alexander Korda and Gregory Ratoff's melodrama My Daughter Joy (1950), the Ealing comedy Meet Mr Lucifer and Muriel Box's Street Corner, both from 1953.
She followed these up with a series of undemanding and somewhat frothy comedies and romances, including Ealing's 1954 comedy The Love Lottery, with David Niven, Muriel Box's To Dorothy a Son, with Shelley Winters, and Carry on Admiral (1957), an early Carry On… effort that also starred stalwart Joan Sims but none of the other regulars.
However, it was in the same year that Cummins that bagged her second most significant role, Jacques Tournier's excellent chiller Night of the Demon, about a US psychologist (Dana Andrews) investigating a satanic cult alongside Cummins's Joanna. In a Time Out poll at the start of this decade the sinister Night of the Demon was placed 52 in a top 100 list of horror films.
The handful of film roles that came after – including the rather frivolous 1960's Your Money Your Wife, of which the Radio Times opined "Nice title… shame about the movie" before giving it one star out of five stars, Dentist in the Chair (1960 and starring Bob Monkhouse) and her last film In the Doghouse (1961) – never matched the potency of Night of the Demon or indeed Gun Crazy.
In 1961 Cummins retired from acting and went on to devote her time to her family and the independent charity the Stars Foundation for Cerebral Palsy. She is survived by her son David and her daughter Diana from her marriage to Derek Dunnett.
Peggy Cummin, born 18 December, 1925, died 29 December 29 2017
Register for free to continue reading
Registration is a free and easy way to support our truly independent journalism
By registering, you will also enjoy limited access to Premium articles, exclusive newsletters, commenting, and virtual events with our leading journalists
Already have an account? sign in
Register for free to continue reading
Registration is a free and easy way to support our truly independent journalism
By registering, you will also enjoy limited access to Premium articles, exclusive newsletters, commenting, and virtual events with our leading journalists
Already have an account? sign in
Join our new commenting forum
Join thought-provoking conversations, follow other Independent readers and see their replies