Peter Burton: Writer and publisher who championed gay literature for over 35 years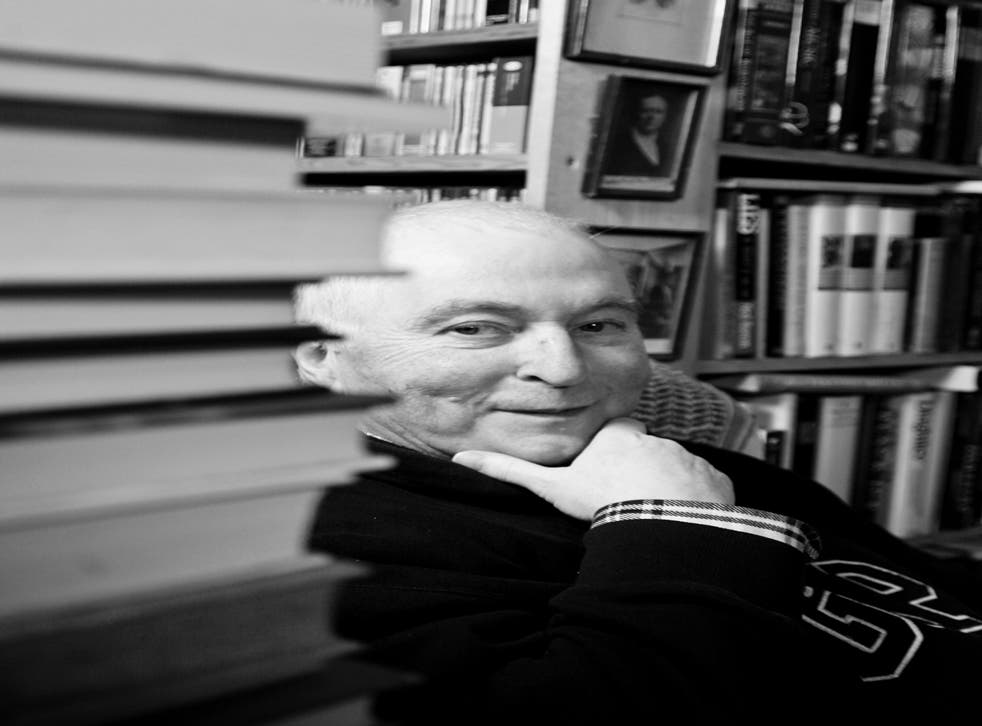 Not many writers could begin a distinguished 50-year career in journalism and publishing with a review in the Walthamstow Express & Independent (1962).
But then Peter Burton, who has died suddenly aged 66, was a master at working to create unlikely opportunities for himself – and other writers he championed. In his first memoir, Parallel Lives (Gay Men's Press, 1985), he wrote, "From about the age of 13, I had two ambitions: to leave school, and to leave home. Both were accomplished before I was 16 – and essentially, since then, I have been master of my own fate. And things have happened."
Born in Hackney, Peter Burton left school without qualifications and landed a job in the publicity department of Hamish Hamilton – a perfect start for a self-educated boy with a thirst for books and knowledge. Knowing he was gay from his early teens, Burton also found his way round the early (and illegal) gay pubs and clubs in London's West End, eventually becoming manager of one of them, Le Duce. Simultaneously, he developed his love of literature, courtesy of EC Mason's Pocketbooks shop. "Ted" Benson was a reviewer for The Stage and, when opening nights clashed, he asked Peter to cover for him. And so Burton's "proper" journalistic career began, on 23 September 1965, with a review of The Marriage of Mr Mississippi.
His eventual portfolio of interviewees was impressive and eclectic, including Joe Orton (who Burton met, clad in a serge sailor suit), Kenneth Williams, Quentin Crisp, Patricia Highsmith and Christopher Isherwood. He famously offended the latter by declaring that Isherwood was "a writer who didn't grow up... he has been showing promise for 50 years."
Burton began in British gay journalism at its inception in the late 1960s, writing for Spartacus and then editing Jeremy. In 1973, he began writing for Gay News, under its founding editor Denis Lemon, and became its literary editor, establishing the paper's reputation for serious coverage of books and authors. It was Lemon who described Peter as "the Godfather of gay journalism", though no one is quite certain when his other nickname, "Dame Peggy", came into being.
His successful life as a scribe ran parallel to some unlikely byways: in the early 1970s, he was press agent for the Faces pop group, and his authorised biography, Rod Stewart: A Life on the Town (New English Library, 1977), which according to Burton was written on speed in 48 hours, gave him enough money to buy his first home, in Brighton's Kemp Town. Then, in 1968, his friend Colin Spencer introduced him to the novelist Robin Maugham, whose literary talents had been steadily eroded by his fondness for "just another little drink". For more than a decade, Burton learned to cope with Maugham's alcohol-fuelled whims and rages. He helped him complete a number of books and articles, and at least one, Conversations With Willie (WH Allen 1978), was entirely Burton's work.
After Gay News imploded in 1983, he became the literary and features editor of Gay Times, a position he held for 20 years, in addition to being the founding publisher of Millivres Books, where he tirelessly nurtured emerging writers alongside more established names. Burton wrote or contributed to over 30 books, including a second volume of memoirs, Amongst the Aliens: Aspects of a Gay Life (Millivres, 1995), and six anthologies of gay short stories, three of which were nominated for Lambda Literary Awards; the most recent, both by Arcadia Books, were A Casualty of War (2009) and What Love Is (2011).
In the last decade he was a regular contributor to the Brighton-based publications 360 and One80, a new gay generation benefiting from his high-quality journalism, and he also contributed regular book reviews for the Daily Express and obituaries for The Independent. As literary programmer of Brighton's Clifton-Montpelier Festival for the last five years, he curated, on a shoestring budget, a line-up of events which put bigger festivals to shame.
It will surprise and amuse many to learn that Peter's entire literary output was produced on manual typewriters, the ribbons of which he couldn't change himself. Yet the copy was always clean, meticulous and diligently written, the deadlines always met. It is apt that his last words, to his beloved friend Torsten Højer, were to "make sure the copy gets there [Daily Express] on time".
Peter Burton once wrote, "The relationship between friends can be every bit as binding and rewarding as that which exists between lovers." He never wavered from that. And he liked nothing better than to cook Elizabeth David-inspired meals for us and sit at the kitchen table in his book-filled house, dispensing food, wine, whiskey, music, gossip, ideas and advice, with unfailing generosity, and understated, yet deep – and reciprocated – affection.
He is survived by his sister Pamela Hinchcliffe and her sons, his close companion, Torsten Højer, and his devoted friends.
Peter William Burton, journalist, publisher, editor and author: born London 29 April 1945; died Brighton 7 November 2011.
29.04.1945
On the day he was born...
Dachau concentration camp was liberated by US forces. Brigadier General Henning Linden accepted the surrender of the camp, in which at least 30,000 people died
Register for free to continue reading
Registration is a free and easy way to support our truly independent journalism
By registering, you will also enjoy limited access to Premium articles, exclusive newsletters, commenting, and virtual events with our leading journalists
Already have an account? sign in
Register for free to continue reading
Registration is a free and easy way to support our truly independent journalism
By registering, you will also enjoy limited access to Premium articles, exclusive newsletters, commenting, and virtual events with our leading journalists
Already have an account? sign in
Join our new commenting forum
Join thought-provoking conversations, follow other Independent readers and see their replies