Peter Dennis: Actor who became 'Pooh's Ambassador Extraordinary'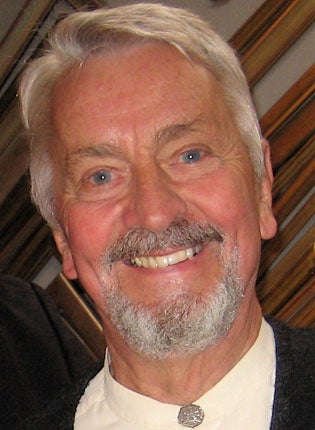 Despite numerous roles on stage, film and television, the characters for which Peter Dennis will be best remembered are a "Bear of Very Little Brain" named Winnie-the-Pooh and his friends Piglet, Eeyore, Tigger and the other denizens of the 100 Aker Wood which he brought to life in his one-man theatre show, Bother!, and in his acclaimed recordings of A.A. Milne's famous books.
Peter John Dennis was born in Dorking, Surrey in 1933, the second of three children, to Michael Henry Dennis, a mechanical engineer, and Violet Frances Lockwood, a housewife. He was educated first at a Roman Catholic convent and, until the age of 14, at the North Kensington Secondary School. After four years training in accountancy and surveying, he worked for various companies until he was called up for National Service in 1952. As a sergeant with the Royal Army Ordnance and Service Corps in Nigeria, Dennis was seconded to work as a shorthand writer for various notable military figures before becoming personal assistant to General Sir Kenneth Exham, Commander of the Royal West African Frontier Force in Lagos.
Dennis was returned to Britain recovering from cerebral malaria and was demobbed in 1958. His experience led to his being employed as personal assistant to the European managing director of Canadian Pacific and, later, to the deputy chairman of the engineering company Guest, Keen & Nettlefold (GKN) in Birmingham.
Dennis had married Audrey Cooper in 1954, with whom he had one son, Shane. However, the marriage ended in 1961 with divorce, and estrangement from his child. Seventeen years later, Dennis would be reunited with his son, then living in America, and they enjoyed a fulfilled relationship until Shane's death as a victim of a random drive-by shooting in St Louis in 1994.
Dennis later married the actress Diane Mercer, with whom he would share 30 years of committed partnership. In the often fickle world of showbiz, the gregarious couple made – and kept – many devoted friends. In addition to a distinguished roll-call of actors, their circle included artists, writers, musicians and people from all walks of life on both sides of the Atlantic.
In 1962, on his 29th birthday, Dennis went to Birmingham Repertory Theatre to see his first play – John Osborne's Look Back in Anger, with Derek Jacobi as Jimmy Porter. He instantly knew that he wanted to be an actor and, the following day, he handed in his resignation at GKN. The company asked him to reconsider as they wanted him to attend Harvard Business School, but Dennis stuck by his decision, briefly joined Birmingham Rep and, in May 1963, enrolled at the Royal Academy of Dramatic Art.
His prolific work as an actor saw him appearing on provincial and West End stages in everything from Shakespeare to pantomime. Notable roles included Stanton in J.B. Priestley's Dangerous Corner and a variety of roles in his solo show Speak of the Devil, compiled by Yvonne Mitchell.
Dennis's first TV role was in the BBC series Flint of the CID. With other Rada students (among them Hywel Bennett), he was sent to an audition for an extras part, only to be offered the title role. Other shows in which he appeared included The Avengers, Yes Minister, Jennie and Prime Suspect. He was also a regular cast member in the popular drama series Hadleigh, playing Sutton, the family butler.
It was in 1969 that a friend introduced the 36-year-old Dennis, somewhat belatedly, to the quartet of children's books by A.A. Milne featuring verses about Christopher Robin and stories about Winnie-the-Pooh. It was love at first reading and the seed was sown for his long-running, award-winning one-man theatre show, Bother! Taking its title from one of Pooh's exclamations of puzzlement, it premiered at the ADC Theatre, Cambridge in 1976, to mark the 50th anniversary of the publication of Winnie-the-Pooh.
Acclaimed performances followed at the Edinburgh Festival in 1982, 1984 and 1991 and the show's American premiere, at the Lee Strasberg Theatre Institute in 1986, garnered several awards and established Dennis's reputation in Los Angeles as a quintessentially English actor.
Dennis later recorded all the stories and verses, with incidental music by Don Davis, the composer of numerous Hollywood film scores including the Matrix trilogy. He subsequently collaborated with Davis on his The Enchanted Place suite and with the jazz musician Phil Woods on his Children's Suite, both of which works were inspired by Milne's writing.
Many actors have recorded Milne's stories, but none have captured the author's sharply defined characters and sly, ironic wit as successfully as Dennis. His vocal characterisations were a delight: the ponderous thought processes of Pooh; the jumpily anxious conversation of Piglet (peppered with grunts and snorts); the lugubrious melancholy of Eeyore; the clipped, efficient, tones of Rabbit and the pompous grandiloquence of Owl. Equally successful was his matter-of-fact delivery, devoid of both the cloying sentiment often associated with the books and the strident brashness that came with their Disneyfication.
In 1979, Dennis read at an unveiling of a plaque by Christopher Robin Milne in the Ashdown Forest (the real-life setting for the fictional stories) and it was to be the beginning of a long, close friendship between Dennis and Diane and the notoriously shy younger Milne, his wife Lesley and their daughter, Clare, a cerebral palsy sufferer. Christopher Milne would later describe Dennis as "Pooh's Ambassador Extraordinary", adding that "no bear has ever had a more devoted friend." Indeed, Dennis continued giving Pooh readings in venues that ranged from the Palace of Westminster to the Hollywood Bowl.
Moving to the US in 1991, Dennis began an eight-year struggle to get his green card. The fact that he was the only person authorised by the Milne estate to perform the Pooh material came to his rescue and his application was finally approved as being "in the national interest".
On American television he guest-starred in Friends, Seinfeld, Alias, Family Matters, Murder She Wrote, Diagnosis Murder and ER as well as portraying General Montgomery in War and Remembrance and twice playing Isaac Newton in Star Trek: Voyager. Film performances include the lecturing wine expert in Sideways and the voices for a variety of animated characters, including one of the ogre hunters in Shrek.
Always an exuberant extrovert, Dennis was diagnosed with a rare form of cancer in 2007, but adopted a courageous, death-denying attitude, throwing himself into work and life. His last project was a marathon recording of Christopher Milne's autobiographical volumes, The Enchanted Places and The Path Through the Trees, which will eventually stand alongside his definitive performances of the childhood adventures of Christopher and his teddy bear.
Brian Sibley
Peter John Dennis, actor: born Dorking, Surrey 25 October 1933; married 1954 Audrey Cooper (divorced, one son), 1979 Diane Mercer; died Shadow Hills, California 18 April 2009.
Join our commenting forum
Join thought-provoking conversations, follow other Independent readers and see their replies