Peter Hobday: Urbane presenter of Newsnight and the Today programme
He also specialised in business and economics news, and later hosted classical music programmes on BBC Radio 3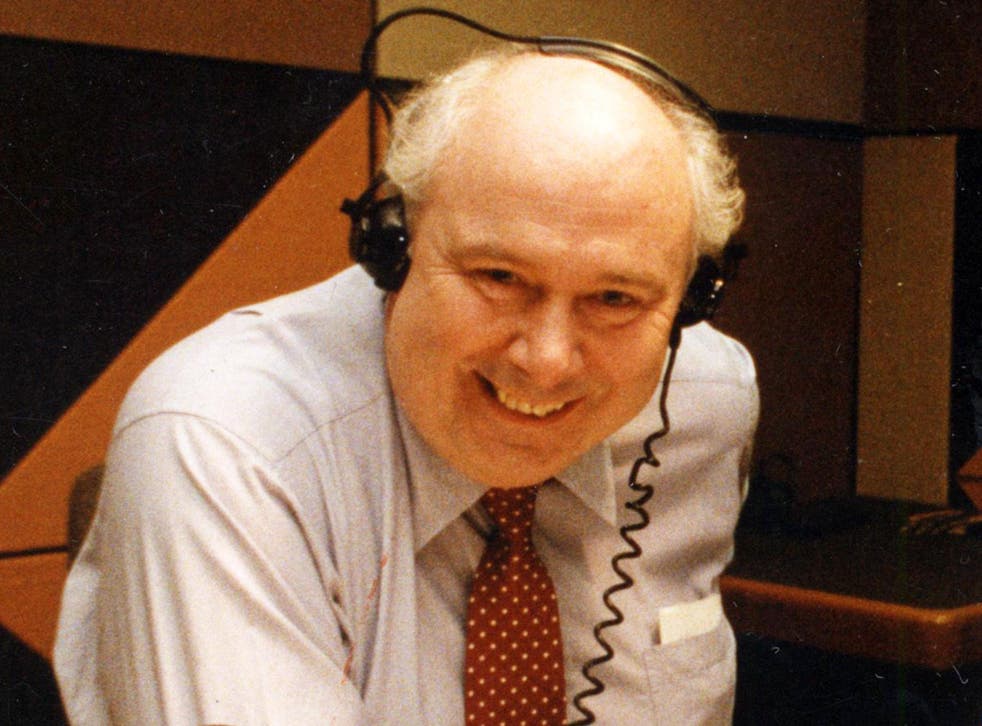 For 13 years Peter Hobday, who has died aged 82, was one of the presenters waking listeners up to BBC Radio 4's Today programme, admired by many for his relaxed, affable style, jokes and updates on the health of the camellias in his Kensington garden.
When he began on the show in January 1983, he partnered either Brian Redhead or John Timpson, who themselves had a loyal following for keeping the show on its mission to set the political agenda for the day ahead. In 1986 Timpson retired and the presenting team was augmented by former BBC television reporter and newsreader John Humphrys, Woman's Hour host Sue MacGregor and, following Redhead's departure, James Naughtie.
The show appeared to be going in a new direction and Hobday found his polite, courteous style at odds with the more aggressive interviewing technique of, in particular, Humphrys. When he was unceremoniously sacked in 1996, a campaign to reinstate him was mounted by listeners who enjoyed his urbane manner, but to no avail.
"A fat, middle-aged hack like me didn't really square with the lean, mean interview machine," Hobday ruefully remarked.
After a quarter of a century as a BBC reporter and presenter switching between radio and television, he saw out his career hosting classical music shows on Radio 3.
Peter James Lewis Hobday was born in Dudley, Worcestershire, in 1937 to Dorothy (nee Lewis), a teacher, and Arthur Hobday, a civil servant. On leaving St Chad's College, Wolverhampton, he studied modern languages at Leicester University but left at the end of his first year after failing a classics module.
He did national service at Nato headquarter in Paris, then joined the Wolverhampton Express & Star. After a spell in public relations with electrical company GEC, he returned to journalism on Business magazine and The Director.
Hobday went into radio with the BBC World Service in 1970 and, four years later, switched to Radio 4 and its newly launched The Financial World Tonight. He continued on the channel to present both The World in Focus and Budget specials during 1976 and 1977.
Hosting the first two years of Money Box (1977-79), British radio's first personal finance programme, led Hobday into television, presenting The Money Programme, again for two years (1978-80).
Although he was back on radio as a presenter of The World at One from 1979 to 1982, he began his most prominent stint on television when Newsnight was launched on BBC2 as a five-nights-a-week news-analysis programme in 1980.
Peter Snow anchored three of them, with Hobday and others taking the presenting role on other nights. Hobday also reported on business and economics stories. (The other original presenters were Charles Wheeler and John Tusa.)
In 1983, he left Newsnight to join Today, later also hosting the Radio 4 panel game Wordly Wise (1992-98).
On leaving Today, he had runs as presenter of two Radio 3 classical music shows, Morning Collection from 1996 to 1997 and Masterworks from 1998 to 2000.
As an author, Hobday's books included In the Valley of the Fireflies: An Englishman in Umbria (1995), recalling his five-year restoration of an Italian farmhouse, although perhaps the one that most reflected his character was The Simple Guide to Customs and Etiquette in England (1995).
Hobday's first wife, Tamara (Oeillet) Batcharnikoff, whom he married in 1959, died of cancer in 1984. He is survived by their son and daughter, and his second wife, Victoria (nee Fenwick), whom he married in 1995.
Peter Hobday, broadcaster, born 16 February 1937, died 18 January 2020
Register for free to continue reading
Registration is a free and easy way to support our truly independent journalism
By registering, you will also enjoy limited access to Premium articles, exclusive newsletters, commenting, and virtual events with our leading journalists
Already have an account? sign in
Register for free to continue reading
Registration is a free and easy way to support our truly independent journalism
By registering, you will also enjoy limited access to Premium articles, exclusive newsletters, commenting, and virtual events with our leading journalists
Already have an account? sign in
Join our new commenting forum
Join thought-provoking conversations, follow other Independent readers and see their replies