Peter Stringfellow: Nightclub entrepreneur who booked The Beatles and brought table-dancing to Britain
His brand was synonymous with sex but in spite of the sleazy nature of his venues, he managed to maintain an upbeat, nice-guy reputation
Wednesday 27 June 2018 13:10 Comments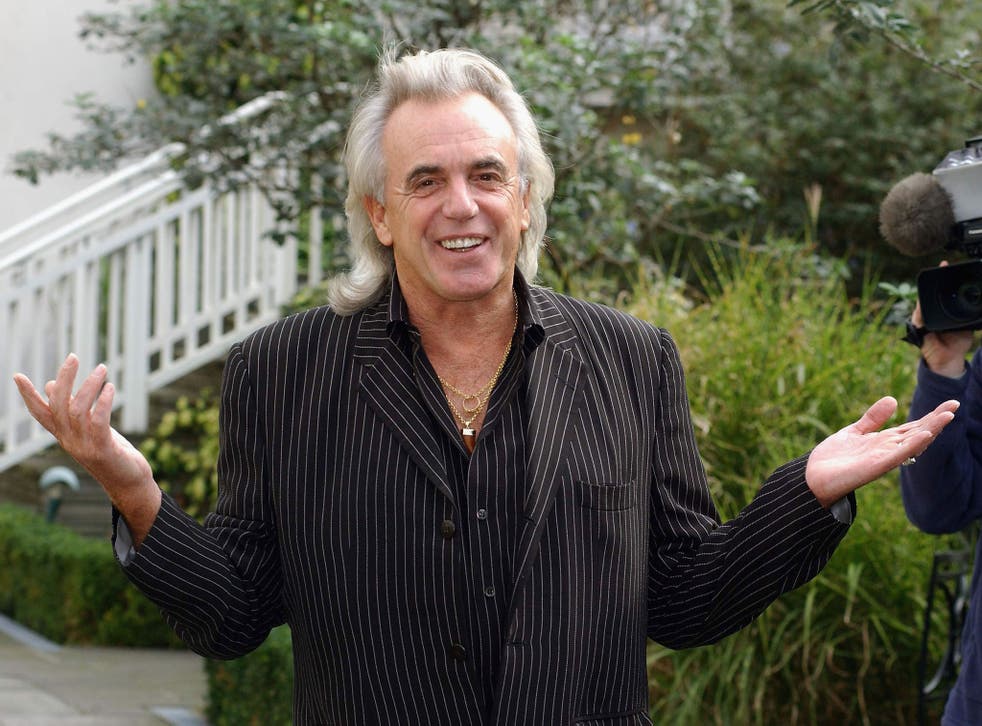 A pivotal force in Britain's party scene for 60 years, nightclub tycoon, the "King of Clubs" and longtime rocker of the mullet, Peter Stringfellow made debauchery his milk and honey.
His flagship club, Stringfellows, launched in Covent Garden in 1980. It was visited by names including Prince and Rod Stewart and remains a popular joint in London's West End. Its success led to sister venues being opened in Miami, Paris, Los Angeles and New York.
Born in Sheffield to a working class family, Stringfellow, who died aged 77, took a somewhat different direction to his steelworker father. "I was just happy to make money and not have to go to the steelworks," he said of leaving school aged 15.
"I was slightly dyslexic and that helped me, because nobody in my family expected me to do any good, so I could do anything I wanted. And that's exactly what I did," he once said.
A career in the adult entertainment industry began in the 1960s, after Stringfellow's brief stint in prison for stealing carpets from a former job. Struggling to find work when he came out, he started throwing parties in his hometown. He booked a local band to play in a church hall renamed the Black Cat Club. The club soon became a Friday-night fixture and within a year, he had booked The Beatles.
In 2008, he told The Yorkshire Post: "It left me with a desire to be famous bigtime. I'd been on stage with The Beatles and seen the magical reaction they got and it really inspired me."
He started arranging concerts at the Blue Moon Club, in another church hall, where he booked The Kinks. In 1964 he opened a club called King Mojo in Sheffield where Jimi Hendrix, Stevie Wonder and Tina Tuner played. King Mojo closed in 1967. Stringfellow went on to open a variety of gentlemen's clubs throughout the UK, including Cinderella's in Leeds and the Millionaire Club in Manchester.
Having made his name as a promoter of cutting-edge music, his brand became synonymous with sex – although he maintained his upbeat, nice-guy reputation. Despite famously dating younger "women" – including a 16-year-old girl when he was 55 – criticism towards his empire was minimal.
He was often photographed on leopard-print seats and in leopard-print jackets, with a bevy of women of less than half his age. "They're on the menu if you own the club," he once jokingly said of the strippers he employed. "If you don't, they're not on the menu."
He married his first wife, Norma Williams, in 1960. The pair met at the bakery he had got a job in after failing to last more than two months in the Merchant Navy – he had been inspired to join by his hero, Tommy Steele. The couple had a daughter, Karen, who became the owner of a successful boutique in Florida. They divorced in 1965.
In 1967 he married Coral Wright, with whom he had a son called Scott, who became a racing driver. The pair divorced in 1984. He said of the marriage: "It lasted 24 years, but my business came first and along with that came the opportunity to have other women, and I took full advantage."
Aged 68 in 2009, Stringfellow, who claimed to have bedded 2,000 women, married Royal Ballet dancer Bella Wright, who was then aged 27. They had two children.
Stringfellow's had an estimated net work of £37m but his financial success did not come without its scares. Losses at his clubs in Miami and Los Angeles nearly drove him to bankruptcy in the 1990s. But he managed to bounce back from his financial woes, his decision to inject table-dancing and topless women into his Covent Garden operation having proved a success.
Stringfellow was vocal about how much he loved his job. In the 1990s he was asked by a reporter how he felt about his occupation. He sarcastically responded: "You mean do I enjoy myself eating, drinking champagne, vodka, and meeting lots of beautiful young girls? It gets a bit boring."
A divisive character, tweets following his death showed that to men such as Boy George, he was "one of Sheffield's finest".
To women such as Julie Bindel, Stringfellow was but a "pimp" – Bindel tweeted that she had called him that live on Radio 5 Live in 2008, adding: "He went berserk & demanded I apologise. I told him where to stick it." Columnist Sarah Ditum tweeted: "Rest in peace ... may you have an afterlife of being pawed and scrutinised by demons for whom purchasing the opportunity to get handsy with you is a status symbol."
Poet and performer Sabrina Mahfouz who worked in one of his clubs for five years tweeted: "He turned me into a feminist before I even knew what one was by showing me how little women were valued beyond their bodies = ££. So thanks I guess. And RIP."
Appearing opposite historian Mary Beard on BBC2's Victoria Derbyshire programme last year, Stringfellow said: "I am a feminist. My interpretation is that women can do what they want to do, and not be told not to by a man." Beard responded: "I'd challenge your simplistic notion of feminism."
Stringfellow was a passionate supporter of the Conservative Party but being an ardent Remainer, opposed its march towards Brexit.
Peter Stringfellow, nightclub owner, born 17 October 1940, died 7 June 2018
Register for free to continue reading
Registration is a free and easy way to support our truly independent journalism
By registering, you will also enjoy limited access to Premium articles, exclusive newsletters, commenting, and virtual events with our leading journalists
Already have an account? sign in
Join our new commenting forum
Join thought-provoking conversations, follow other Independent readers and see their replies