Peter Warner: Australian sailor who rescued boys from a remote island
Tongan teenagers had survived for 15 months on rainwater, birds, fish and bananas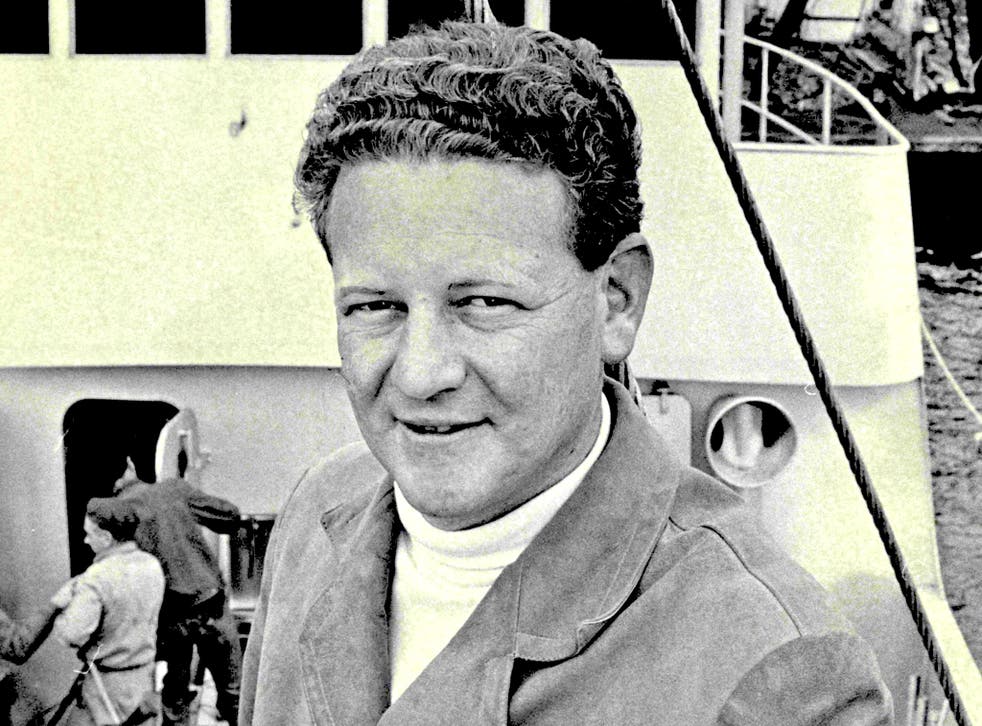 Peter Warner was the Australian sailor and ship's captain who found fame for his 1966 rescue of a group of Tongan youths who had become stranded on a Pacific island.
Warner, who has died aged 90, was also one of Australia's most celebrated competitive sailors, but it was for events that took place more than half a century ago that he will always be best known.
Warner was born in 1931, the son of Sir Arthur Warner, the industrial tycoon, politician and head of Electronic Industries Ltd. He left school at 17 to go to sea, against the wishes of his father, who wanted him to pursue his studies and then join the family business. Returning at his father's request, he continued his education for another year. But the draw of the ocean was too great and he was soon back on boats.
In 1966, whilst on a fishing trip in the sea off Tonga, Warner spotted smoke from a fire on the island of Ata. He recalled in a later interview: "I thought that's strange that a fire should start in the tropics on an uninhabited island, so we decided to investigate further. And after we had finished our fishing experiment we went close to the island."
As they neared the shore, "this young man swam alongside and said in perfect English, 'I am one of six castaways. We think we have been here for one and a half years.'"
Landing on Ata, Warner and his crew found it hard to believe that this group of Tongan teenagers had survived for 15 months on rainwater, birds, fish and bananas. It emerged that the boys had been bored with their boarding school life and had stolen a boat, become shipwrecked in a storm, and washed up on the unpopulated island.
Bringing the group back to their home in Nukuʻalofa, Warner discovered that their families had already held funerals, assuming them to be lost at sea. When the boys were subsequently prosecuted and imprisoned for stealing the boat, Warner defended them. By selling the rights to the story to the Australian Channel Seven, he was able to pay for a replacement boat and ensure their release from jail.
Warner spent the next three decades living in Tonga. "I got to know the families very well," he said. "That led to a long friendship and a lot of work around the Pacific. When I decided to move to the Kingdom of Tonga, I recruited Mano [Sione Filipe Totau] as one of the crew of my fishing boats but he rose up to become a captain of his own accord."
In 1974 history repeated itself when Warner was out sailing his boat Ata, with Mano, who sighted a distress signal from the sailing boat Sospan Fach. The vessel had been wrecked on Middleton Reef with its four crew – and Warner was able to rescue the group and bring them safely back to port.
In competitive sailing, Warner's schooner, Astor, took him to win line honours three times in the Sydney to Hobart races. Such a life of adventures certainly merited three volumes of autobiography: Astor: Adventures Ashore and Afloat (2018), Ocean of Light: 30 years in Tonga and the Pacific (2018) and Twilight of the Dawn (2020).
In 2015 the explorer Alvaro Cerezo paired up with Kolo Fekitoa, one of the Tongan group, on a 10-day mission to Ata to recreate the experience of living in the wild, surviving only on what could be found on the island. The resulting film, The Six Tongan Castaways: Real Lord of the Flies, including interviews with Warner, was launched last year.
The collective experience of the shipwrecked Tongan teenagers became a case study in the book Humankind (2020) by Rutger Bregman. He argues that in contrast to William Golding's dystopian novel, their story demonstrates that humans are inherently benevolent and will naturally work together for the common good, rather than battle each other for survival. Warner's historic rescue of the boys reaffirms this positive view.
Warner died when his boat capsized in rough seas off the north coast of New South Wales. He is survived by his wife Justine, son Peter, daughter Janet and adopted daughter Carolyn.
Peter Warner, sailor, born 22 February 1931, died 13 April 2021
Register for free to continue reading
Registration is a free and easy way to support our truly independent journalism
By registering, you will also enjoy limited access to Premium articles, exclusive newsletters, commenting, and virtual events with our leading journalists
Already have an account? sign in
Register for free to continue reading
Registration is a free and easy way to support our truly independent journalism
By registering, you will also enjoy limited access to Premium articles, exclusive newsletters, commenting, and virtual events with our leading journalists
Already have an account? sign in