Phil Masinga: South African footballer who was part of a new era of sport after apartheid
Affectionately known as 'Waltzing' by Leeds fans and hailed as an inspiaration by his former teammate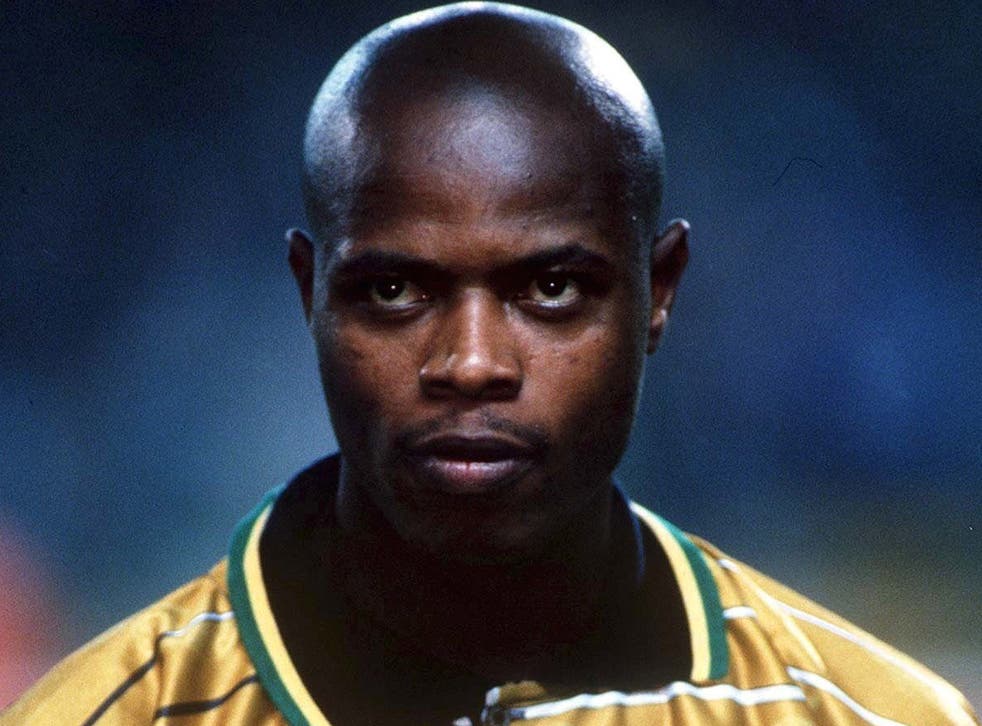 Phil Masinga was unable to match the impact in the English game made by his compatriot Lucas Radebe, with whom the striker left South Africa for Leeds United in 1994, but he will always hold an exalted place in the pantheon of his country's footballers.
Masinga, who has died of cancer aged 49, bludgeoned a 30-yard shot past the Congo goalkeeper in Johannesburg to book South Africa's place at the 1998 World Cup finals in France. Only seven years had elapsed since the end of apartheid and three since Nelson Mandela's election as president, imbuing his goal with great emotional and political significance. A British reporter asked if the players would be having "a quiet drink" to celebrate. "No," he replied, "we'll be having a noisy drink."
At France 98 Masinga appeared in two of the team's three matches. He was also in the team which lifted the Africa Cup of Nations in 1996, and again when they were runners-up two years later. Since his international debut in 1992 had come in South Africa's first game after the lifting of pariah status, his part in the process which led to their hosting the 2010 World Cup is irrefutable.
Born and raised in Khuma township of Klerksdorp in the remote North West province, Masinga started with Johannesburg's Jomo Cosmos. However, it was his scoring feats with Mamelodi Sundowns, of Pretoria, that led to Howard Wilkinson paying £275,000 for him after two seasons in which Leeds struggled to build on the Football League championship of 1991-92.
Wilkinson had sent his chief scout to watch Radebe, a defender with Kaizer Chiefs. Arriving early, he attended a match featuring Masinga and was impressed by his heading ability, pace and finishing prowess. A trip to watch him in Australia confirmed the positive impression. Leeds reasoned that Masinga might be less prone to homesickness if he and Radebe moved to Elland Road together, so they bought both players.
The 6ft 4in Masinga, who trained only two afternoons a week with Sundowns, began life as a full-timer promisingly, scoring against Chelsea three minutes into only his second full Premier League outing. By January 1995 he had nine goals from 18 starts and the fans had dubbed him "Waltzing" because it fitted neatly with his surname (at home his nickname was Chippa). Two came at Highbury against an Arsenal defence containing Steve Bould and Martin Keown, another six in a three-game rush which included an extra-time hat-trick against Walsall in the FA Cup.
Within days, however, Leeds bought Tony Yeboah from Germany's Eintracht Frankfurt. The addition of the prolific Ghanaian to two experienced strikers, Brian Deane and Rod Wallace, pushed Masinga down the pecking order. Meanwhile, Radebe, supposedly a makeweight bought to keep him company, was establishing himself as a crowd favourite, going on to become captain, enjoy a testimonial match attended by 38,000 and have a beer named after him.
In 1996, after 26 starts, 13 substitute outings and 11 goals for Leeds, Masinga was offloaded to St Gallen in Switzerland. A year later he left for Salernitana in Italy, then on to Bari, for whom he netted 24 goals in 75 Serie A appearances. He departed in 2001, when his South Africa career also ended after 58 games and 18 goals. His former Leeds teammate Gordon Strachan, now a manager, tried to sign him for Coventry but Masinga was unable to secure a work permit and instead played briefly Al-Whada in Abu Dhabi.
Returning to South Africa he bought a mansion near Klerksdorp, but what he called "bad financial decisions" led to his living in a back room at his mother's home in Khuma at one point. Masinga's death prompted an outpouring of affection. Radebe, leading the tributes, hailed him as "my inspiration". He is survived by his wife, Ntombi Nombewu.
Philomen Raul Masinga, footballer, born 28 June 1969, died 13 January 2019
Join our new commenting forum
Join thought-provoking conversations, follow other Independent readers and see their replies