Pierre Cescutti: Sapper who drank to VE Day in Hitler's wine cellar and put Luis Ocaña on road to Tour de France victory
Cescutti was one of the few riders who could still recall competing in Vichy France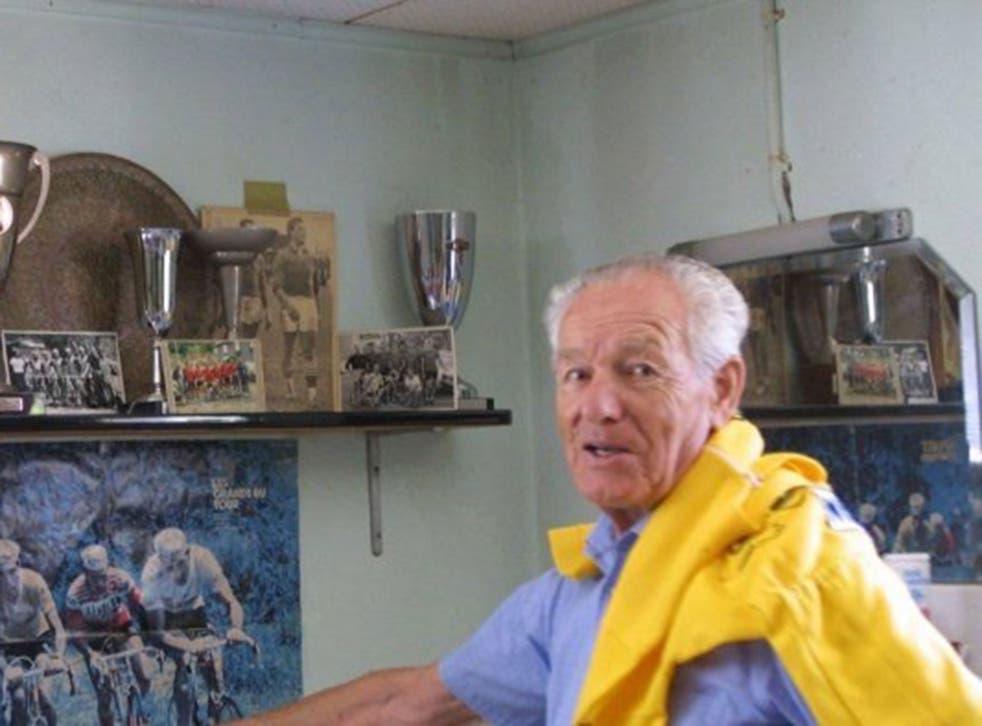 When Pierre Cescutti received journalists at his home in Mont-de-Marsan, deep in the south-westerly Landes region of France, as the area's most famous cycling coach – most notably for Luis Ocaña, winner of the 1973 Tour – his extensive collection of bike racing photos was only to be expected.
But his most striking photo had nothing to do with sport. It showed Cescutti in May 1945 on a sunlit day outside Hitler's chalet, the Berghof, near Berchtesgarten. Shortly before it was taken, Cescutti and other soldiers from one of the best-known Free French Army units, the 2e Division Blindée, had joined the Allied advance on one of the most emblematic buildings of the Second World War. Fearing that the building had been mined by retreating SS troops, General Leclerc "had sent us sappers ahead to clear them," Cescutti recalled.
"But the whole place had been bombed out [by the RAF] and only the wine cellar was left intact" – allowing Cescutti and his unit to usher in VE Day in a suitably sozzled state. "It was the first time in my life I ever got drunk."
VE Day also completed a kind of personal odyssey for Cescutti, who had left Vichy France in 1940 to join Free French forces in North Africa, only to be captured and interned by the Spanish. Only a British-brokered deal exchanging much-needed oil in return for the freedom of 1,500 French Resistance prisoners allowed Cescutti to reach Portugal by train, before travelling by boat to North Africa and De Gaulle's armies.
Tour de France 2015 - in pictures

Show all 13
After training for eight months in Morocco and four months near Hull, Cescutti was with the 2e DB division when it landed at Utah Beach – where, coincidentally, the Tour de France has a stage finish next July – on 1 August 1944, and fought in the decisive Falaise Gap battle in Normandy. The 2e Division had the honour of being the first Allied unit to enter Paris, and formed part of the force that withstood the Germans' counter-attack at Bourget and liberated Strasbourg that November. It helped defeat Wehrmacht forces in the Colmar Pocket in February 1945, before fighting through southern Germany.
The First World War had brought Cescutti to northern France when he was a year old, after his parents moved there from Italy in 1922 looking for stonemason work repairing war-damaged buildings. When that post-Great War construction boom began to fade, business contacts saw Cescutti's family settle further south, in Mont-de-Marsan. There aged 12, in 1933, Cescutti witnessed his first Tour de France – and fell in love with cycling.
The vivid images Cescutti could recall of that Tour made him one of the last living witnesses of the sport's pre-war years: "I was impressed by the riders' masks of dust and sweat, their black welders' glasses, the two spare tyres criss-crossing their backs, their metal drinks cans hanging from the handlebar tape and the Tour boss, Henri Desgrange, looking like a Roman emperor standing erect in his Hotchkiss car."
Cescutti was one of the few riders who could still recall competing in Vichy France, day-long excursions that invariably ended with a last "race" in the dark against the gendarmes and the curfew. But by the time he returned from the war his digestive system had been destroyed by marsh fever and the jaundice he had contracted in North Africa, so racing was no longer possible. So he turned to training riders, one of his earliest star pupils being his newly wedded wife, Rolande Danné, later a double women's hour record holder.
Cescutti became the trainer for the Mont-de-Marsan's Stade Montois, the town's main sports club, and oversaw its conversion in one of the powerhouses of 1950s and 1960s French amateur cycling. The owner of a construction company, Cescutti also built installations for local riders, like the Loustau velodrome.
André Romero, twice the Tour's Best Young Rider, was among the big names who emerged from the Stade Montois during Cescutti's 60 years at the helm. But as the club's current president, Lionel Gauzere put it, "Luis Ocaña was the one who made him feel the proudest."
The son of Spanish emigrants, Ocaña was a notoriously impulsive, wayward genius of the sport, "more of a matador than a chanteur," as Cescutti put it. But Cescutti instilled much-needed self-discipline into Ocaña during his amateur years, drumming in reams of valuable advice about diet, training and equipment.
Ocaña flourished rapidly, turning professional in 1967. After defeat in the 1971 Tour to his arch-rival Eddy Merckx, when he crashed out while in the leader's yellow jersey – it would have been one of Merckx's greatest defeats – Ocaña took a crushing Tour victory in 1973; on the Champs-Elysées he gave Cescutti his yellow jersey. Three decades later Cescutti donated it to the Stade Montois to inspire future generations of local riders.
Pierre Cescutti, soldier, cycling trainer and builder: born 20 March 1921; married Rolande Danné (three sons); died Mont-de-Marsan 18 October 2015.
Join our new commenting forum
Join thought-provoking conversations, follow other Independent readers and see their replies