Pietro Mennea: Olympic sprint champion whose 200 metres world record stood for 17 years
While some sprinters manage to look relaxed in action, he always looked frantic, almost fanatical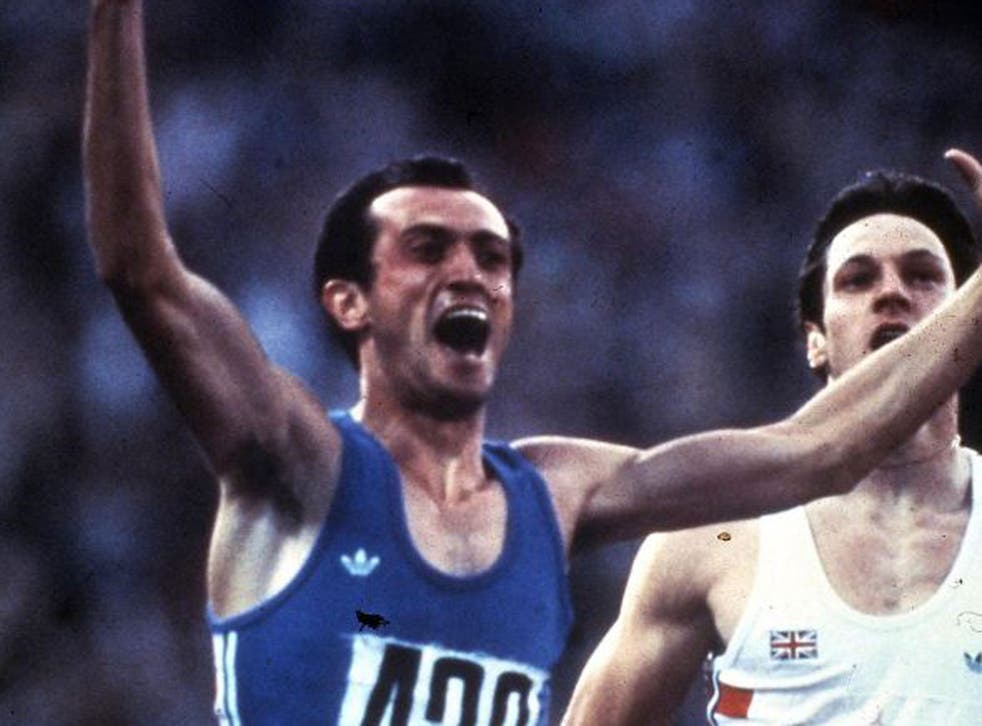 The name of Pietro Mennea, the 1980 Olympic 200 metres champion and former world record holder, resonated deeply within Italian sport.
As the many tributes which have followed his death from a reported tumour in a Rome hospital made clear, this outstanding sprinter – whose birthplace of Barletta, on the southern coast, partly informed his nickname of "Freccia del Sud" [Arrow of the South] – was valued not just for the range of his achievement, but the manner of it.
By the time he ended his career he had two Olympic bronze medals as well as his gold, and three European Championship golds at 100 and 200m. He also departed the track having set a world 200m record of 19.72sec at altitude in Mexico City which would stand for 17 years before it was beaten by Michael Johnson at the US trials shortly before the 1996 Atlanta Olympics, and which remains the European record.
As the Italian football team, wearing black armbands, linked arms during a minute's silent remembrance of their fellow countryman shortly before Thursday's 2-2 draw with Brazil, the recollections will have been of an intense, strong, wiry runner who always seemed to compete with a sense of fury, his pistons driven by a rage to succeed. The Italian football coach, Cesare Prandelli, went a long way to explaining the particular appeal of Mennea's Olympic efforts in a career which saw him become the first man to reach four successive 200m finals, starting at the 1972 Munich Games, before taking part in his favourite event for one final time at the 1988 Seoul Olympics, where he went out in the qualifying rounds.
Recalling Mennea's 200m bronze medal in Munich, where he finished behind Russia's 100 and 200m gold medallist Valery Borzov and the US silver medallist Larry Black, Prandelli spoke of his impressions: "There was this white Italian competing in an event dominated by black athletes or the great athletes from the east like Valery Borzov. Pietro had determination and a strong will to survive."
That determination is writ large in so many of the photos one sees of Mennea competing. While some sprinters manage to look relaxed in action, he always looked frantic, almost fanatical. The strong will to survive was evident in the 15-year-old Mennea's habit of earning money in bets made over races in which he took on cars over 50 metres. He reportedly made enough to buy a lot of pizza.
Onofrio Introna, regional council president of the southern Italian region of Puglia, where Mennea grew up, gave voice to another recollected image of the sprinter: "Pietro flew down the track, and he seemed smaller than he was – 1.80m [5ft 11in] – when black and white televisions provided the first images of this boy from southern Italy, all power, determination and anger. He is someone who will never be forgotten."
If there is one overwhelmingly clear memory of his athletic career it is probably the moment when he claimed his Olympic gold in Moscow as he drew alongside the powerful figure of Britain's converted long jumper Allan Wells, already the 100m champion, and edged past him in the lane outside to claim victory by 0.02sec. Thereafter, with characteristic single-mindedness, Mennea forced his way through the ranks of Soviet security men in order to complete a lap of honour.
His world record from 1979 was set in a far more obscure competition, albeit in an Olympic stadium. As a student of politics – after his athletics career, Mennea became a member of the European Parliament from 1999 to 2004 and wrote a book about sports law – he took part in the World University Games on the same track where Tommie Smith had won Olympic gold at the 1968 Games in what was then the world record of 19.83sec.
Mennea surprised not just the world, but himself, in running 19.72. In 1996, after Johnson had run 19.66 as a prelude to his Olympic-winning effort of 19.32, the Italian recalled: "I never thought for a minute the record would last that long. I didn't even think at the time that I had run that fast."
The Italian also held the low-altitude 200m world record of 19.96, set in his home town, between 1980 and 1983, and his 1983 world best for the rarely run 150m, a hand timing of 14.8, stood until 2009, when the current world 100 and 200m record holder, Usain Bolt, bettered it in Manchester.
A few years after retiring from athletics Mennea admitted that in 1984 he had taken human growth hormone, a substance which, while it is on the International Association of Athletics Federation's banned list now, was not then. Mennea, nevertheless, clearly recognised that it was not a high point in his career.
He insisted nevertheless: "I competed in five Olympic Games because I practised a manner of sport which was constant and correct. If I didn't keep to the straight and narrow I doubt I would have lasted so long. Doping may create grand results on one level, but it certainly doesn't bring longevity to any athlete's career."
The same honesty was brought to bear when he criticised Rome's plans to bid for the 2020 Olympics, shortly before the Italian government withdrew their support. "We are a nation devastated by a scary economic crisis," Mennea said. "How could we propose something like this now? Zero-cost Olympics don't exist."
Pietro Mennea, athlete, politician and writer: born Borletta, Italy 28 June 1952, MEP 1999-2004; married 1996 Manuela Oliveri; died Rome 21 March 2013.
Register for free to continue reading
Registration is a free and easy way to support our truly independent journalism
By registering, you will also enjoy limited access to Premium articles, exclusive newsletters, commenting, and virtual events with our leading journalists
Already have an account? sign in
Register for free to continue reading
Registration is a free and easy way to support our truly independent journalism
By registering, you will also enjoy limited access to Premium articles, exclusive newsletters, commenting, and virtual events with our leading journalists
Already have an account? sign in
Join our new commenting forum
Join thought-provoking conversations, follow other Independent readers and see their replies