Tony Benn obituary: Politician who embodied the soul of the Labour Party and came to be admired - even by his rivals
Andy McSmith
,
Tam Dalyell
Friday 14 March 2014 11:55 Comments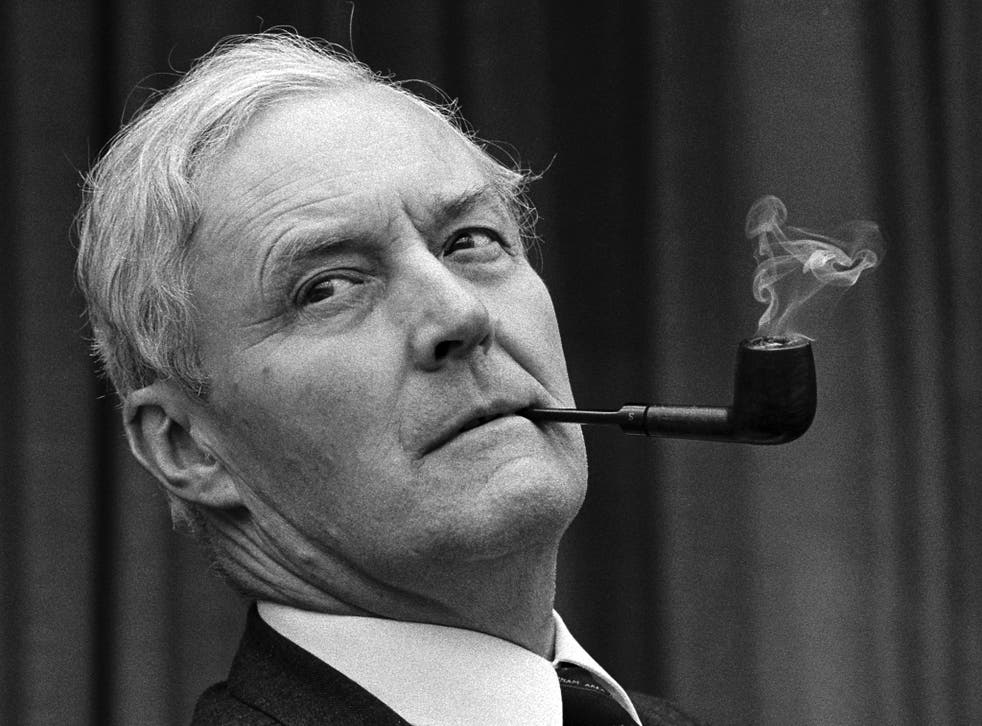 Tony Benn's political career was extraordinary for many reasons, not least for how long it lasted. He entered the Commons in 1950 as its youngest MP, aged 25, and bowed out in 2001, a span of more than 50 years, making him the longest-serving MP in the history of the Labour Party and one of the longest in British history. Yet he professed to find parliamentary democracy restricting, and gave the eighth volume of his diaries, covering the years after he ceased to be an MP, the title "More Time for Politics" as he made himself available to be a platform speaker at protest meetings across the land.
As a young MP, Benn was what would now be called a "moderniser". During the 1959 election campaign, the Labour Party made bold experiments with the use of the new medium of television, in which the pioneers were the MPs Tony Benn and Woodrow Wyatt. He was one of the keenest backers of Concorde, the world's most famous passenger aircraft, and one of its most expensive, which first flew in 1969 and was permanently grounded in 2003. In 1968 he supported the first attempt by a Labour government to restrict the growing power of the trade unions, when Barbara Castle launched In Place of Strife. It was defeated by furious union opposition, abetted by Jim Callaghan.
It seemed that Benn's career as an MP would end abruptly in November 1960 with the death of his father, who had been made Viscount Stansgate in 1942. A centuries-old constitutional convention required the son and heir to give up his seat and spend the rest of his life in the House of Lords, but he fought with great stubbornness to stay where he was. When his seat was declared vacant, he stood as the Labour candidate and easily won the resulting by-election, but the result was declared invalid and his Conservative runner up, Malcolm St Clair was declared the winner. In 1963, Benn finally secured a change in the law, and St Clair honourably resigned, forcing another by-election, which Benn easily won. His success enabled Alec Douglas-Home, the 14th Earl of Home, to become Prime Minister later that year.
In pictures: Tony Benn, reflections of a life at the heart of British politics

Show all 20
He was an innovator of a different kind during his time as Industry Minister in 1974-76, when he sponsored several attempts to preserve doomed enterprises by helping the employees to convert them into workers' co-operatives. When the Daily Express closed its Glasgow plant, Benn backed journalists and print workers in launching the Scottish Daily News. Factories in Meriden and Kirby that were marked for closure also had an extended life span, with Benn's active backing. His belief in state and co-operative ownership of industry was considered so sinister by right commentators at the time that the Daily Mail's Political Editor, Anthony Shrimsley, warned: "The true menace of citizen Benn is that he has greater ambitions than merely to take over everything that contributes to the industrial and commercial strengths of these islands. Mr Benn's aim is to obliterate democracy." The Daily Express ran at least one cartoon of Benn dressed as a Nazi officer.
The Tory right now generally takes a different view of Benn, seeing him as a democrat and constitutional innovator because he was the driving force behind the Labour government's decision to hold a referendum in 1975 on the UK's membership of what was then called the Common Market. The campaign brought Benn and other Labour leftists into an uneasy alliance with Enoch Powell and the Tory right. The heavy defeat of the "No" campaign emboldened Harold Wilson into removing Benn from his post as Industry Secretary into the lesser job of Energy Secretary.
By 1979, Benn had spent 11 of the previous 15 years in government. He chose not to run for a place in the shadow cabinet, to concentrate instead on his political base in the Labour Party. He became the chief advocate of three major changes to the party rules: the manifesto was to be taken out of the leader's exclusive control, MPs were to face a contested reselection battle every parliament, and the party leader and deputy leader were to be chosen by an electoral college, rather than by a ballot of Labour MPs. The first two changes were passed in 1979, but the third was held up until a special conference in January 1981.
Benn had contested the party leadership when Harold Wilson resigned in 1976, but was never likely to win while the vote was confined to MPs. It was to head off the prospect of his becoming party leader that James Callaghan resigned late in 1980, while the old rules still applied. After the change had come into effect, Benn did not feel he could challenge the new leader Michael Foot, who was from the Labour left, so decided to try to remove Denis Healey from the deputy leadership. Former allies such as Neil Kinnock and Robin Cook were appalled, and tried to stop him, but he thwarted them by formally announcing his candidate one night, at 3am, to the Press Association's astonished late reporter. The contest dominated the news for six months, to the delight of the former Labour MPs who had split away to form the SDP. Eventually, Healey won by a margin of less than 1 per cent, after the biggest union, the TGWU, handed its block vote to Benn.
As the idol of party activists, Benn was still able to top the poll year after year in elections to Labour's National Executive Committee, in which he chaired the Home Affairs committee. In that capacity he was the principle author of the party's 1983 election manifesto, with its prescription for widespread nationalisation, abolition of nuclear weapons, and withdrawal from the EU, which Gerald Kaufman memorably nicknamed 'the longest suicide note in history'. Benn was one of the MPs to lose his seat in the resulting debacle, in which Labour held barely a quarter of the overall vote, handing Margaret Thatcher a record majority. He blamed his personal defeat on party organisers who had secured Bristol's only safe seat for the Chief Whip, Michael Cocks.
He was out of Parliament for less than a year, because Chesterfield, a safe Labour seat, became vacant when his old antagonist Eric Varley quit Parliament. Benn was returned after a highly publicised by-election, but his days of influencing Labour policy were over. In 1988, alienated by the direction that the new leader, Neil Kinnock, was taking the party, he made one last run at the party leadership in 1988, but was heavily defeated.
Andy McSmith
"My mother, when she read me bible stories," said Tony Benn, "always distinguished between the kings of Israel who exercised power and the prophets of Israel who preached righteousness, and I was brought up to believe in the prophets rather than the kings."
So Benn often reminded us in his later years. But, truth to tell, it was not always thus. Until 1970 he did aspire to be a king - to the extent that Hugh Gaitskell, Leader of the Labour Party from 1956-63, regarded him as pushy and over-ambitious. And, come the Labour whisker-thin majority of 1964, a very effective and imaginative king he turned out to be - first, as Postmaster-General, and subsequently, after the substantial majority for the Labour government in 1966, as Minister of Technology. In 1970, the government changed, and so did Tony Benn. From having been a centre-right minister, he quite suddenly began to espouse left-wing, anti-establishment views, emphasising the merits of "open government".
The seminal event in Benn's transition to the extreme left was his visit to Mao's China in September 1971, when he returned to tell an astonished Harold Wilson and an incredulous Roy Jenkins, that their role in life ought to be of "Advisers to the Proletariat".
As Prime Minister from 1976 to 1979, James Callaghan did not regard Benn as a team player. After the Winter of Discontent (1978-79), and the debacle of Labour's defeat in March 1979, Benn metamorphosed into the Champion of the Extreme Left, alienating not only the moderates in the PLP but most of the old left, in particular Michael Foot. However, had he not been defeated in Bristol he would, I believe, in the atmosphere of 1983, have been elected Leader of the Labour Party. In my minority opinion he would have been an effective Leader of the Opposition against Margaret Thatcher, and possibly, a considerable prime minister.
Benn had a huge strength - he had the most exquisite parliamentary good manners of any MP in the House of Commons, in the second half of the 20th century. He recalled to me, "My dad told me, 'Never wrestle with a chimney sweep,' which was a curious piece of advice to give an eight-year-old, but now I understand exactly what he meant: If someone plays dirty with you, don't play dirty with him, or you will get dirty, too." Benn said that his attempt to keep personal abuse out of political controversy had been shaped by that simple phrase.
In the evening of his life, Benn became the most successful political prophet in British history, attracting huge audiences up and down the country. Surely no one has spoken at more well-packed meetings, and charmed many in the audience, of different political persuasion. I first listened to Tony Benn at a Fabian summer school in 1957. He was a preacher, who lectured. Nearly half a century later, he had become bewitchingly eloquent and witty. Since he left the House of Commons in 2001 and announced that he was leaving parliament to take up politics, he filled halls and theatres up and down the country.
Neither, surely, has any British politician ever produced so many and such copious volumes of diaries - eight published to date. He would discipline himself to dictate every night, so editing and transcription could be done by Ruth Winstone, who must share the credit for the achievement. More balanced than those of Richard Crossman, more accurate than those of Barbara Castle, the Benn diaries are a unique historical record. In 80 years, Benn has hardly squandered a minute on trivialities.
Anthony Neil Wedgwood Benn was born in 1925, the second son of William Wedgwood Benn and Margaret Holmes. She was a lady of deep Christian convictions; her eldest son, Michael, who died in the Second World War at the age of 22 when his plane malfunctioned, would have gone into the Church had he been spared. Tony was to complain that the biblical and religious references that slipped into his speeches and articles were simply not understood. Albeit he was to become a sceptic, he was imbued with the Christian tradition.
His father was a Labour MP and Secretary of State for India. What other child in the land could claim to have been given a chocolate biscuit in 10 Downing Street by Ramsay MacDonald, to have had conversations with Lloyd George at the age of 12, to have knelt next to Mahatma Gandhi, and to have played with the children of Oswald Mosley, when he was still a Labour MP? Benn's political memory went back not for a quarter of a century, not for half a century, but for three-quarters of a century. His father's first cousin, and visitor to his home at Christmas and on many occasions, was the actress Margaret Rutherford.
Benn had a demanding childhood. From the age of six, he was required to keep an account book of how much pocket money he spent, which then had to be audited by his father's secretary, Miss Triggs, before the next pocket money was paid. It was increased if he submitted his accounts properly. It was a sin to waste time. His home was at 40 Millbank, a tall, five-storeyed house a few yards from the Tate Gallery, next to a military hospital. Perhaps this was a seed of Benn's attitude to war - he was not a pacifist - in the Falklands, Kuwait or Iraq:
He went to Graham Street mixed infants school, and then to the Frances Holland School for Girls, at 13 guineas a term; and from there to Gladstone's, in Cliveden Place. Mr Gladstone, Benn recalled, was a relative of the Grand Old Man, and looked the part. One of the masters, Mr Leman, wrote of his charge when he was 12: "Anthony is a little too conscious of 'Anthony'. He works well and tries hard, but has a tendency to overdo things - next term I shall watch him with interest - he ought to be good."
Benn's time at Westminster was, he told us, not very distinguished, apart from his winning the Toplady Prize for Divinity. But it was at Westminster that he had his first experience of swimming against the political current. The boys, with one or two exceptions, supported Neville Chamberlain over appeasement. Because of what he had heard at home, Benn resolutely opposed appeasement, and argued against the evil of Fascism.
In 1943, he joined the RAF. Flying training took place at Bulawayo in what was then Southern Rhodesia. Ever curious about his surroundings, Benn became friendly with an old Matabele warrior who had fought against Cecil Rhodes. He went to the local hospital for Africans, and found the conditions appalling. He was amazed to find 60,000 white people in total control, living off the land that had been stolen by Rhodes from the Matabele and the Mashona. It was this experience which ignited Benn's interest in the anti-colonial movements, leading to friendship with Fenner Brockway and others in the Movement for Colonial Freedom, which became one of Benn's central interests after he was elected to Parliament for Bristol South-East.
Benn's diaries for 1940 to 1962, published as Years of Hope (1994), record his life in Africa, his training as a pilot, the shattering effect of the death of his brother Michael while he was there, his journey on to Egypt, where his war ended after he had got his wings. He transferred to the Fleet Air Arm with the hope of serving in the Far East: Hiroshima and Nagasaki put an end to that plan. But I noticed that Benn was never as vocal about the evil of nuclear weapons as some of his colleagues in the Campaign for Nuclear Disarmament.
He attained a poor degree in PPE at New College, Oxford but made many friends, particularly Tony Crosland. One of the big "ifs" of Benn's career is what would have happened if Crosland had not been struck down prematurely, and had become Leader of the Labour Party, as he would most certainly have done, when Michael Foot was elected to succeed James Callaghan in 1980.
Benn was elected President of the Oxford Union, which gave him the opportunity to lead a debating tour to the US in the autumn of 1947-48. The most important consequence of the tour was that Benn met T George Harris, who introduced him to Caroline De Camp of Cincinnati, Ohio, in the summer of 1948 when she visited Oxford from Vassar College to attend a summer school. He was to be married to Caroline for 51 years: she was a considerable socialist, teacher and author.
Shortly after Benn left Oxford, his old headmaster at Westminster, by then Principal of Jesus College, Oxford, JT Christie, told him he had heard of a post Benn might be interested in. Out of curiosity, and the need to find a job, he agreed to meet a Colonel Sheridan. The job was to be a spook, at £1,000 a year. Benn declined, albeit that it was twice the salary that he was to get as a young BBC producer:
Benn was shocked, and remained shocked throughout his life, at the thought that the security services should have been able to defy the constitution and employ elected MPs as spies for them. From time to time, Benn would say to me that one of our colleagues worked for the security services. I was sceptical, but I now know that he was right - and right to be somewhat obsessive about the role of the security services, particularly during situations such as the 1984 miners' strike, which caused him - by then MP for Chesterfield - genuine distress.
The job he had found as a producer in the North American Service of the BBC paid £9 a week. There he was able to edit, interview and introduce programmes, which he generally picked himself.
On 4 December 1950, at the age of 25, Benn took his seat in the Commons for Bristol South-East, and five years later began his epic campaign to rid himself of the peerage. He introduced a private Bill, and appeared before the Privy Bill Committee of the House of Lords to present his case. It was unsuccessful. Five years more later, in 1960, Viscount Stansgate died at the age of 83, so Benn found himself excluded from the Commons.
A by-election was declared. Through a loophole in the law, the Town Clerk of Bristol could accept as candidates "all persons who were properly nominated". Benn was elected with a larger majority. He had steeped himself in the peerage law and presented his own case. Again he was disqualified, on the basis of a judgement by Mr Justice Dodderidge, who in 1626 had ruled that a peerage was "an incorporeal hereditament affixed in the blood and annexed to the posterity". Public support for Benn led the Harold Macmillan's Conservative government to set up a Select Committee. Were the Tories influenced by the fact that the Earl of Home might face a similar problem, if chosen as Prime Minister?
In the summer of 1963, it recommended that an heir to a peerage could renounce within six months of succession. Benn was returned at a by-election in the autumn of 1963. He had made an indelible mark in British constitutional history.
Tam Dalyell
Anthony Neil Wedgwood Benn, politician: born London 3 April 1925; Talks Producer, BBC Overseas Service 1949-50; MP for Bristol South-East 1950-60, 1963-83, for Chesterfield 1984-2001; succeeded 1960 as second Viscount Stansgate, disclaimed peerage for life 1963; Postmaster-General 1964-66; Minister of Technology 1966-70; Minister of Aviation 1967-70; Minister of Power 1969-70; Secretary of State for Industry and Minister for Posts and Telecommunications 1974-75; Secretary of State for Energy 1975-79; married 1949 Caroline De Camp (died 2000; three sons, one daughter); died 14 March 2014.
Register for free to continue reading
Registration is a free and easy way to support our truly independent journalism
By registering, you will also enjoy limited access to Premium articles, exclusive newsletters, commenting, and virtual events with our leading journalists
Already have an account? sign in
Join our new commenting forum
Join thought-provoking conversations, follow other Independent readers and see their replies