Professor C Terence Ingold: Foremost authority on the study of fungi whose work spanned eight decades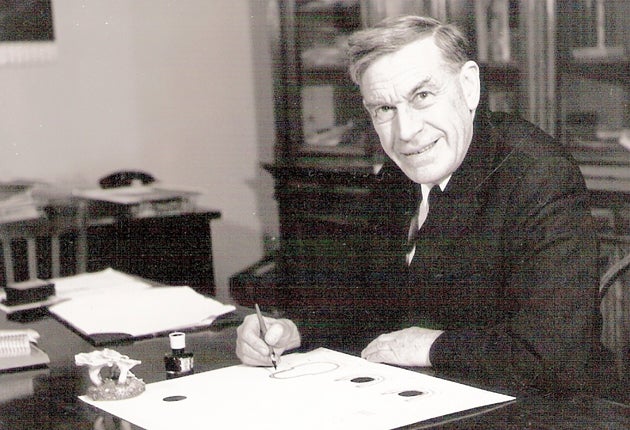 Professor Terence Ingold, who has died at the great age of 104, was the Grand Old Man of mycology (the study of fungi). His academic career spanned much of the 20th century and he will always be known as the discoverer of an important group of aquatic fungi known as Ingoldian fungi in his honour.
These are now known to play a fundamental role in aquatic ecosystems, supporting life by processing dead vegetation and recycling nutrients. Before Ingold they were completely unknown.
Unlike most leading mycologists today, Ingold was a naturalist as well as a specialist, skilled at observation, microscopy, and with an ability to draw, beautifully and accurately, and so capturing the distinctive "jizz" of a fungus. His research interests were exceptionally wide. Beyond detailed studies of jelly fungi, cup fungi, pin-moulds, parasitic "chytrids" and many other groups, Terence Ingold was an authority on spore discharge, and followed his mentor Reginald Buller in working out the mechanisms by which spores are hurled from the body of the fungus like tiny ballistic missiles.
Against the trend in science, he remained an all-rounder with an interest in the whole organism in its natural surroundings. As a university teacher he is still remembered for his inspiring and zestful lectures, as well as his Spartan but popular field trips to Cader Idris and other mountain areas. In addition he was the author of a series of textbooks on fungi that have influenced mycological courses throughout the world.
Nor did his love affair with fungi end with retirement. Until well into his nineties Ingold continued to work from home with primitive facilities, producing original observations and studies on such topics as frost resistance in fungi and the catapult "ballistospores" spores of jelly fungi which are sent spinning on their way by microscopic catapults. A published tribute to Ingold on his 80th birthday listed 174 publications; in the next 20 years he published another hundred. Not many careers reach their half-way point at retirement age. One of his last papers, on the germination and anatomy of fungi known as smuts, was written when he was aged 93.
An Ulsterman, Ingold was born in Belfast and attended school at Bangor in County Down. His father, an inspector of elementary (national) schools, encouraged his son's interest in plants even though Terence's school had no biology classes. In 1922 he won a scholarship to Queen's University, Belfast and graduated with a first class honours degree in botany despite disliking the course for its lack of field work. He took up another scholarship at the Royal College of Science in London before returning to Belfast to complete his doctorate in plant physiology.
In January 1930, Ingold was appointed lecturer in botany at Reading University. Despite a heavy teaching load he inaugurated regular field courses, and attended fungus forays held by the British Mycological Society. His lifelong association with the society included spells as its President in 1953 and 1971. In 1937 he was appointed lecturer in charge of the fledgling botany department of what was then the University College of Leicester. It was while there that, in 1939, he discovered the strange fungi known as aquatic hyphomycetes in the Donkey Brook near Cropston.
He was the first to investigate their ecology and, especially, their strange spiky spores, variously shaped like sputniks, anchors or worms. Ingold pioneered a way of assessing the fungus flora of a stream by taking samples of natural foam in which the floating spores become trapped. His subsequent scientific paper, published in the Transactions of the British Mycological Society, "Aquatic Hyphomycetes of Decaying Alder Leaves", is regarded as a 20th-century classic.
In 1944, Ingold was offered the prestigious post of the chair in botany at Birkbeck College London, which had recently been vacated by Dame Helen Gwynne-Vaughan. He remained there until his retirement in 1972, latterly serving also as the College's Vice-master (1965-70), Dean of the University's Faculty of Science (1956-60) and Chairman of the University Entrance and School's Examination Council (1958-64). He also served as Chairman of the Freshwater Biological Association's Council from 1965 to 1974. He was Vice-Chair of the Inter-Universities' Council for Higher Education Overseas, which involved him in much foreign travel in the 1960s, in which time he helped to set up universities in Swaziland, Lesotho and Botswana. In 1970 he was awarded the CMG for his work in higher education and science.
Between 1939 and 1971, Ingold wrote four textbooks on spore discharge and dispersal in fungi, all published by Oxford's Clarendon Press. Spore Discharge in Land Plants (1939), the work of which he was most proud, was followed by Dispersal in Fungi (1953), Spore Liberation (1965) and Fungal Spores: their liberation and dispersal (1971). His textbook The Biology of Fungi (1959), written during a sea voyage to Montreal, became a standard textbook for sixth form and undergraduate courses and remained in print for a quarter of a century, running through six editions.
Ingold received numerous university honours, including honorary degrees from Exeter, Kent and Ibadan Universities. He also received the Linnaean Society's coveted Gold Medal in 1983 for his work on aquatic fungi. A mark of his extraordinary standing was his presidency of the first International Mycological Congress held at Exeter in 1971.
Ingold had a gentle sense of humour, shown in his whimsical hand-drawn Christmas cards and his illustrated light-hearted pieces in the British Mycological Society's Bulletin. Asked in old age which of his writings pleased him most, he chose two unpublished ones: a story, Egbert, or the Face on the Egg, written for his daughters, and Lindisfarne and all that, which "relates to my recent concern with the early history of the lovely area where I now live". His beloved wife Nora, whom he married in 1933, predeceased him. He is survived by four children – his son Timothy is a distinguished social anthropologist and his retired daughter, Patsy, held a Chair in Planning at Newcastle University – and five grandchildren.
Professor Cecil Terence Ingold, botanist, mycologist and university teacher: born Ulster 3 July 1905; Lecturer in botany, University of Reading 1930-37; Lecturer, University College of Leicester 1937-44; Professor of Botany, Birkbeck College, London 1944-72; CMG 1970; married 1933 Leonora (Nora) Kemp (died 1998; three daughters, one son); died Wooler, Northumberland 31 May 2010.
Join our commenting forum
Join thought-provoking conversations, follow other Independent readers and see their replies