Professor Joseph Murray: Surgeon who performed the first successful kidney transplant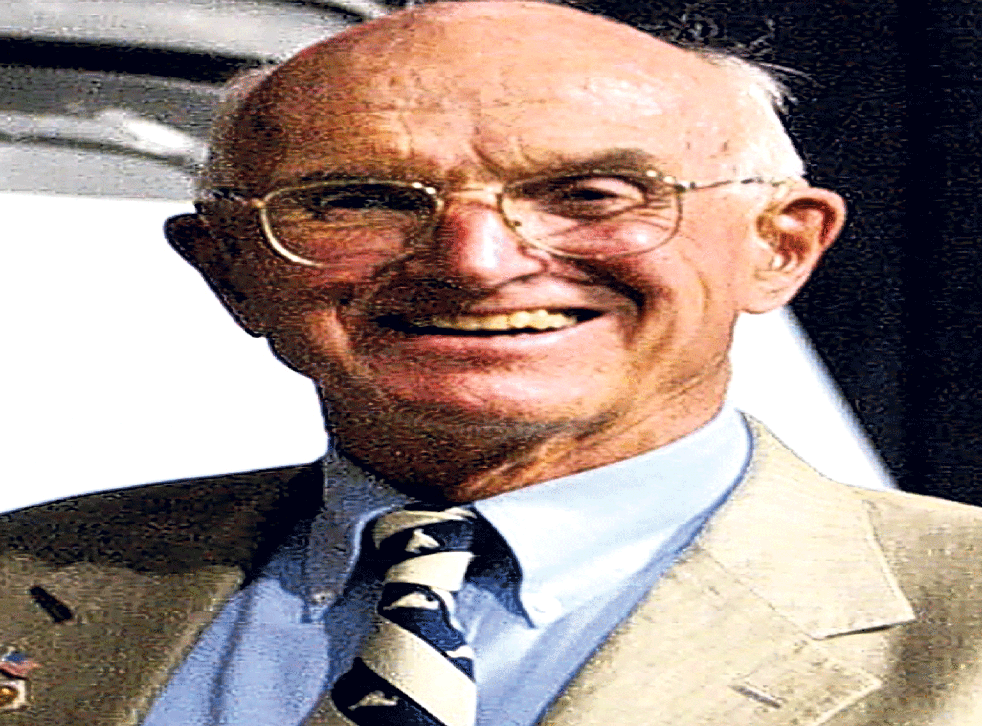 Joseph Murray was an organ transplant pioneer who carried out the first successful kidney transplant operation on twins in 1954, for which he received the Nobel Prize. He later focused on plastic surgery, in particular the repair of facial defects in children.
Murray had always wanted to be a surgeon, due in part to the qualities of the family doctor, and became fascinated in the emerging science of transplants during a three-year spell on the surgical ward of an army hospital in Pennsylvania, during the Second World War. He was randomly assigned to the plastic surgery ward, where he came across hundreds of severely burned soldiers for whom immediate skin grafts were unavailable. As a life-saving measure skin grafts were taken from dead bodies.
However, this proved only a temporary measure, as after 8-10 days the skin began "to melt around the edges". Murray noted: "The slow rejection of the foreign skin grafts fascinated me. How could the host distinguish another person's skin from his own?"
While on the ward, Murray became friends with the chief surgeon, Colonel James Brown, and the pair often discussed the anomalies of skin grafting. Before the war Brown had treated a number of burns victims and had tentatively postulated that the closer the genetic relationship between the skin donor and the recipient, the slower the dissolution of the graft. In 1937, Brown had experimentally carried out a skin graft on identical twins in which the recipient's body had accepted the foreign tissue rather than attacking it. Later, the experimental work of the British biologist Peter Medawar made it clear that the rejection process was immunological in nature. This became the catalyst for Murray's study of organ transplantation.
Murray later reflected, "My life as a surgeon-scientist, combining humanity and science, has been fantastically rewarding. In our daily patients we witness human nature in the raw – fear, despair, courage, understanding, hope, resignation, heroism. If alert, we can detect new problems to solve, new paths to investigate."
Born in Milford, a town 30 miles south-west of Boston, in 1919, Joseph Edward Murray was the son of a judge, William, and a schoolteacher, Mary. Both immigrants to the US, they stressed the importance of education and the opportunities afforded in the US. He attended the College of the Holy Cross, concentrating on Latin, Greek, Philosophy and English, and Harvard Medical School, from which he graduated in 1943. After a truncated internship at Brigham Hospital, Murray entered the Army Medical Corps in 1944.
Upon returning to civilian life and Brigham Hospital, Murray began practising as a general and plastic surgeon, while also working with colleagues on the possibilities of organ transplants. At the time, the prospect of transplanting organs from one living patient to another was controversial, with critics viewing it as a violation of nature that endangered both the donor and the recipient. Murray was advised to abandon it as it "was considered a fringe project" by the hospital.
Undeterred, Murray and his colleagues began to test the feasibility of renal transplantation with dogs with great success. October 1954 saw the admission of 23-year-old Richard Herrick, who was dying of the kidney disease chronic nephritis. With his identical twin, Ronald, willing to give a kidney, it was suggested that he might be a transplant recipient. Given their identical genetic background Ronald did not face the biggest problem with transplant patients, the immune system's rejection of foreign tissue.
After some ethical and moral issues were overcome, Murray and his team practised their surgical techniques on a cadaver. The transplant took place on 23 December 1954, and Murray later said, after the five-and-a-half hour procedure, "There was a collective hush in the operating room" as blood began to flow into the implanted kidney and urine began to flow out of it.
Richard lived another eight years, marrying a nurse he met at the hospital and having two children. He died from a recurrence of his original disease.
Murray continued to perform kidney transplants on identical twins, and in 1959 recorded the first successful transplant to a non-identical recipient; one patient who received a kidney transplant from a fraternal twin in 1959, plus radiation and a bone marrow transplant to suppress his immune response, lived for 29 more years. With the arrival of drugs to suppress the immune response, Murray successfully transplanted a cadaver kidney in 1962 and went on to train a number of doctors who became leaders in transplantation around the world.
In 1971, Murray resigned as chief of transplant surgery at Brigham to concentrate on plastic surgery, a field, he often said, had become wrongly associated with mere cosmetic procedures. In the US and abroad, Murray treated many children and adults with congenital facial deformities, survivors of head and neck cancers, and patients with many other problems. He often used techniques pioneered by the famed French doctor, Paul Tessier, to treat Crouzon syndrome, which produces congenital facial deformities.
In 1990, Murray shared the Nobel Prize in Physiology or Medicine with another American, Dr Edward Donnall Thomas, a pioneer in bone marrow transplants. A deeply religious man, Murray said, "Work is a prayer. And I start off every morning dedicating it to our Creator."
Murray was elected to the National Academy of Sciences and the Institute of Medicine. In retirement, he continued to write and was a popular guest speaker. He told medical students, "It's the best time ever to be a doctor because you can heal and treat conditions that were untreatable even a few years ago." He enjoyed physical pursuits including camping, hiking and competitive tennis.
Murray died at the same hospital in which he carried out his ground-breaking surgery following a stroke. He is survived by his wife, three sons, three daughters and 18 grandchildren.
Joseph Edward Murray, surgeon: born Milford, Massachusetts, US 1 April 1919; Nobel Prize 1990; married 1945 Virginia (Bobby) Link (three children): died Boston 26 November 2012.
Register for free to continue reading
Registration is a free and easy way to support our truly independent journalism
By registering, you will also enjoy limited access to Premium articles, exclusive newsletters, commenting, and virtual events with our leading journalists
Already have an account? sign in
Register for free to continue reading
Registration is a free and easy way to support our truly independent journalism
By registering, you will also enjoy limited access to Premium articles, exclusive newsletters, commenting, and virtual events with our leading journalists
Already have an account? sign in
Join our new commenting forum
Join thought-provoking conversations, follow other Independent readers and see their replies