Professor Sid Watkins: Doctor whose efforts saved countless lives in F1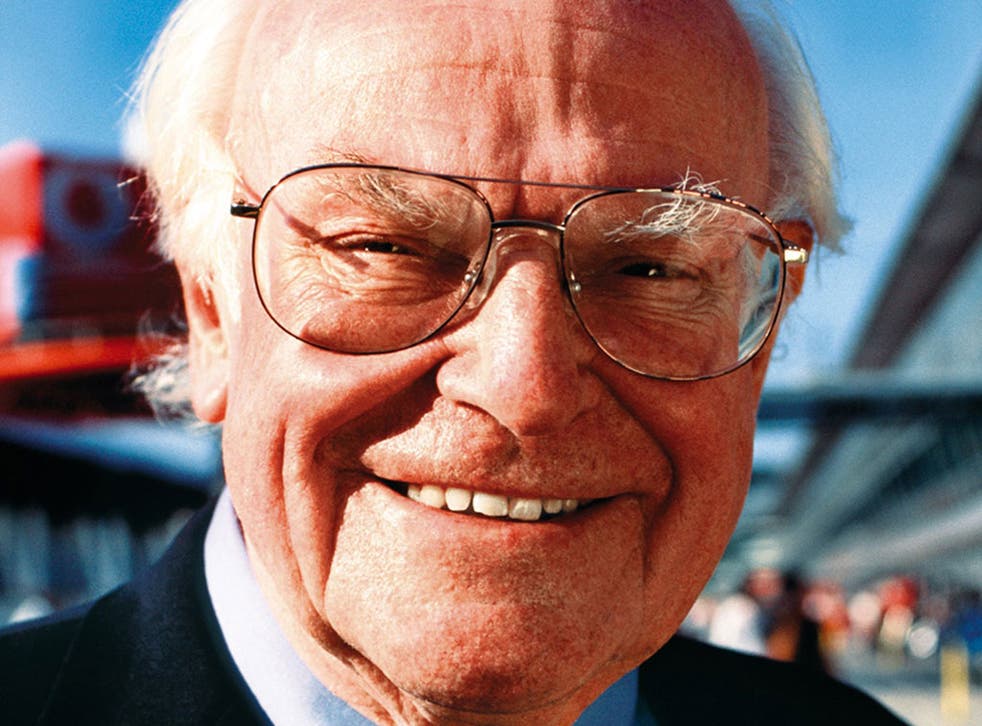 Guardian angels come in many forms; for grand prix drivers between 1978 and 2005 theirs was a craggy-faced coal miner's son whose recommendation for long life was to avoid stress at airports, smoke cigars and enjoy several glasses of red wine and a good scotch every day. When any of them had been involved in a high-speed accident, there was nobody they would rather see coming to their rescue.
Eric Sidney Watkins was universally and affectionately known as "Prof", and what Jackie Stewart had started with his safety crusade of the 1960s and '70s, Watkins continued through the '80s and '90s. He realised early in his career as a doctor of medicine, which began at the University of Liverpool in 1956, that his talents did not lie behind the wheel of competition cars. But when he was appointed professor of neurosurgery at the State University of New York at Syracuse, having studied under the great Joe Pennybacker at the Radcliffe Infirmary in 1958, he was invited to be the doctor at the 1962 US Grand Prix at nearby Watkins Glen.
He took along an anaesthetist and an orthopaedic surgeon and they used their own equipment, once they had swept out their crude premises and sprayed it with disinfectant. In 1970, when he had returned to England to work at the London Hospital, he was invited to fulfil a similar function at the British Grand Prix. But when he suggested the idea of providing intensive care facilities that could be taken to an injured and trapped driver, it was met with disdain from the chief medical officer, who believed that race drivers deserved no more than was available to everyday motorists.
An invitation in 1978 from Bernie Ecclestone to become Formula 1's official doctor proved the turning point, and he dovetailed that with his work at the London Hospital. In 1982 he demonstrated his courage in attending to the stricken Ricardo Paletti after a startline accident in Canada, working to intubate him despite Paletti's Osella catching fire. He said his training in West Africa with the Royal Army Medical Corps simply kicked in.
A disarmingly forthright, honest and amusing companion, Watkins had a presence and manner as a doctor that automatically commanded respect, and when he spoke people listened. He got things done.
The watershed came at Imola in 1987 when he refused Nelson Piquet permission to race after a very heavy practice accident at the Tamburello corner. Despite huge pressure from the circuit owners, and Piquet and his old friend Ecclestone, Watkins held firm.
"I said that racing wasn't possible because he'd had a head injury and he might have some brain damage. He said that he hadn't, whereupon I said, 'Well why have you left your shoe off?' He was only wearing one. He said that his foot was painful and swollen so he'd left it off.
"I said: 'Brain damage, foot damage, it doesn't make any difference. You're not fit to drive.' He cried on my shoulder, begged and screamed, but I said to Bernie: 'If Nelson gets into a car, I'm leaving this circuit.'"
Ecclestone appreciated his argument, and years later Piquet admitted that he didn't feel right until the end of the season. From Imola onwards, Watkins' word was law in all medical matters.
Over the years he set about improving medical standards across the globe until there was a mandatory FIA specification for every circuit's medical centre and staff. He also worked hand-in-hand with the FIA's Expert Advisory Group to initiate safety changes to the driver's equipment, the cars and the circuits, and introduced the medical chase car which can now reach accident scenes within seconds. Later he became the first president of the FIA Institute, which was the scientific apogee of the movement Stewart and Watkins had begun – a movement which saved countless lives as they forcefully changed views on the subject of the expendability of the stars at the very heart of Formula 1's show.
It hit Watkins hard at Imola in 1994, on the fateful weekend when Rubens Barrichello narrowly escaped an horrific accident and when Roland Ratzenberger and Ayrton Senna were killed. He was particularly close to the Brazilian, after forging a friendship based on deep mutual respect. Thereafter, he worked at the forefront of further change which, among many other things, included making raised energy-absorbing cockpit sides and the HANS head and neck support system mandatory.
"I still think a great deal about Ayrton," he admitted. "I dream about him a lot. It's one of the problems of old age: you dream more. There are two or three people in my life who have affected me a lot – my father, Joe Pennybacker, the neurosurgeon at Oxford with whom I trained, and Senna – and I dream about them constantly. And I hate it, because they're alive and well, and then you wake up, and have to face once more that they're gone."
Speaking of Imola, he once said: "Many people regret, and will continue to criticise bitterly, the changes in configuration of the circuits. But given a retrospective choice between a Tamburello or a Senna, I do not believe any sane person would now select the wall."
And his passion and compassionate understanding of the risk that the drivers still face came through as he added: "Nevertheless, the unexpected will inevitably occur, despite man's best endeavours, and the spectre of severe injury and death will continue to haunt one's waking thoughts, and to poison one's dreams."
Safety standards in Formula 1 have never been higher. And that is the legacy of a giant of a man who genuinely cared and who channelled that into bringing about change and saving lives.
David Tremayne
Eric Sidney Watkins, physician and neurosurgeon: born Liverpool 6 September 1928; OBE 2002; married Susan (four sons, two daughters); died London 12 September 2012.
Join our new commenting forum
Join thought-provoking conversations, follow other Independent readers and see their replies