Ray Manzarek: Keyboard player at the heart of the dark, brooding sound of The Doors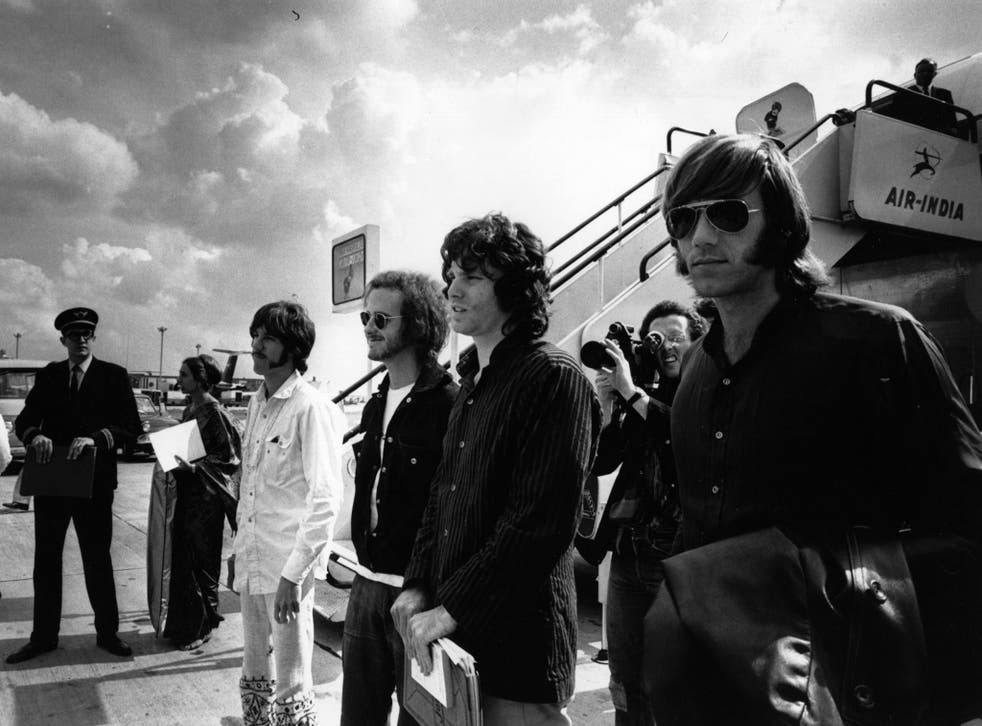 The keyboard player and songwriter Ray Manzarek was a founder-member of the Doors, the Los Angeles group who seemed to embody the possibilities, contradictions and limitations of the rock medium more than any other in the late Sixties. The tall, professorial-looking musician exuded a gravitas commensurate with the dark, questing nature of the band's tours de force "The End", "When The Music's Over" and "Riders On The Storm" and with the fate that befell their shamanic frontman Jim Morrison, who died in mysterious circumstances in Paris in July 1971. This added to the mystique around the group, who have sold over 100m albums and been the subject of several documentaries, and Oliver Stone's biopic (Kyle MacLachlan portrayed Manzarek).
Their sequence of ominous albums like Waiting For The Sun, Morrison Hotel and LA Woman created a rich template for groups as diverse as Blue Öyster Cult and Simple Minds, while their 1967 hit "Light My Fire", prominently featuring Manzarek's trademark Vox Continental organ, has been covered by José Feliciano, among others. In the 1980s Manzarek produced four albums by the LA punk group X, including their version of the Doors' "Soul Kitchen", as well as a version of another Doors classic, "People Are Strange", by Echo & the Bunnymen, which was included in the 1987 Joel Schumacher teen horror movie The Lost Boys and introduced their music to the MTV generation. The Doors became the go-to group for film-makers like Francis Ford Coppola, whose Apocalypse Now used "The End".
The eldest of three brothers, he was born in Chicago in 1939. "My ethnic lineage is Polish," he wrote in his 1998 autobiography Light My Fire: My Life With The Doors. "Manzarek (original spelling 'Manczarek') is a Polish name. I'm third generation." Six feet at 14, he was a basketball natural but lost interest when he stopped growing.
Piano lessons proved a chore until he began studying with the dance band leader Bruno Michelotti. "He taught me virtually everything I know ... Boogie-woogie is what hooked me. That rolling snake beat in the left hand. That repetitive mantra of hip-swaying sex rhythm." That highlighted two of the ingredients that would make the Doors irresistible: Morrison's brooding sex appeal and his own mastery of the keyboards, including playing the bass lines with his left hand to cover for the lack of a bassist.
In his mid-teens he became drawn to the blues he heard on the South Side of Chicago and on the radio stations pumping out the latest Chess hits. His parents expected him to become an attorney and he graduated from DePaul University in economics. However he had become a movie buff and in 1962 went to study film at UCLA, where he met Morrison, the son of a rear-admiral, as well as his future wife Dorothy Fujikawa. Collaborating on films, they became friends. Morrison's prospective move to New York after their course finished in 1965 seemed to put an end to that until a chance meeting on Venice Beach a few weeks later. Morrison had not gone to New York but had started writing songs. He impressed Manzarek with his rich baritone delivery of "Moonlight Drive".
Morrison joined Rick & the Ravens, the band Manzarek had formed with his brothers, though they soon departed. Adding drummer John Densmore, who Manzarek knew from meditation classes, and Densmore's friend Krieger, the band were now named after Aldous Huxley's The Doors Of Perception. There was an impressive chemistry between the flamenco-loving Krieger and the more jazz-oriented Manzarek and Densmore, and they provided the perfect accompaniment for Morrison's beat poetry and broody persona. In 1966 they began playing an LA club, the London Fog, before moving to the Whisky A Go Go. Their friend Arthur Lee, whose band Love had just signed to Elektra, brought along Jac Holzman, the label's president.
He moved quickly and within weeks they were recording with Paul A Rothchild, who would produce most of their albums. They achieved a minor success with "Break On Through (To The Other Side)" but made their mark with "Light My Fire", topping the US charts in July 1967. Already they were attracting controversy for failing to drop the drug-referencing "higher" from the latter on The Ed Sullivan Show. They scored further hits with "Love Me Two Times", "The Unknown Soldier", "Touch Me" and "Hello, I Love You", another US No 1 in 1968, the year they played two triumphant shows at the Roundhouse.
However, Morrison's on-stage behaviour was landing him and his bandmates in jail. He was arrested at New Haven in December 1967, and again in Miami in March 1969, for flashing his penis, and the group became mired in legal trouble, but triumphed at the Isle of Wight Festival in August 1970 and then made LA Woman. Morrison then embarked on his fateful sabbatical to France. Manzarek began his autobiography: "We don't know what happened to Jim Morrison in Paris. To be honest, I don't think we're ever going to know." In 2001, he returned to the myths around Morrison's death with a novel, The Poet in Exile.
The Doors soldiered on, Manzarek and Krieger sharing vocals on Other Voices and Full Circle, before working with various British frontmen, including Kevin Coyne, and breaking up in 1973. Manzarek cut two decent solo albums before forming the short-lived Nite City. In the 1980s he recorded a rock adaptation of Carl Orff's Carmina Burana with Philip Glass.
The surviving Doors members reunited to add backing to spoken-word performances recorded by Morrison, for 1978's An American Prayer.The group was inducted into the Rock and Roll Hall of Fame in 1993, and 10 years later Manzarek and Krieger joined the Cult's Ian Astbury as The Doors of the 21st Century until Densmore injuncted his former bandmates, forcing a series of name changes. Manzarek died of cancer at a clinic in Germany.
Raymond Daniel Manczarek Jr, musician, songwriter and producer: born Chicago 12 February 1939; married 1967 Dorothy Fujikawa (one son); died Rosenheim, Germany 20 May 2013.
Register for free to continue reading
Registration is a free and easy way to support our truly independent journalism
By registering, you will also enjoy limited access to Premium articles, exclusive newsletters, commenting, and virtual events with our leading journalists
Already have an account? sign in
Register for free to continue reading
Registration is a free and easy way to support our truly independent journalism
By registering, you will also enjoy limited access to Premium articles, exclusive newsletters, commenting, and virtual events with our leading journalists
Already have an account? sign in
Join our new commenting forum
Join thought-provoking conversations, follow other Independent readers and see their replies