Raymond Louw: South African editor who steered his newspaper against apartheid
At the Rand Daily Mail, he recruited black journalists, covered news from the black townships, and exposed the corruption and brutality of the white oligarchy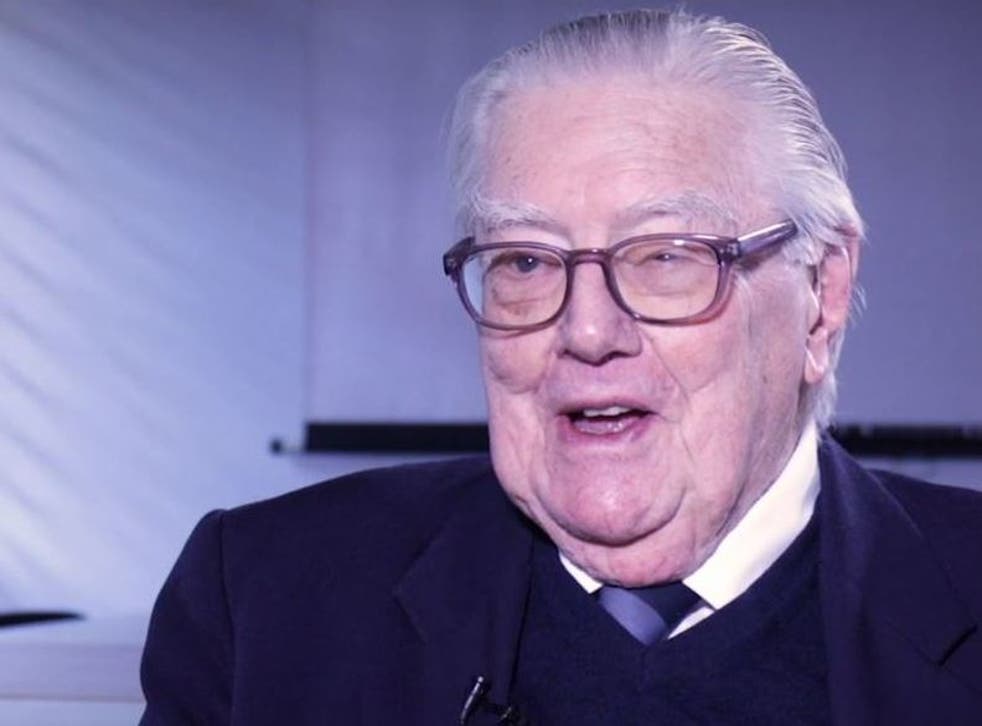 I first got to know Raymond Louw, who has died aged 92, in 1989, long after his years as a truth-exposing editor of the Rand Daily Mail newspaper in South Africa. We were both part of a large delegation of journalists and business executives who were travelling to Lusaka to meet with the then-banned African National Congress.
Then in his early sixties, Louw was regarded as one of the giants of South African journalism, but what impressed me so much was his unusual modesty. He seemed eager to learn and to play the role of open-minded reporter rather than grandee – and he went on to write a book on that four-day conference.
For all his old-world politeness and dry sense of humour, and his love of dancing and good wine and whiskey, he was a serious man – not prone to laughing. I interpreted that as a product of his dedication to press freedom at a time when the apartheid state was in its desperate, violent, final years. But perhaps there was more to it – one of his three children, Alistair, who had followed his father into journalism, had died a few years earlier.
Louw started life in Cape Town, finished school at Parktown Boys High in Johannesburg, and began his career at the Rand Daily Mail in 1946 as a 20-year-old cub reporter.
One of his formative reporting experiences involved being shot at by police while covering a riot. In the early 1950s he relocated to the UK for six years, working for papers in Sussex, Cumbria and London before returning home to become night news editor of the Rand Daily Mail and then, at just 33, editor of the Sunday Times.
He was appointed editor of the Rand Daily Mail in 1965 and over the next 12 years built on the paper's liberal reputation. He recruited black journalists, covered news from the black townships, and exposed the corruption and brutality of apartheid rule. When the paper was closed, partly through state pressure, in 1985, The Sowetan described it as the "first white newspaper to regard blacks as human beings".
It was under his editorship that the Rand Daily Mail began its investigation into a scandal that secured the demise of the hardline prime minister, John Vorster – also known as "Jackboot John".
So-called Muldergate (named after information minister Connie Mulder) involved setting up a clandestine, 64-million-rand disinformation network that included buying The Citizen newspaper as a pro-government riposte to the Rand Daily Mail.
He was fired as editor despite the paper's increasing circulation, and moved into management, but his passion was for writing, educating journalists and for press freedom, which was under severe threat in the last two decades of apartheid. He headed a number of organisations including the Media Defence Trust, created to defend journalists against detention and state censorship.
Louw also chaired the New Era Schools Trust, founded in the late 1980s to establish non-racial school communities, and helped found the Media Business Training Foundation at Wits University, which trained black business journalists – prompting the expansion of the business pages of several black-read newspapers.
At the time of the country's first democratic elections in 1994, he helped to lead the Independent Media Commission, whose task was to ensure that impartiality within the state-owned media. He was then appointed to a task group to restructure the government's information network, which had served as a propaganda division in apartheid days.
He continued to write for several South African and international publications and, with his wife, Jean, edited and published a subscription-only newsletter, Southern African Report.
Notable deaths in 2019

Show all 30
When apartheid ended in 1994, he established his reputation as "Mr Press Freedom", playing a prominent role in the international writers' organisation PEN (as its South African vice president), among several others.
He travelled all over Africa and to Israel and Indonesia, campaigning for the release of jailed journalists and against "insult" (criminal defamation) laws and helped secure the release of the Cameroonian journalist Pius Njawe in 1998 and the Moroccan journalist Ali Lamrabet in 2004.
Margie Orford, the novelist and former South African PEN president, described him as a man of "such integrity, intelligence, principle and compassion". She added: "He taught me how to hear the views of others with an open mind and open heart. He was unfailingly courteous and patient but on matters of principle he was uncompromising."
In late life, he remained intellectually vigorous, still active in several press freedom groups, often working closely with Jean. Mondli Makhanya, editor of City Press newspaper, said "'Oom Ray' never let frailty or ill health get in the way of his dedication to the work of the South African National Editor's Forum", which he helped found in 1996.
Jean, 87, was admitted to hospital after fracturing her elbow in fall and died on Tuesday 4 June. Louw had been in intensive care with a kidney infection, He was sedated after hearing the news and died of a heart attack less than 24 hours later. The couple had been married for over 60 years.
Louw is survived by his daughter, the actress Fiona Ramsay, and his son, Derek.
Raymond Louw, editor and press freedom campaigner, born 13 October 1926, died 5 June 2019
Register for free to continue reading
Registration is a free and easy way to support our truly independent journalism
By registering, you will also enjoy limited access to Premium articles, exclusive newsletters, commenting, and virtual events with our leading journalists
Already have an account? sign in
Register for free to continue reading
Registration is a free and easy way to support our truly independent journalism
By registering, you will also enjoy limited access to Premium articles, exclusive newsletters, commenting, and virtual events with our leading journalists
Already have an account? sign in
Join our new commenting forum
Join thought-provoking conversations, follow other Independent readers and see their replies