Rear-Admiral Sir Morgan Morgan-Giles Naval officer who went on to become an MP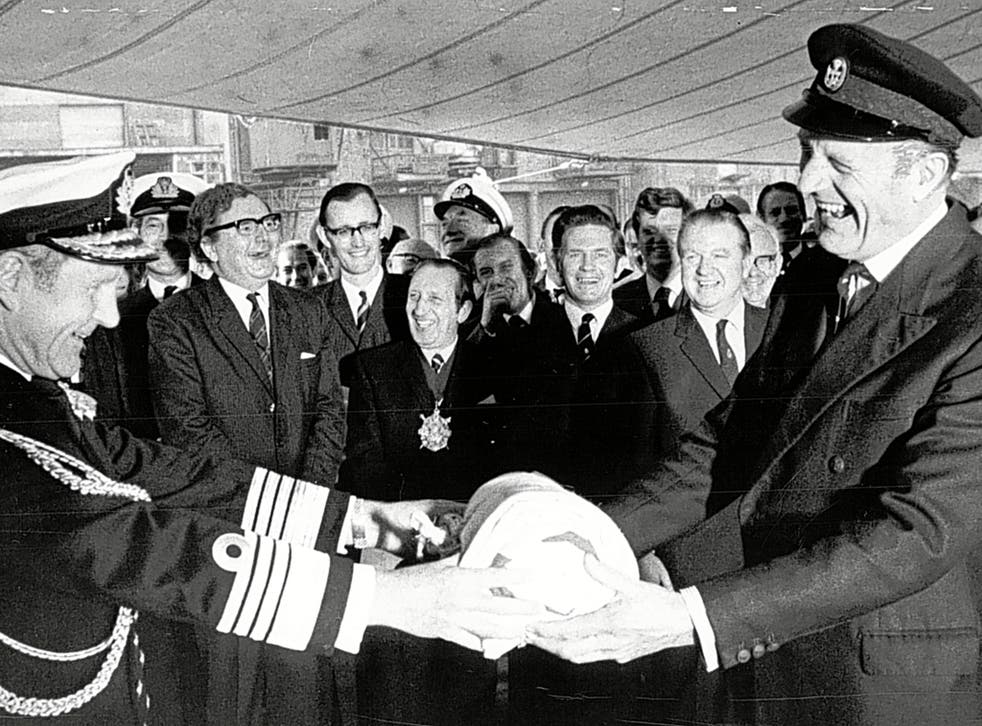 From 1964 until 1979 Morgan Morgan-Giles was a "Commons character". Friend and foe – not that I can think of any foes, so jovial was he – referred to him as "the Admiral". He was a source of infinite mirth in the Chamber; a tall, bronzed figure, he revelled in being a "sea-salt". Labour members thought he would happily have dealt with young thugs by having them flogged on his quarter-deck. Yet in really important matters such as peace and war Morgan Giles was not gung-ho.
As a fellow-member of the Ministry of Defence Parliamentarians' visit to Borneo and Singapore in summer 1965 he told me of his reservations about confrontation with Indonesia in Sabah and Sarawak and his deep scepticism about the American cause in Vietnam. I am told that as a nonagenarian he was disdainful of politicians who would embark on war without a clear military objective. DSO and George Medallist, Morgan-Giles knew what was involved.
Morgan Charles Morgan-Giles was born into a prosperous Devon family who sent him to Clifton College. Unlike many of his future colleagues of senior rank he did not go to Dartmouth but entered the Navy at the age of 18 in 1932. He told me that by not having experienced the camaraderie of the Royal Naval College in his early teens he was never quite accepted as a member of the Navy's highest echelons.
In 1933 he was posted to the China Station. After a variety of junior assignments his promise was recognised by being chosen as a member of the staff of the Commander-in-Chief, Far East Station. Thirty years later on a parliamentary delegation I noticed how Morgan-Giles had an easy rapport with the Chinese people. In Singapore, where we were the dinner guests of the C-i-C, Air Chief Marshal Sir John Grandy (later Marshal of the Royal Air Force), I listened to Morgan-Giles rebutting criticism of the Chinese. Rusty though it had become by that time, he had made himself into a passable Chinese speaker.
At the end of his tour of duty he returned in 1936, and as a destroyer officer did duty in Atlantic convoys. He felt that the heroism of those involved, either in the Atlantic or on the Murmansk run, was insufficiently recognised. Since he had not been to Murmansk he felt free to champion the cause – only recently accepted – of a medal awarded to those who had been, a recognition honoured by the Russian Government, "but not our own", as he fumed. He himself was awarded a George Medal.
From 1941 Morgan-Giles's war was in the Mediterranean. Perhaps the most hazardous task was infiltrating supplies by sea into the enclave held by British and Commonwealth soldiers at Tobruk. In late 1942 he was appointed Senior Naval Officer in charge of liaison with Tito's partisans, making contacts up and down the Dalmatian Coast. He was in his element, the task chiming with his buccaneer spirit. "In those days I saw myself as Sir Francis Drake," he told me, adding with a bellowed laugh, "I doubt if the C-i-C Mediterranean looked at my activities like that!" Morgan-Giles got away with a heck of a lot, in the Services and in Parliament, because he could make fun of himself.
The shenanigans on the Dalmatian Coast won him not only a richly deserved DSO, but also important friends who were later MPs, Julian Amery and Sir Fitzroy Maclean, who commended him warmly as a candidate to their friends in the Winchester Constituency Conservative Association.
Morgan-Giles told his friends that naval life post-war seemed a bit dull, though he had enjoyed his time as Chief of Naval Intelligence to the Far East (1955-56) and as a senior officer at the Royal Naval College, Dartmouth (1957-58), where he commanded HMS Vigilant, the squadron specialising in destroyers. He became Captain of HMS Belfast (1961-62), then the flagship of the Far East Fleet. Years later he was a driving force in the successful campaign to mothball the ship and anchor her for visitors on the Thames. From 1962 to 1964, before retiring from the Navy with the rank of rear-admiral he was President of the Royal Naval College at Greenwich.
In February 1964 Peter Smithens, MP in Winchester since 1950, resigned to become Secretary General of the Council of Europe. Morgan-Giles, who had never seriously contemplated becoming an MP. was, he said, "in the right place at the right time." I campaigned against him in the by-election and remember his rollicking style when we tried to bait and heckle him in the Hampshire villages. The Tories loved him. At a difficult time for the Douglas-Home government he won with a majority of 6,064 over Labour's Patrick Seyd.
On 17 June he followed Denis Healey and Sir Alec Douglas Home to make his maiden speech in the final Foreign Affairs debate of the Parliament. "I once heard a commander-in-chief make a most urgent plea for a radio station in Aden so that we could stand up for ourselves and counter-act the poison which, as we all know, has been disseminated from Cairo Radio for so many years," he said. "What a curious thing it is to hear the generals and the air marshals ... asking not for more jets or more tanks, but more radio stations! Unfortunately, the ledgers in Whitehall have appropriate columns for tar and hemp, and muskets and bullets, but not for radio stations."
He was congratulated by the speaker who followed him, one of the great parliamentarians of the day, the diminutive left-wing veteran Sydney Silverman: "It is my pleasure as well as privilege to offer not merely my own congratulations but, I am sure, the congratulations of the whole House to the hon. and gallant Member for Winchester on the admirable maiden speech which he has just delivered. He has delivered it with preparation; he has delivered it with lucidity; and he has avoided what was obviously a great temptation to throw a few half-bricks himself, resting in the confidence that by tradition of the House no one could throw the other half back." Morgan-Giles was indeed an honourable and gallant gentleman who championed the cause of the services.
Morgan Charles Morgan-Giles, sailor and politician: born 19 June 1914; Royal Navy 1932-64; MP Winchester 1964-79; GM 1941, MBE 1942, OBE 1943, DSO 1944, Kt 1985; married 1946 Pamela Bushell (died 1966; two sons, four daughters), 1968 Marigold Lowe (died 1995); died 4 May 2013.
Register for free to continue reading
Registration is a free and easy way to support our truly independent journalism
By registering, you will also enjoy limited access to Premium articles, exclusive newsletters, commenting, and virtual events with our leading journalists
Already have an account? sign in
Register for free to continue reading
Registration is a free and easy way to support our truly independent journalism
By registering, you will also enjoy limited access to Premium articles, exclusive newsletters, commenting, and virtual events with our leading journalists
Already have an account? sign in
Join our new commenting forum
Join thought-provoking conversations, follow other Independent readers and see their replies