Remembered: Judith Jones, editor who brought Anne Frank's diary to the world
After 'discovering' the much-loved Second World War memoir and editing Updike, she became a huge influence on the American palate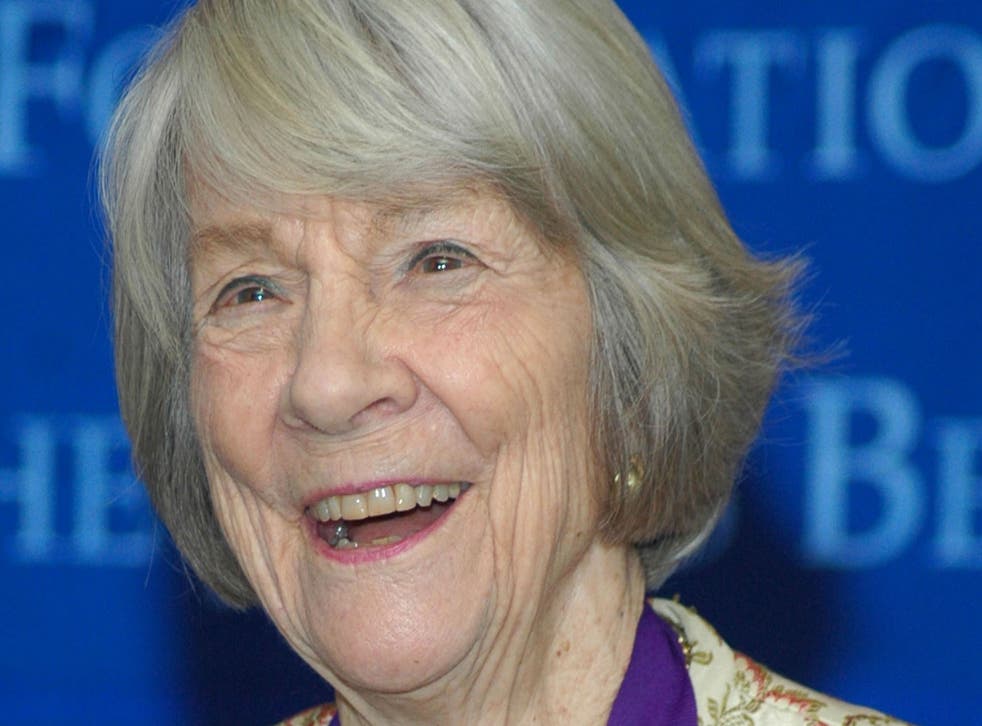 Judith Jones, the legendary editor who rescued Anne Frank's The Diary of a Young Girl from a publisher's reject pile and later introduced readers to the likes of Julia Child and a host of other influential cookbook authors, died on 2 August at age 93 in her summer home in Walden, Vermont.
Jones helped open a world of cuisine to a public previously bound by convenience foods, and her impact on cookbook publishing, home cooking and the American palate was monumental. Beginning in the 1950s, she followed her own curiosity and her instincts for what readers wanted to cook and needed to know, and she championed the work of unknown authors who became icons and whose books became classics.
The list of these scholar-cooks who owe her their career includes Madhur Jaffrey, Claudia Roden, Marcella Hazan, Joan Nathan, Edna Lewis, Lidia Bastianich, Anna Thomas, Hiroko Shimbo, Michael Field and Nina Simonds. She also edited some of Alfred Knopf's most famous fiction writers, including John Updike and Anne Tyler.
Without her discovery of Frank's memoir, while she was at Doubleday in Paris, American readers might never have been introduced to Frank's startling first-person narrative, one of the first Holocaust accounts to reach the States. Her role was small but pivotal, and it was enough to get her noticed – and hired – by Knopf co-founder Blanche Knopf in 1957.
As a junior editor at Knopf, Jones began primarily as a translator of such French writers as Jean-Paul Sartre and Albert Camus, and she had no intention of editing cookbooks, the work for which she became famous. But she had fallen in love with French food when she lived in Paris after college, and upon returning to the US with a new husband, she was desperate for help unlocking one of the world's most well-known cuisine's secrets in their New York kitchen.
One day in 1959, a huge manuscript arrived on her desk. "From the moment I started turning the pages, I was bouleversée, as the French say – knocked out," she wrote in her memoir, The Tenth Muse (2007). "This was the book I'd been searching for." This was also the book that Julia Child, with co-authors Simone Beck and Louisette Bertholle, had spent six years unsuccessfully trying to shorten for an editor at Houghton Mifflin. Child worried that the book "was unpublishable", she wrote in her own memoir, My Life in France. "Maybe the editors were right. After all, there probably weren't many people like me who liked to fuss around in the kitchen."
Fortunately for Child – and for generations of cooks who fell in love with her – there was at least one who did: Jones, who spent months trying recipes before deciding the book must see the light of day. She even was responsible for the book's title, Mastering the Art of French Cooking. "When I triumphantly showed our title to Mr Knopf, he scowled and said, 'Well, I'll eat my hat if that title sells,'" she wrote. "I like to think of all the hats he had to eat."
Mastering sold millions of copies, and Child – who had emerged among her co-authors as the book's guiding force – became a TV star, culinary treasure and household name. Jones formed similar partnerships with other authors, having particular success with those writing about global cuisines curious to Americans. The best ones, she found, were often immigrants longing to recreate the foods of their homeland. She also developed a long-standing interest in regional American cuisine.
Judith Bailey was born on 10 March 1924, in New York City, where she was raised on Depression-era and wartime cooking. Her mother banned such vulgarities as garlic and onions (and even forbade the discussion of food at the table) but Judith took refuge in the kitchen of her family's hired cook.
"She came from Barbados and at my urging would tell me about the foods she grew up on – strange fruits I'd never heard of, hot peppers that made one sweat and, of course, garlic," she wrote in her memoir. Her father recognised her adventurous palate and indulged her on restaurant visits.
After she graduated in 1945 from Bennington College in Vermont, she returned briefly to New York to work in publishing before a three-week holiday in Europe turned into a full-time move to Paris. At 27, working as a "girl Friday" at Doubleday in Paris, she was tasked one day in 1950 with filing rejected submissions.
"My boss went off to lunch with his fellow editors, and left me with a pile of stuff," she told the Jewish Chronicle in 2009. "I came to this lovely face," she said, referring to Anne Frank's photo on the advance copy of the French edition of the book. "I read it all day. When my boss returned, I told him, 'We have to publish this book.' He said, 'What? That book by that kid?'"
It had been published in Dutch and was set for publication in French, but was rejected by English-language publishers, too, before Jones successfully argued that the New York office of Doubleday should take it on. The story of the Holocaust as seen through a young girl's eyes became an international sensation, one of the best-selling books of all time and adapted for stage and screen.
Early in her Paris years, the future cookbook editor had been an assistant to Evan Jones, who edited a magazine aimed at American tourists. They wed in 1951, eventually settling in New York and maintaining their summer home in Vermont. Survivors include four stepchildren, five grandchildren and seven great-grandchildren.
In addition to her cookbook editing, Jones wrote three books with Evan including The Book of Bread; Knead It, Punch It, Bake It! (for children); and The Book of New New England Cookery. In 2006, she was awarded the James Beard Foundation's Lifetime Achievement Award. She retired from Knopf in 2010 as senior editor and vice president.
Her husband died in 1996, but Jones was determined to not let his absence deter her from continuing their favourite ritual: cooking. "Instead of walking into what might have seemed an empty apartment – actually, I've always had a dog who is hungry to greet me – I gravitate toward the kitchen," she wrote in The Tenth Muse.
After her memoir was published, Jones received so many requests to write more about her solo cooking that in 2010 she published The Pleasures of Cooking for One. Rather than dwell on the challenges, the book praises the joys of lighting a candle, pouring a glass of wine and laying out her best linens for a meal she would savour. She drew on a lifetime of cooking and lessons from the authors she had edited to espouse her belief in frugality and the smart use of leftovers, repurposing them into other dishes.
Her last book was 2014's Love Me, Feed Me, a guide to making food that a cook could share with a dog. It's no accident that many of the recipes she wrote about doling out for herself and her little pooch, Mabon – Moroccan moussaka, Indian red lentils, Southern-style shrimp and grits – are staples of some of the same cuisines Jones had long before helped demystify.
Judith Jones, editor: born 10 March 1924; died on 2 August 2017
© Washington Post
Register for free to continue reading
Registration is a free and easy way to support our truly independent journalism
By registering, you will also enjoy limited access to Premium articles, exclusive newsletters, commenting, and virtual events with our leading journalists
Already have an account? sign in
Join our new commenting forum
Join thought-provoking conversations, follow other Independent readers and see their replies