Ricardo Montalban: Mr Roarke of 'Fantasy Island' who championed Latinos in the film and television industry
Thursday 05 February 2009 01:00 GMT
Comments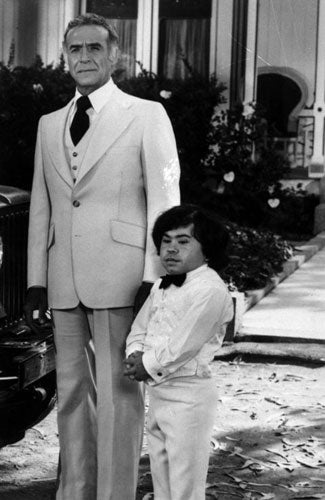 The versatile actor, singer and dancer Ricardo Montalban was one of the first Mexicans to become a Hollywood star. Signed by MGM in 1947, he was soon playing "Latin lover" roles opposite the studio's most glamorous stars, including Lana Turner, Esther Williams and Cyd Charisse. On Broadway, he was Lena Horne's fisherman lover in the musical hit Jamaica, for which he received a Tony nomination, and in the film Sweet Charity he displayed a fine sense of parody which he had a chance to develop when he played the deliciously over-the-top Khan in the second Star Trek movie, The Wrath of Khan. He gained a whole new audience when he portrayed the mysterious Mr Roarke, whose opening line, "Welcome to Fantasy Island" introduced the hit television show that ran for six years from 1978. He was also known throughout his career as a tireless campaigner for better opportunities for Mexican actors.
The son of a storekeeper, he was born Ricardo Gonzalo Pedro Montalban y Merino in Mexico City in 1920, the youngest of four children of Castilian Spaniards who had emigrated to Mexico City in 1906. After graduating from high school, Montalban joined his older brother, Carlos, also an actor, in New York, where he made his stage debut in 1940 in Her Cardboard Lover starring Tallulah Bankhead. He made his screen debut in the Mexican film El Verdugo de Sevilla (1942).
In 1944 he married Loretta Young's half-sister, Georgiana Belzer. Both were devout Catholics, and the marriage endured until Georgiana's death in 2007. He made a dozen more films in Mexico before MGM signed him to play the bullfighter brother of Esther Williams in Fiesta (1947). The fiery dance duet he performed with Cyd Charisse was judged a highlight in a generally tedious movie.
Encouraged by the response to their newest star, however, MGM gave him a leading role in the next Williams film, On an Island with You (1948), in which he vied with Peter Lawford forthe star's favours and danced a tango with Charisse. The film was a great success, and when the Frank Sinatra film The Kissing Bandit (1948) received a disastrous response at previews, Montalban, Charisse and Ann Miller were called on to perform an extra number, "The Dance of Fury", in which the two ladies competed for Montalban's attention with an exciting display of foot-clicking and fan-snapping. It was a great number, but it could not save the film.
Montalban partnered Williams for the third time in another big hit, Neptune's Daughter (1949), in which the pair introduced Frank Loesser's Oscar-winning song, "Baby, It's Cold Outside". Unhappy at being constantly cast as a "Latin-lover" type, in 1949 he demonstrated his dramatic prowess in two fine dramas. Anthony Mann's thriller Border Incident, brutal and realistic for its time, with Montalban effective as a Mexican immigration agent, was followed by William Wellman's fine depiction of the Battle of the Bastogne, Battleground.
In 1951, while playing a native American in the western Across the Wide Missouri with Clark Gable, he fell from a horse and suffered an injury to his back that was to trouble him for the rest of his life. The same year the studio signed another "Latin lover", Fernando Lamas, whom they cast alongside Lana Turner in The Merry Widow (1952). The friendly rivalry that resulted between Lamas and Montalban was to inspire a skit performed on Saturday Night Live by Billy Crystal, "Quien es mas macho, Fernando Lamas o Ricardo Montalban?" Turner and Lamas embarked on a well-publicised affair, and the studio planned to pair the duo in a movie titled Latin Lovers, but when the couple parted acrimoniously, Lamas was swiftly replaced by Montalban.
Leaving MGM, claiming later that they never gave him a dramatic role that would have made him a major star, he appeared on stage as an acclaimed Don Juan in a reading of Bernard Shaw's Don Juan in Hell (1953) and in 1955 he starred on Broadway with Gloria DeHaven in the musical Seventh Heaven, but its run was brief. On screen, he gave a performance of immense dignity and presence as a Kabuki actor in Joshua Logan's Sayonara (1957), which also starred Marlon Brando. "I was and still am very pleased with my performance and very much saddened by this picture," he said later. "I was hoping for an Academy Award nomination, but unfortunately most of my scenes ended up on the cutting-room floor."
He returned to Broadway as leading man to Lena Horne in the hit musical Jamaica (1957) after the producers had considered Sidney Poitier before discovering that he could not sing. The show ran for over a year, and Montalban, praised for his charm and his melodious voice, won a Tony nomination. As the only white man in the cast, he received hate mail for performing love scenes with Horne.
Later films included his first unsympathetic role, as a drug-dealinggangster in Let No Man Write My Epitaph (1960), John Ford's Cheyenne Autumn (1964), in which he playeda native American with pigtails and a bowler hat, and Bob Fosse's Sweet Charity (1969), in which he wassplendid as the famous Italian movie star who has a spat with his girlfriend and spontaneously asks the film'staxi-dancer heroine (Shirley McLaine) to spend the evening with him, prompting McLaine's number "If They Could See Me Now".
He played prominent roles in both Escape from the Planet of the Apes (1971) and Conquest of the Planet of the Apes (1972). In 1978 he gained a new legion of admirers with his portrayal of Mr Roarke, a man of mysterious powers, in the television series Fantasy Island. In a white suit and black tie, he was the epitome of suave sophistication as he welcomed guests to an island where their fantasies would be realised. He teamed up engagingly with the dwarf Herve Villechaize, who played his assistant, Tattoo. When he won an Emmy Award for playing the Indian chief Satangkai in the mini-series How the West Was Won, he said in acceptance, "I don't know about Mr Roarke, but this certainly fulfils my fantasy."
In 1982 he recreated on screen a character he had first played 15 years earlier in a memorable episode of Star Trek titled "Space Seed". As a genetically engineered ship's commander, an evil genius whose nefarious plans to rule the world had been curtailed by Captain Kirk and his crew, he had been sent (at the end of the episode) to bring order to a penal colony. Star Trek: the Vengeance of Khan brought the character back, still played charismatically by Montalban, who agreed to reprise his role for the modest sum of $100,000 because he loved the character so much. It was one of the better films in the Star Trek series, and the critic Pauline Kael described it as "the only validation he has ever had of his power to command the big screen. His bravado is grandly conceived."
He had a recurring role in the Dynasty spin-off, The Colbys (1985-87), and more recent film roles included his evil tycoon in the comedy hit Naked Gun: From the Files of the Police Squad (1988). In 1993 he was the recipient of the Screen Actors Guild Lifetime Achievement Award, and in 1998 Pope John Paul II made him Knight Commander of St Gregory, the highest honour for a non-cleric.
He was highly respected in the profession for his work in creating opportunities for Latinos, and in 1970 he founded the non-profit organisation, Nosotros, "to help fulfil the goals of persons of Spanish-speaking origin in the motion picture and television industry." In 1993 his old back injury required a nine-and-a-half hour operation that left him in constant pain and confined to a wheelchair, but he continued to be active, mainly providing voice-overs, and was still working until a few months ago.
Tom Vallance
Ricardo Montalban, actor: born Mexico City 25 November 1929; married 1944 Georgiana Belzer Young (died 2007, two sons, two daughters); died Los Angeles, California 14 January 2009.
Join our commenting forum
Join thought-provoking conversations, follow other Independent readers and see their replies