Richard Beeston: Renowned foreign correspondent
The day he fled from Beirut, John McCarthy was abducted on his way to a later flight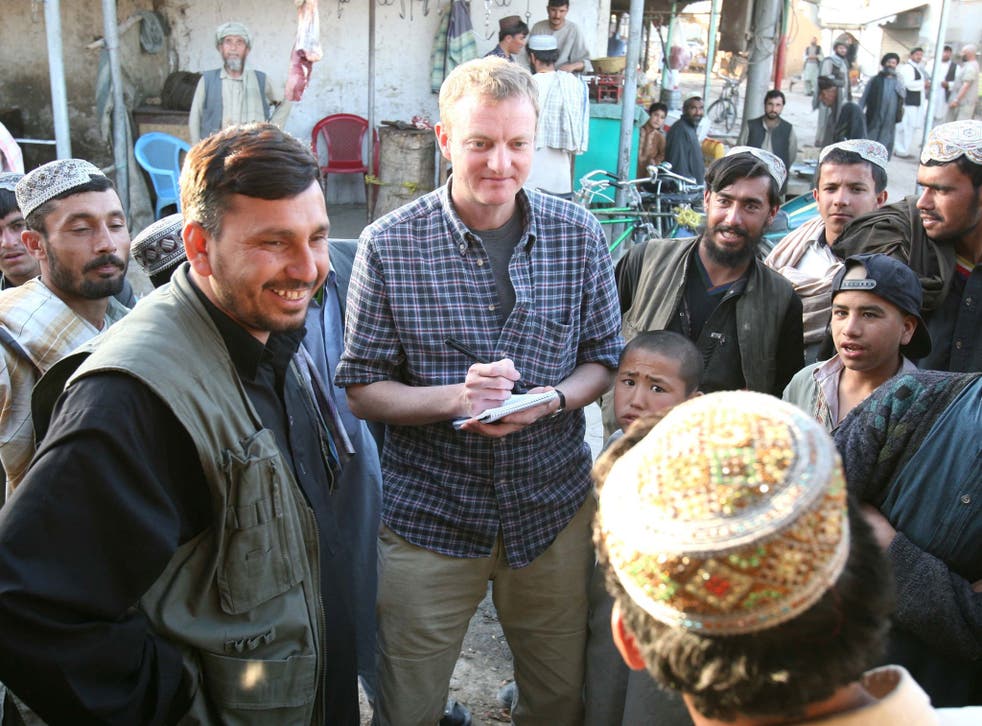 Richard Beeston was a renowned foreign correspondent with courage and a zest for life. His desire to get under the skin of the stories he covered gave his writing a particular resonance and provided an ability to explain events which were complex, confusing and often dangerous.
His early career was in the Middle East, in the turbulence of the Lebanese civil war with internecine strife between various Muslim and Christian factions as well as Israeli forces. It was a time of bombs and missiles on a routine basis as well as the ever-present risk of being taken hostage. Beeston got out of Beirut on the day the Americans bombed Libya amid reports that Westerners were to be targeted in retaliation. The BBC journalist John McCarthy was abducted on his way to a later flight.
Beeston's work had been noticed and he was offered a job by The Times. He went on to cover the Iran/Iraq war, during which he flew into Halabja, whose Kurdish inhabitants had been gassed by Saddam Hussein's regime. He described the slaughter, the human cost, movingly and with sensitivity. There was also anger at Western perfidy and indifference: "Even by Saddam's ruthless standards the massacre broke new boundaries. Yet what was more shocking was the cynical response of the West. The US attempted to blame this crime on Iran. Britain carried on business as usual with the regime in Baghdad. Saddam was shielded from any meaningful punishment."
Some journalists react to such situations by retreating into cynicism; some become doctrinaire, almost evangelical, even. Beeston, although deeply affected by what he had seen, continued to try to maintain objectivity and perspective. This also gave him access on many occasions to the differing sides in a conflict; they may not have approved of what he wrote, but knew he attempted to be fair.
Not everyone thought this was the case. His reporting from Baghdad during the first Gulf War put him on the blacklist of the Saddam regime, which accused him of being a " big, two-faced deceiver" peddling " negative information and falsehoods". However, despite that, and despite his first- hand knowledge of the Iraqi regime's use of lethal gas in Kurdistan, Beeston did not blindly accept the claims of WMDs made by the US and Britain to justify the 2003 invasion. He subsequently reported from Baghdad during an extremely violent time, describing the murderous strife and disintegration of society which followed "liberation".
The scepticism about official version of events served Beeston well when he was sent to Moscow after four years in Jerusalem. He was following the footsteps of his father; Dick Beeston was a distinguished reporter for the News Chronicle who had also been based in Washington. Beeston junior got there to chart the aftermath of the fall of communism, a collapsing economy, endemic corruption and the bloody war in Chechnya, which he covered extensively. He reported on the heavy-handed punitive violence of the Russian forces as well as the often vicious violence of the Chechen fighters, managing, at most times, to escape the attention of the military censors.
This desire to find out what was going on for himself was still there when, taking a break from his job as foreign editor, he went to Syria in the early days of the uprising on an official visa. Unlike some other journalists allowed in by the Assad regime who parroted the regime lines in their reports, Beeston managed to give his minders the slip and sent some highly critical dispatches. Why didn't they start clamping down on him when they began to see the stories on the internet, I asked him later over a drink. "Well I presume, like everyone else the regime too refuses to cough up for the Times paywall," he said with mock resignation. He had taken a calculated risk and it had paid off.
Beeston's grounding in journalism had taken place the old-fashioned way. After schooling in Westminster he decided not to go to university; following a brief flirtation with the Army he did an NCTJ course and joined the Coventry Evening Telegraph. But his vocation was always going to be foreign news and he went to South Africa to work for the Financial Mail in Johannesburg before going on to Beirut and joining the English language paper The Daily Star.
Beeston eventually returned to London to work on the foreign desk, became diplomatic editor and then foreign editor in 2008, a job demanding long hours and application in any serious paper. He was keen to retain knowledge of what was taking place on the ground and undertook trips to problematic areas, including Afghanistan and the Middle East.
As a boss Beeston was supportive and loyal to his staff. However, he could be a demanding taskmaster, impatient with those who tended to depend on secondhand sources such as agencies and the social media rather than get to the scene and find out what was going on for themselves. Not everyone could get to his own high standards of bravery and perseverance. He could not understand why some would want to spurn the rare opportunity our job gives us of occasionally witnessing history.
Beeston was diagnosed with prostate cancer in 2007. After prolonged treatment he was told he was clear, but it returned three years later. He continued working while under often painful and exhausting treatment and was at his desk weeks before his death. His last hours were spent with Natasha, his wife, reading to him Evelyn Waugh's Scoop, a great favourite among discerning foreign correspondents. He is survived by Natasha, a literary agent he married in 1989, and their son and daughter.
Richard Beeston, journalist: born 18 February 1963; married 1989 Natasha Fairweather (one son, one daughter); died 19 May 2013.
Register for free to continue reading
Registration is a free and easy way to support our truly independent journalism
By registering, you will also enjoy limited access to Premium articles, exclusive newsletters, commenting, and virtual events with our leading journalists
Already have an account? sign in
Register for free to continue reading
Registration is a free and easy way to support our truly independent journalism
By registering, you will also enjoy limited access to Premium articles, exclusive newsletters, commenting, and virtual events with our leading journalists
Already have an account? sign in
Join our new commenting forum
Join thought-provoking conversations, follow other Independent readers and see their replies