Richard Garner: Former Independent education editor renowned for integrity and dedication
Revered by colleagues and trusted by readers, he worked at the paper for 15 years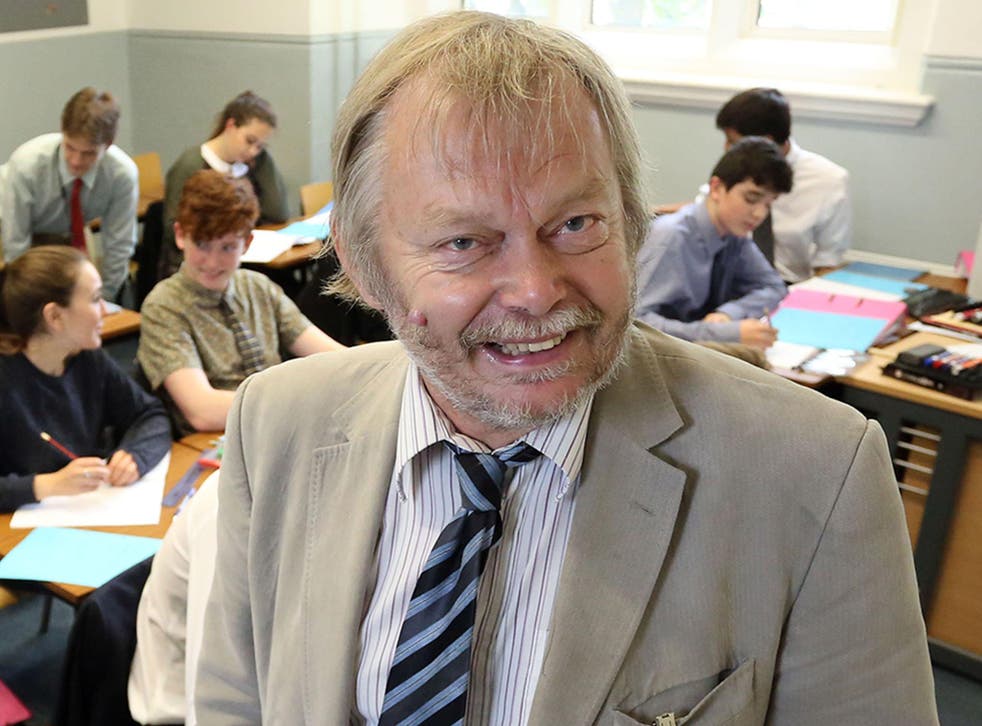 Richard Garner, who has died of cancer at the age of 69, was probably rare among education correspondents of his generation in not having gone to university. He had left school after A-levels and, like many quick-witted young men and women who were good with words and curious about the world, chosen the life of a journalist.
The lack of a degree was not too much of a handicap because Richard went on to become the longest serving education correspondent ever and one of its most highly respected, starting out at the Birmingham Evening Mail and ending up as education editor of The Independent, a job he held for 15 years. Along the way he worked for the Times Educational Supplement (now Tes), where in my role as news editor I recruited him as a reporter, and the Daily Mirror, where he worked for 12 years as education correspondent.
His training at Harlow Technical College, where he took a National Council for the Training of Journalists course, meant that, unlike most education correspondents, he had direct experience of the further education sector, an interest that was to stay with him throughout his working life. During his time at the Mirror he persuaded the paper to run a page on vocational education, something that continued for four or five years.
At Harlow he learnt the basics of reporting: how to sniff out a good story, insert some human interest and write crisp, clear copy. His great passion outside work was cricket and he was a proud member of the Barmy Army, following England around the world each year, spending his entire annual leave this way.
By the end of his career he had become the elder statesman of the group of education correspondents who wrote for national newspapers, with a reputation for accuracy, integrity and fairmindedness, someone whom rookies and those in trouble could always turn to for help. My abiding memory of him during the nine years we worked together at The Independent was of him head down, bashing out stories day after day, forgetting whether he had eaten lunch and going home only reluctantly after he had answered every last query from the sub-editors.
Estelle Morris (now Baroness Morris), Labour education secretary in 2001-02, remembers when he was one of the faces she encountered frequently "perhaps not with pleasure but with great warmth and the knowledge that he knew what he was talking about and was guided by honesty and commitment". Tellingly perhaps, she adds: "I always saw him as a fellow educationist. I knew he cared about what he wrote and the impact it would have."
From his early reporting days his expertise was in writing about the teachers' unions, what they thought and what action they were taking. He had great contacts and understood their point of view. This, combined with his left-of-centre political stance, might have suggested he would get along better with Labour ministers than Conservatives, but this was not the case because he treated everyone with the same civility.
Not remotely intellectual, he was nevertheless canny and intelligent. And he was the consummate schmoozer, brilliant at getting on with people, making a joke if he could and not giving offence, while extracting as much information as possible. He was genuinely modest and unassuming and would never have won a prize for being Britain's best-dressed man.
The only person with whom he had a famously troubled relationship was Dominic Cummings, now Boris Johnson's special adviser but at that time special adviser to Michael Gove when he was education secretary. Cummings disliked his stories in The Independent and complained to him constantly about them, but Richard took no notice.
Colleagues remember his great sense of fun. For a quarter of a century he and other education correspondents spent Easter covering the annual conference of the National Union of Teachers, as it was then known. Judith Judd, who was education editor of The Independent before Richard, recalls that during the first year she didn't have to attend the NUT conference she was getting into bed thankfully at 11pm on Easter Sunday when the telephone went. "It was Richard, surrounded by our colleagues, ringing from the conference and determined that I shouldn't miss out on that year's singsong."
He worked as hard as he played. Far from putting his feet up after The Independent ceased print production in 2016, Richard wrote a memoir, The Thirty Years War: My Life Reporting on Education, in which he asked for grammar schools to be buried once and for all and for technical schooling to be put on a par with academic education. His wish for 2020 was for the government to allow education reforms to bed down before further change.
After leaving The Independent, he reinvented himself as a crime writer, penning three thrillers in quick succession, Best Served Cold, Jill the Ripper, and Three's A Crowd. By the time he died, a fourth book was on the stocks. He treated this work as he did his journalism – with discipline and hard graft, working three to six hours a day and never missing a deadline.
He was married three times, finally to Barbara Hopkins, a lawyer, with whom he found great happiness and whom he married earlier this month. They were planning a trip to the Bahamas to see his brother and to mark his 70th birthday, which would have fallen on 12 February. They were also planning to visit Australia to watch cricket.
This love of cricket had been born at Highgate School in London where he was in the same class as the former education secretary Charles Clarke. Clarke recalls: "What I most remember was his cricket bowling style, where he delivered very fast balls with a kind of windmill style with his arms rotating dramatically, which few could forget."
Richard Garner, journalist, born 12 February 1950, died 28 January 2020
Register for free to continue reading
Registration is a free and easy way to support our truly independent journalism
By registering, you will also enjoy limited access to Premium articles, exclusive newsletters, commenting, and virtual events with our leading journalists
Already have an account? sign in
Register for free to continue reading
Registration is a free and easy way to support our truly independent journalism
By registering, you will also enjoy limited access to Premium articles, exclusive newsletters, commenting, and virtual events with our leading journalists
Already have an account? sign in
Join our new commenting forum
Join thought-provoking conversations, follow other Independent readers and see their replies