Robert Enke: International goalkeeper who committed suicide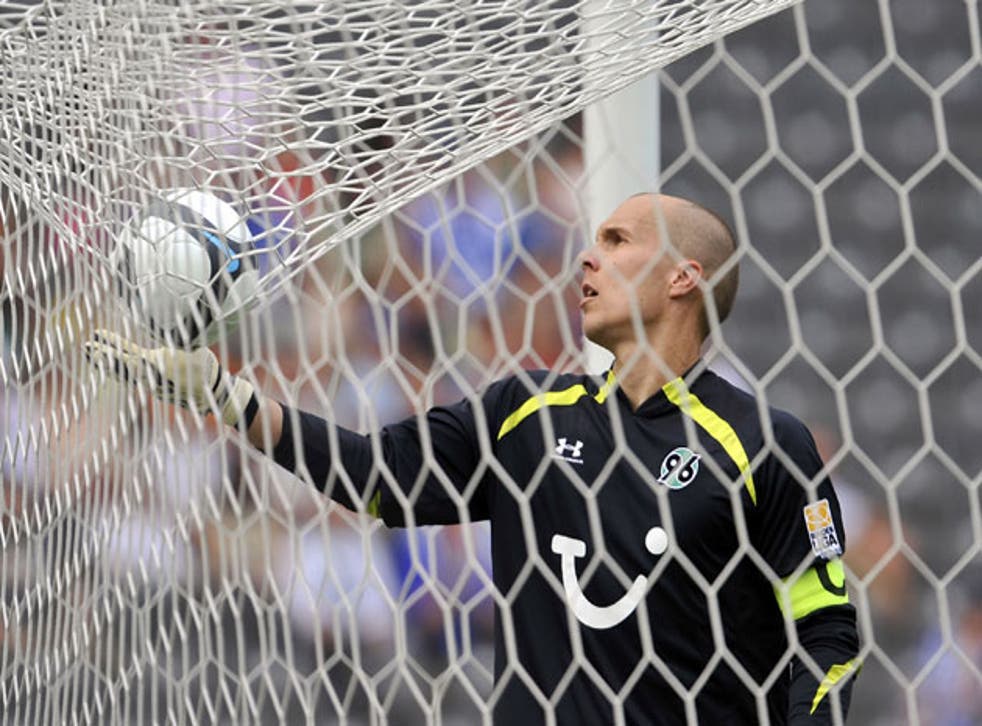 The goalkeeper Robert Enke, who was widely tipped for the No 1 position in Germany's team for the World Cup finals in South Africa next year, was killed by an express train on 10 November. Jörg Neblung, Enke's friend and adviser, confirmed that "Robert took his own life." The footballer had parked his Mercedes, left his wallet inside and climbed on to the line before walking in front of the oncoming train.
The tragedy took place in Neustadt-Eilvese at a railway crossing about 25km from his hometown of Hannover. The two train drivers reported seeing a man on the tracks and applied the brakes while travelling at about 100mph but could not stop in time. Enke died at the scene. He was 32.
On the surface it appeared that Enke's career was, once more, in the ascendant after some turbulent times, but his wife, Teresa, said he had struggled with depression for years. She explained how she endeavoured to help him overcome his depression, which he had tried to hide, fearful it might destroy his career and private life and cause the authorities to take away their adopted daughter. "We thought we were capable of managing everything," she said. "We thought love would make it possible. But sometimes you just can't manage it."
Robert Enke was born in the former East German town of Jena on 24 August 1977. His early career began with SV Jena Pharm then, in 1985, he moved to the youth team attached to Carl Zeiss Jena. The coach Eberhard Vogel gave him his first-team debut in the 1995-96 season in the German second Bundesliga after the first-choice keeper Mario Neumann had conceded 14 goals in three games, against Hannover 96, the club he would later join. Neumann was recalled after three games and Enke did not play for Jena again, but he had made an impression.
In summer 1996 he was bought by the Bundesliga side Borussia Mönchengladbach. He spent his first couple of seasons in the Under-23 side, playing in the lower leagues and honing his talent, and broke into the national Under-21 side. His performances convinced the national coach Erich Ribbeck to include him in the senior squad for the 1999 Confederations Cup.
In 1998, Enke got his chance at Mönchengladbach when the long-serving Uwe Kamps suffered an injury. He made his debut on 15 August in a 3–0 win over Schalke 04 that put them briefly top of the table. Despite Enke's efforts, however, the club plummeted to the foot of the league, where they remained until their relegation.
Despite Mönchengladbach's demotion, Enke was regarded as talented and his career appeared to be blossoming. Jupp Heynckes signed him for Benfica, but his time in Portugal was disastrous, the club changing coach three times in three trophyless seasons and suffering their lowest ever league finish, sixth. Once again, though, Enke had caught the eye of a number of leading European clubs including Atletico Madrid, Manchester United and Arsenal, who were looking to replace David Seaman. But when contract talks with Benfica collapsed he moved on a free transfer to Barcelona in June 2002.
His debut was forgettable as Barcelona were knocked out of the Spanish Cup in the first round, 3-2, by a third division side, Novelda CF, and Enke was criticised by his team-mate Frank de Boer, who blamed him for two of the goals. It was while with Barça that he was first treated for depression and performance anxiety.
His Nou Camp career seemed over before it had begun, and the following season he was sent on loan to the Turkish side Fenerbahçe. There, too, he played only one match, a 3-0 home defeat to bitter rivals Istanbulspor in August 2003, during which his own fans pelted him with lighters and bottles. Even the club chairman blamed him. Enke immediately returned to Catalonia but things did not improve and he was loaned out to the second division side CD Tenerife for the rest of the season. At last he enjoyed a change of fortune, with some outstanding performances, acclaim from the fans and interest from other clubs.
He returned to the Bundesliga with Hannover 96 in July 2004 on a free transfer. His rehabilitation seemed complete when he established himself as first-choice keeper and was voted the best goalkeeper in the Bundesliga by his fellow professionals in Kicker magazine. Once again, big clubs appeared interested and transfer speculation surrounded him but in December 2006, he repaid the faith Hannover had shown in him by signing a contract extension. The following year he was made captain and last season he was again voted best Bundesliga goalkeeper by his fellow pros.
His international career was re-kindled upon his return to Germany, but although he was touted as a member of the 2006 World Cup squad he missed out to two stalwarts, Jens Lehman and Oliver Kahn. Afterwards, with the arrival of a new coach, Joachim Löw, Kahn's retirement and illness ruling out Lehman, Enke was given his chance. He made his debut in a 1-0 friendly defeat to Denmark in Duisburg in March 2007. He made the squad for the 2008 European Championships in Austria and Switzerland, thogh he remained on the bench as Germany finished runners-up.
Lehman retired after the tournament and Enke was seen as a potential first choice. He played in a number of the World Cup qualifiers but in October 2008 broke the scaphoid bone in his left hand during training, which kept him out for nearly three months. He won his place back in January, winning his last cap in the 2-0 World Cup qualifying victory in Azerbaijan in August. A stomach virus meant he had not been selected for forthcoming friendlies against Chile and the Ivory Coast. His last Bundesliga match was the 2-2 draw against SV Hamburg on 8 November. In all he won eight caps and made 289 professional appearances, 164 of them for Hannover.
Throughout his career his wife, Teresa, had been a constant support. In September 2006, the couple lost their two-year old daughter Lara, due to a heart defect, while in May this year they had adopted a two-month-old girl, Leila. Enke is believed to have visited Lara's grave 200 yards away from where he killed himself just before he died.
He left a note asking his wife and the staff treating him to forgive a "conscious deception" in which he had pretended not to be depressed so he could carry out his suicide plan. His wife explained that it was his fear of losing their second daughter that forced him to conceal and therefore resist treatment for his illness.
Although Enke suffered and overcame personal and professional setbacks, he was highly regarded by friends and fellow professionals, seen as a serene, composed gentleman and a good listener. The president of the German football federation, Theo Zwanziger, gave voice to troubling questions: "How is it possible that a young successful footballer can get into a position where he sees no way out? Could we have seen it coming? Should we have dug deeper, beyond the surface? No one had any idea."
In an interview he gave to the German football magazine 11 Freunde in 2008, Enke said, "When speaking with the press, I always have two opinions. My personal feelings and those which I serve to the public." In the wake of Enke's death, Hannover 69 officials urged football to rethink how it deals with the potential problems of its stars and to be more open about them.
His former clubs will hold a minute's silence before their next games and a minute's silence will also be held at all Bundesliga games between 21–22 November.
As a mark of respect the national team's friendly fixture against Chile in Cologne on Saturday was cancelled; the whole team was due to attend his funeral yesterday alongside a number of other dignitaries and thousands of fans who have already shown their feelings by laying flowers, lighting candles and signing a book of condolence upon hearing the news. "We loved him. He was our idol," one fan said.
The national team's manager, Joachim Löw, was in no state to face the cameras. "I'm shocked, totally empty," he told the football federation's website. "We will miss him, as a first-class sportsman and as an extraordinary human being."
Martin Childs
Robert Enke, footballer: born Jena 24 August, 1977; married (one adopted daughter); died Hannover 10 November 2009.
Register for free to continue reading
Registration is a free and easy way to support our truly independent journalism
By registering, you will also enjoy limited access to Premium articles, exclusive newsletters, commenting, and virtual events with our leading journalists
Already have an account? sign in
Register for free to continue reading
Registration is a free and easy way to support our truly independent journalism
By registering, you will also enjoy limited access to Premium articles, exclusive newsletters, commenting, and virtual events with our leading journalists
Already have an account? sign in
Join our new commenting forum
Join thought-provoking conversations, follow other Independent readers and see their replies