Rosa Maria Carless: Artist, writer and wife of a British diplomat
Wednesday 18 September 2013 20:09 BST
Comments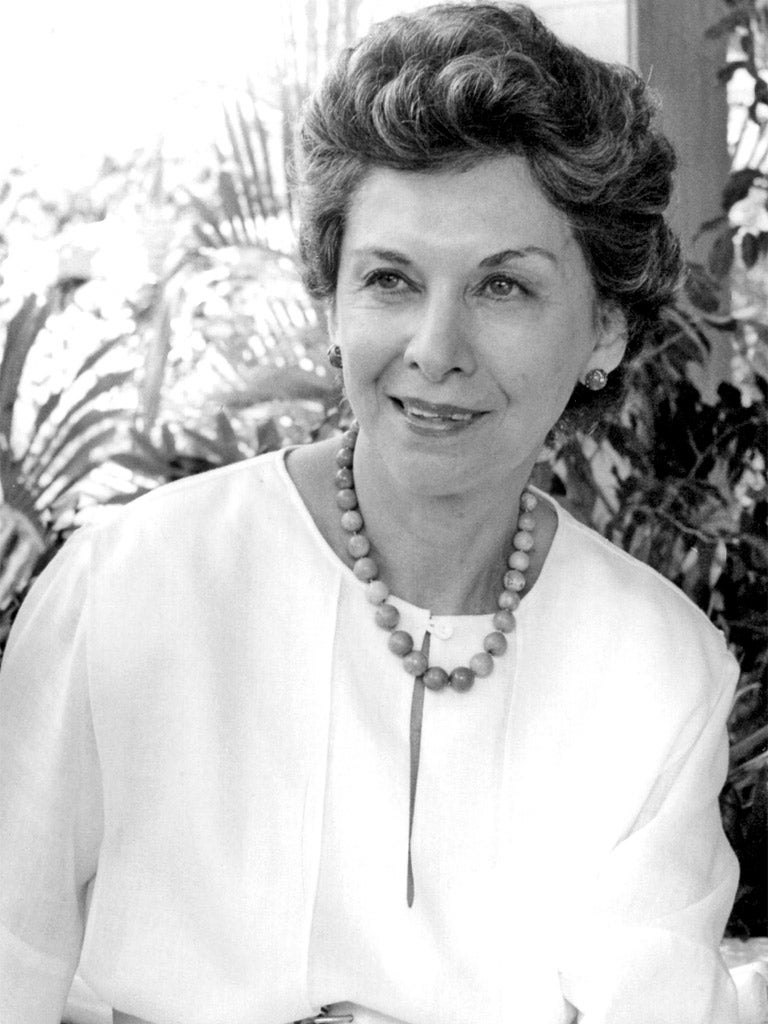 Rosa Maria Carless was a distinguished Brazilian artist and writer on cultural affairs from Sao Paulo who was married to the British diplomat Hugh Carless. They met when Carless was serving as Second Secretary at the British Embassy in Rio de Janeiro, and were married in Tehran in 1957, where Carless was posted as First (Oriental) Secretary in the British embassy, shortly after his renowned "short walk in the Hindu Kush" with the explorer and travel-writer Eric Newby, who wrote a bestselling book of that title.
She was later to broadcast about her Persian honeymoon on the BBC World Service, recounting: "I remember laughing happily when, at our wedding reception, the ambassador said that I must have really been in love because I had travelled 12,000 miles in order to get married. I had in fact come from the other side of the world – from Brazil." She became the consummate and selfless diplomatic wife, but developed her own independent career as an artist; it was perhaps her saving, because the diplomatic life did not come easily to her.
Rosa Maria Frontini was the eldest of three daughters, born to a senior banker in Sao Paulo in 1921. Both her parents were of Italian stock and she grew up speaking Italian inside the home and Portuguese outside, becoming fluent in five languages. Following university she became the deputy curator of the Museum of Modern Art in Sao Paulo and brought 79 of its paintings, including works by Degas, Gaugin, Monet and Renoir, to the Tate Gallery (now Tate Britain) for an exhibition in 1954. There she met Hugh Carless's brother, Richard, who urged Hugh to meet the vivacious young Brazilian. A cricket tour from Rio to Sao Paulo afforded him the opportunity to do so.
Before their wedding she received a grant to travel through the US to give lectures on Brazilian art and to study how American museums were organised. The Brazilian government awarded her the Leopoldinho Medal for services to culture.
At first she found life as a diplomatic wife extremely challenging. She confessed to Katie Hickman, author of the book Daughters of Britannia, that she was "very frightened" by the diplomatic scene: "I was working in a museum in Sao Paulo and I had a lot of friends of all different types. I mixed with a lot of artists. I led a rather bohemian life, but in a decent way, not a crazy way.
The thought of being in an Embassy, it was almost like a boarding school. I received a letter before I went to Tehran saying that the ambassadress liked the women to wear stockings and gloves – even in the heat." At other times, she found the diplomatic life tedious, with little to do or talk about at embassy parties. "Rosa Carless, posted to Angola in the 1960s, knew this conversational ennui as cri-cri, after its usual subject matter, crianças 9children) and criadas (maids)," Hickman wrote.
However, she developed a passion for cooking, including Persian recipes, during the posting to Iran, where she was also captivated by the vivid turquoise colours of Iranian ceramics and mosques. These spurred her to study the history of art at the Courtauld Institute on their return to London.
It was in Angola, where Hugh Carless served as Consul-General in Luanda from 1967-70, that Rosa found an escape in painting, developing her distinctive abstract style, initially with felt-tip pens and later in acrylics. She gained international recognition for her stylised large canvas abstracts depicting the jungle, whether African or Brazilian, and its flora and fauna.
Her first exhibition was, however, in a snowbound Bonn, capital of West Germany, in 1973. It was held in a disused railway station converted into a gallery. The deep snow prevented cars reaching it for the opening, prompting the headline in an English-language newspaper: "Car-less exhibition!"
Many other exhibitions followed in countries where Hugh Carless was posted, including Argentina, where he was chargé d'affairs in the late 1970s. His spontaneous and fun-loving Latin American wife endeared them to the Argentinians, though their posting had its dangerous moments. Once, when travelling in a Rolls-Royce, she was shot at, and was saved by the car's bulletproof windows. She held exhibitions of her works in Buenos Aires, in Punte del Este, Uruguay, and in Sao Paulo.
Their last diplomatic posting was in Caracas, where Hugh was the British Ambassador to Venezuela (1982-85), Rosa helping him to develop good cultural relations between the two countries.
Her last major solo exhibition was held in Paris in 2001, while two of her works, A Toucan (watercolour) and Storm Wing, are now held in the British government's art collection, administered by the Department for Culture, Media and Sport. She held solo exhibitions at the Brazilian Embassy's gallery and latterly exhibited with others at the annual Art in Marylebone event.
Michael Smith
Rosa Maria Frontini, artist and writer: born Sao Paulo 8 December 1921; married 1957 Hugh Carless (died 2011; one son, and one son deceased); died Ditchling Common, East Sussex 28 June 2013.
Join our commenting forum
Join thought-provoking conversations, follow other Independent readers and see their replies