Ross MacManus: Singer, trumpeter and father of Elvis Costello
Thursday 01 December 2011 01:00
comments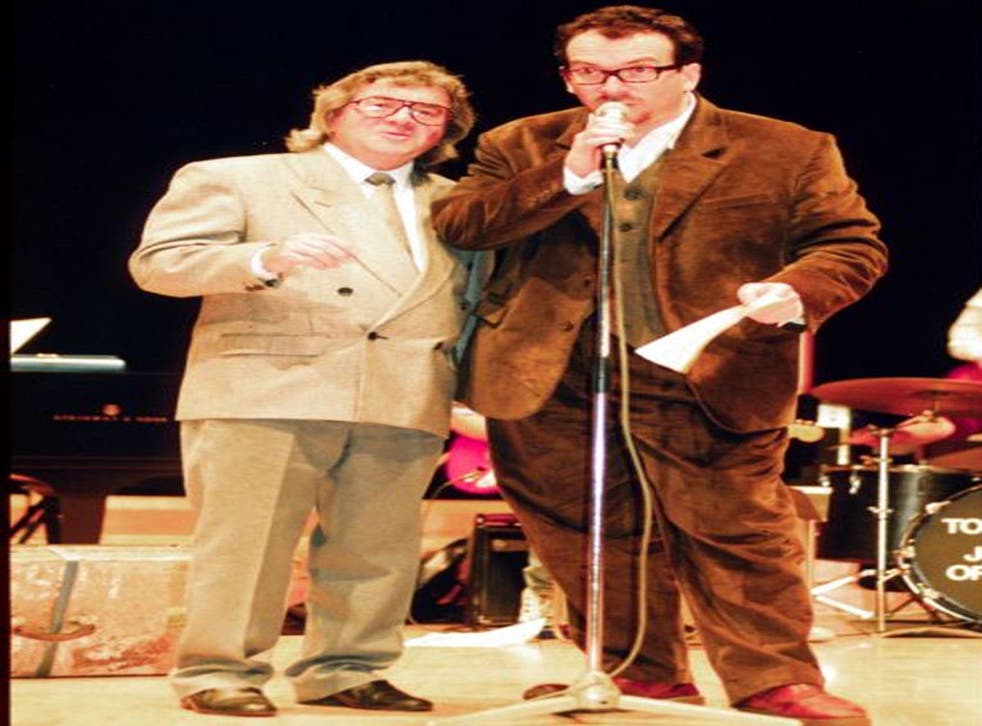 Although Ross MacManus is known as Elvis Costello's father, he had an enthralling career of his own as a band singer and trumpeter. He was also behind one of the most popular commercials of the 1970s, "the secret lemonade drinker" ad for R White, for which his son provided backing vocals.
Born in Birkenhead in 1927, the son of a cruise-line worker, Ross MacManus learnt to sing in Catholic churches. "Whenever I read about a black singer, they always say that they started in church," he told me in 2001, "and it was the same for a lot of white singers. I was singing in Latin in the church choir when I was nine years old. Singing plainsong requires a very flexible voice and that has stayed with me. Mr Lowry's teaching has not been wasted."
MacManus learnt violin for the school orchestra but had an urge to be a jazz trumpeter. He served in the forces in Egypt from 1948 to 1950 and then played with jazz bands around Merseyside. He favoured bebop, and was head-butted by Wally Fisher, from the more traditional Merseysippi Jazz Band, when he asked to borrow his trumpet for a guest appearance. In 1952, he moved to London and played with Ronnie Ross and Tubby Hayes and sang in Mecca Ballrooms with Bob Miller's dance band. By day, he worked as a clerk for a timber company.
In 1955, he joined Joe Loss and his Orchestra, which had a residency at the Hammersmith Palais. His hair, which grew upwards and outwards like a palm tree, was groomed, and he was given new spectacles and a good suit, but, in his own words, "I was never a handsome Tarzan like Frankie Vaughan."
Because of restrictions on recorded music, the BBC employed bandsto recreate the hits and Joe Loss's band was particularly adept, whether itwas "Tie Me Kangaroo Down, Sport" by Rolf Harris or "See Emily Play" by Pink Floyd. "Joe never wanted to be a dinosaur and said we were there to entertain. It didn't matter what the song was; we would perform it as accurately as possible. With one exception. Joe hated fade-out endings and very often we would end like Billy Smart's Circus. When we did the Who's 'My Generation', we had all the audience clapping at the end."
There was a strong element of show business about all their performances. "When I did Sam Cooke's 'Cupid', Larry Gretton was on another microphone making the sound of the arrows and pretending to fire them. It was very funny but everyone was watching his antics and disregarding my vocal."
In 1963, Joe Loss and his Orchestra appeared on the same Royal Variety Show as the Beatles and MacManus sang "If I had a Hammer". The following year they released "Patsy Girl" as Ross MacManus and the Joe Loss Blue Beats, with MacManus performing in a West Indian accent. The publicity photograph showed MacManus with the same heavy black horn-rimmed specs later favoured by his son.
Two years later, "Patsy Girl" became a hit in Germany and Loss told MacManus: "You can go to Germany and mime to the record, but don't tell the men". MacManus went to Germany and when he returned, Loss told the band that he had been ill.
MacManus recorded for the budget labels Embassy, Cannon, Crossbow and Saga, covering hits under pseudonyms such as Hal Burton, mostly because he didn't want Joe Loss to know of his involvement. In 1997 some cover versions were collected for a CD with the catchpenny title Elvis's Dad Sings Elvis.
In 1967, MacManus recorded "Can't Take My Eyes Off You" for Decca but was irritated that the producer, Dick Rowe, made him sound like Rolf Harris. Then, in 1971, he released "The Long and Winding Road" as Day Costello, taking the first name of the jazz musician Day Robertson, and his grandmother's maiden name.
His son Declan was born to his first wife, Lillian, in London in 1954. MacManus later settled in Twickenham with his second wife and they had four sons. All the sons play Irish music and the family band, Bible Code Sundays, has had some success. For much of the 1970s MacManus performed in northern clubs, and when Declan became Elvis Costello he did not reveal his upbringing. But the New Musical Express found the photograph of Day Costello and put two and two together.
Father and son worked together on occasion, singing "At Last" together at a Joe Loss tribute concert at the Barbican, and MacManus added trumpet to his albums Out Of Our Idiot (1987) and Mighty Likea Rose (1991). MacManus was bemused by his son's new name, "When Declan had dinner with Robert De Niro, he said, 'Hey, Elvis Costello. Are you an Italian boy?'"
MacManus reflected, "It's like the fairies stole my little boy and brought me this genius. It's like he's written the works of Shakespeare ... He's not been twisted out of shape by the business and I like that. His song 'The Birds Will Still Be Singing' is my epitaph."
Spencer Leigh
Ronald Patrick Ross MacManus, singer and trumpeter: born Birkenhead 20 October 1927; married 1952 Lillian Alda Ablett (marriage dissolved; one son), secondly Sara (died 2011; four sons); died 24 November 2011.
Join our new commenting forum
Join thought-provoking conversations, follow other Independent readers and see their replies