Russell Hoban: Writer best known for his post-apocalyptic novel 'Riddley Walker'
Thursday 15 December 2011 01:00 Comments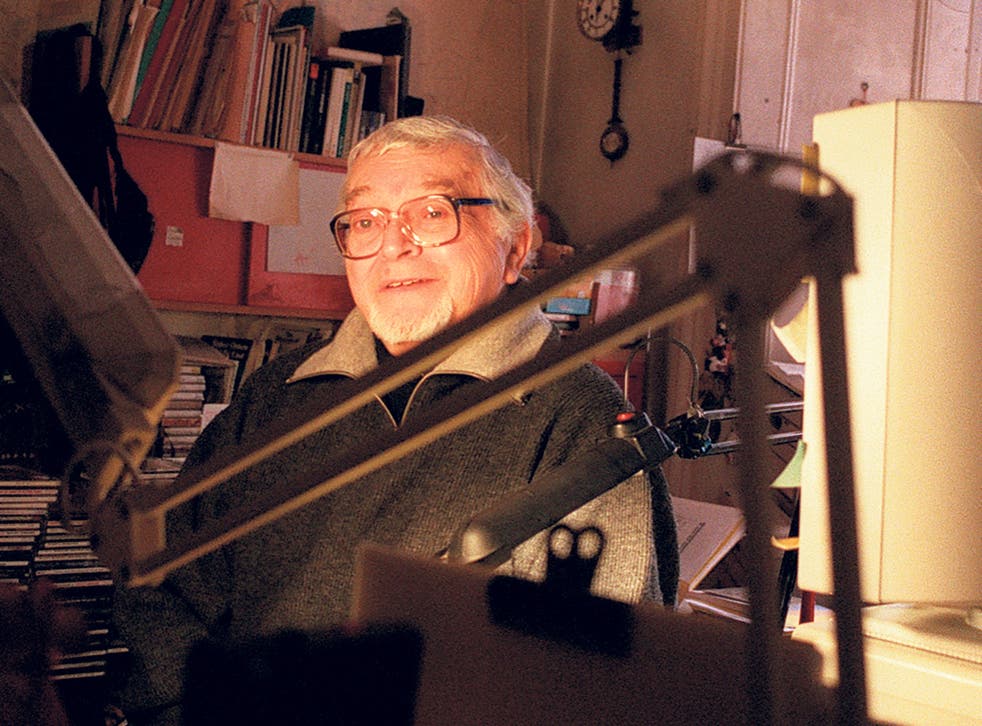 Russell Hoban's Riddley Walker is one of the great novels of the 20th century. On its publication in 1980 Anthony Burgess declared, "This is what literature is meant to be", and The New York Times gave the novel a glowing full-page review on its front page.
Hoban had until then been best known for his children's fiction, but his brilliant account of a post-apocalyptic world written in a language of his own creation catapulted him into the front rank of fiction writers. Or so it seemed. The truth was, as his editor, Tom Maschler, later pointed out: "It sort of catapulted him into nowhere; Riddley Walker was very difficult to live up to, but it didn't quite do enough to set him up." As Hoban himself put it: "I was on a whole other level for six months or a year, then my next novel, Pilgermann, made a front-page review – but it was only half a page. After that everything was an anticlimax..."
Russell Conwell Hoban was born in 1925 in the town of Lansdale, some 30 miles from Philadelphia. He was the son of "upward-striving" Jewish-Ukrainian immigrants. His father was the managing editor of the Jewish Daily Forward, the director of a drama guild and a socialist. "The first thing I learned," Hoban recalled, "was never to cross a picket line." As a young child he played small parts in Yiddish classics and worthy plays about the Depression. The languages around him were Yiddish, Russian and English
He was a precocious child. From the age of five he was drawing so well his parents "got it into their heads I was going to be a great painter. I laboured under that like a stone on my back for years." His early reading was mainly of Soviet picture books, such as those about Comrade Gulliver, a Russian adrift in America. He was precociously clever as well as a precocious artist and moved up two years at Lansdale High School. He won a scholarship to Temple University in 1941 at 16. However, he stayed there for five weeks only. "I was this little guy with a high voice surrounded by big guys with deep voices and girls who were women." He enrolled at the Philadelphia Museum School of Industrial Art to study art. A year later he met his future wife, Lillian Aberman, who was in the year below.
Although small, he was fearless. As soon as he was 18, in 1943, he enlisted in the army. "I wanted to be part of what was happening," he said. He trained as a radio operator, had a spell as a military policeman, then volunteered for overseas service. As a messenger in the Apennines he claimed his sense of direction was so poor he used to tear up ration boxes to leave a trail. He was self-deprecating about his war service, but he was awarded a Bronze Star for delivering orders and supplies to a forward position while under enemy fire.
Hoban and Lillian married in 1944 and the following year he was invalided out of the army after contracting hepatitis. He and his wife moved into an apartment in New York. With the help of the GI Bill he tried to make a living as a painter but essentially became what he later called a "proto-drop-out". He took odd jobs until, in 1947, he got work as a commercial illustrator, first in television, later in advertising.
In 1955 he moved on to being a freelance illustrator for national magazines such as Sports Illustrated, Newsweek and Time. He did cover illustrations but also began to write – extended captions and short articles for the sports magazine. His first children's book came out of his curious interest in drawing construction machinery, machinery he regarded as "some of the most beautiful and best sculpture of our times".
"I used to drive round Connecticut sketching bulldozers and a friend saw the drawings and thought that a publisher might be interested." What Does it Do and How Does it Work? was published in 1959. In 1960 Hoban published his first storybook , Bedtime for Frances, about a badger family. His wife did the illustrations for the second Frances book – "I wasn't good at doing cuddly" – and together they wrote and illustrated six over the next decade.
In 1963 Hoban embarked on a more ambitious project. "I'd been doing children's books which were maybe 10 pages of typing and I thought, 'Shit! This isn't man's work.' " He had an idea for a book about a wind-up mouse that he thought would run to 36 pages. The Hobans were living in a large house in Connecticut, the purchase of which had put them in serious debt. He needed a full-time job.
In 1965 he joined the leading New York ad agency Doyle Dane Bernbach as a copywriter. He remained there until 1967, writing his mouse book – now much longer than 36 pages – before work, during lunchtimes and in the evenings, rarely getting more than five hours' sleep. Perhaps that contributed to his becoming diabetic in 1966. The Mouse And His Child has become a children's classic, although Hoban noted that at the time "it got a two-inch review in The New York Times from someone who said it was crap".
Partly inspired by his love of British ghost-story writers such as MR James and Sheridan Le Fanu he insisted his family move to London for a few years. "This image of Victorian London grew in my mind – heavy fog, a landlord and his wife toasting cheese on the gas ring and a newsboy running down the street shouting 'Dreadful murder in the Marylebone Road'."
The move was decisive in two ways. First, "When I got to London I decided I wanted to write about men and women and not wind-up toys and little animals." And second, he and his wife separated; she took their children back to the US. Over the next few years Hoban continued with his children's fiction but it was looser, more in thrall to imagination than his earlier work. The Sea-Thing Child was published in 1972 and How Tom Beat Captain Najork and his Hired Sportsmen in 1974. The latter went on to win the Whitbread prize.
In 1975 he was divorced, and married Gundula Ahl, whom he had met working in a Sloane Street bookshop. His children by his first marriage remained in America and he was estranged from the youngest, Julia, for many years. He and Gundula had three sons and lived in Fulham for the rest of his life.
By the time of his divorce, Hoban had fulfilled his intention "to write about men and women". His first adult book, The Lion of Boaz-Jachin and Jachin-Boaz,was published in 1973 by Jonathan Cape. Maschler recalled: "It was magical and certainly unlike any living writer, either in the UK or in America." It was a study of a father-son relationship set in a Middle Eastern location.
The eclectic Hoban followed with something quite other. Kleinzeit (1974) drew on his own experiences in hospital. It was his favourite novel because with it he discovered his "natural voice". Turtle Diary followed in 1975. It was later filmed with a script by Harold Pinter. Hoban said that he felt the result was more Pinter than Hoban.
Hoban started work on Riddley Walker in 1975. It took him almost six years. He had written 500 pages in the first two years but knew he hadn't got it, so started again. While the work was in progress, he took to reading bits out to his therapist. "I'd paid for the sessions, so I wanted to hear his response."
Riddley Walker came out to rave reviews. The book, set in Kent 2,000 years after a nuclear holocaust, is written in a weird, phonetic future-Estuary English that is, however, quite accessible. (Peter Carey has written: "If Riddley Walker looks, on first glance, like Chaucer in need of a spell-check, do not despair. By the second page you will speak the language like a native.")
Hoban followed Riddley Walker with a novel that in many ways was equally good. Pilgermann, about anti-Semitism during the Crusades, came out of "ongoing religious thoughts". He said later: "The Jew in me wanted a voice."
Over the next 20-odd years Hoban poured his creativity into children's books, adult fiction, poetry, drama and essays. The illustrated books The Marzipan Pig, Monsters and MOLE: Much Overworked Little Earthmover came out in 1986, 1989 and 1993 respectively, followed by The Trokeville Way (1996) and Jim's Lion (2001). The Medusa Frequency, his next novel for adults, in which the central character was based on his wife, came out in 1987.
His collected essays The Moment Under The Moment appeared in 1992. The collection included an account of his collaboration at the start of the 1990s with Harrison Birtwistle on the opera The Second Mrs Kong, for which Hoban wrote the libretto and which premiered at Glyndebourne in 1994.
In 1997 he published his collected poetry, The Last of the Wallendas. In 1996 he had published Fremder, his first adult novel in nine years. This impressive quasi-science-fiction piece heralded the start of a second flowering. It continued with the critically acclaimed Mr Rinyo-Clacton's Offer (1998), Angelica's Grotto (1999), Amaryllis Night and Day (2001) and The Bat Tattoo (2002). The last three were published by Bloomsbury after Hoban failed to come to terms with Jonathan Cape. He was "enraged" to be dropped by Cape, but happy to be with Bloomsbury – and "grateful to Harry Potter, who subsidises me".
As he got older, his health declined; the main character in Angelica's Grotto suffered from the same infirmities. By the time he wrote it, Hoban had had a triple heart bypass and had part of his lung removed because of cancer. He had also spent much of one year laid up with Charcot Foot, the degenerative arthritis to which diabetics are prone.
But he worked on. "I am simply an addict," he said. "If I am kept away from writing I become physically unwell. It is art and the creation of art that sustains me. It gives me energy . . . And, besides, when the tank is getting empty I think you drive a little faster."
Although the study in his Fulham home was notoriously chaotic (one visitor likened it to a junk yard) he was the most focused of writers. He worked 10-hour days, constantly revising until the language was just right. He said: "The main driving force for me is the desire to go further than I have gone before."
In November 2007 in Waterford, Ireland, the Red Kettle Theatre produced Hoban's own adaptation of Riddley Walker. In 2010 he took part in a London multi-media event, Map Marathon: Maps for the 21st Century. His last published novel, Angelica Lost and Found, appeared in the same year.
Like most writers he revisited the same themes. For him they included the Orpheus myth, love, loss and art. "My novels are chamber novels," he said. "I am interested in what happens between individuals. I have not got the scope for politics and history. Most of my novels are also celebrating a willingness to admit the unseen."
He appeared sanguine about his own death. "I think death will be a good career move for me," he said. "People will say, 'Yes, Hoban, he seems an interesting writer, let's look at him again.'"
Peter Guttridge
Russell Conwell Hoban, writer: born Lansdale, Pennsylvania 4 February 1925; married 1944 Lillian Aberman (divorced 1975; died 1998; one son, three daughters), 1975 Gundula Ahl (three sons); died 13 December 2011.
Register for free to continue reading
Registration is a free and easy way to support our truly independent journalism
By registering, you will also enjoy limited access to Premium articles, exclusive newsletters, commenting, and virtual events with our leading journalists
Already have an account? sign in
Join our new commenting forum
Join thought-provoking conversations, follow other Independent readers and see their replies