Ruth Bondy: Auschwitz survivor and journalist who brought Czech humour and literature to Israel
She was held at the Theresienstadt concentration camp before being transferred to Poland and revisited it in her work as translator, satirist and biographer touching generations of Israelis
Daphna Baram
Wednesday 29 November 2017 18:10 Comments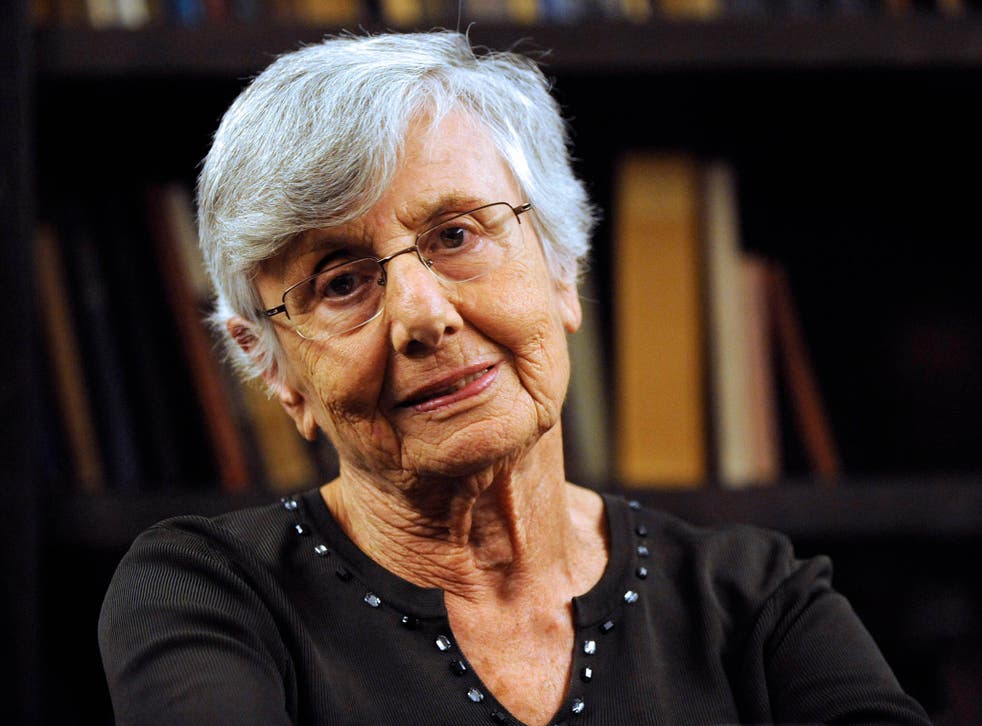 Ruth Bondy was a Holocaust survivor who distinguished herself as a translator, journalist and biographer, introducing Czech humour and literature to Israel. She was born Ruth Bondyova to a Jewish family in Prague in the 1920s – the city remained a place she loved throughout her life.
"Having been born in Prague is like having an aristocratic title," she wrote in her biography, Shvarim Shlemin ("Whole Fractures").
She started her career in journalism there working for the UP News Agency as a translator, from English to Czech. But her career and whole way of life were abruptly cut short by the Nazi invasion of Czechoslovakia and the outbreak of the Second World War. Bondy, ever optimistic and high spirited, only had plans to carry on with her life and work.
But in 1942 she was deported to the Ghetto of Theresienstadt, the holding camp in the fortress town of Terezín for tens of thousands waiting to be transported to Auschwitz and Treblinka. Thousands died from malnutrition and disease there.
She later wrote of the experience: "I would like the Theresienstadt Ghetto to be remembered as it was; a place of spiritual elevation but also toughening, of mutual help but also of ignoring the other's pain. A kaleidoscope of people trapped in distress, most of whom managed to maintain their humanity, were not cruel to each other, and hoped to survive until the desired end of the war, that came too late for most".
In 1943 Bondy was deported to Auschwitz. She survived the horrors of the death camps, but her parents, and most of her extended family, were murdered. "Four of us survived," she wrote, "Grandma, my cousin, my sister Ditta, and I. Twenty-five have perished. Statistically, we were a lucky family". Bondy was made to move to the concentration Bergen Belsen in Germany towards the end of the war, until it was liberated by British troops in April 1945.
In 1948 she immigrated to Israel where she was immediately absorbed into the new thriving journalistic and literary scene. She worked for Davar, the newspaper closely affiliated with the, then ruling, Labour Party. She wrote several biographies, most notably those of Enzo Sereni who spied for British intelligence in Hungary and got caught and murdered, and of Yaakov Edelstein, the head of the Theresienstadt Ghetto Judenrat (Judenrat were the councils the Nazis forced their Jewish prisoners to form). She also wrote extensively about the Holocaust from a perspective combining her personal experience and in-depth historical research.
She was also a part of one of Israel's first and most popular radio panel satire shows, Three In A Boat, introducing her unique brand of Czech, low key, understated ironic humour.
Bondy was also a keen cook. The title of her cookery book, The Taste of Life, was typically poignant in light of her personal history. "Unlike writing, cooking does not tolerate humour," she wrote in the preface of her 2014 book Lo Rak Kafka Ve Ha-golem ("Not Just Kafka the Golem"), on Czech Jewish culture.
But her most memorable contribution to Hebrew-speaking culture were her translations from Czech into Hebrew. Most book-loving Israelis cannot imagine their lives without her translations of Czech literary icons such as Karel Čapek, Milan Kundera, Václav Havel, Ferenc Molnár, Jaroslav Hašek and many others. "We have never met," lamented a reader commenting on her obituary in the Israeli daily Ha'aretz, "but I will ever be grateful to you for the adventures of The Good Soldier Švejk".
Of her time at Theresienstadt she wrote that despite the "ghastly overcrowding ... there was no violence. No one's life was threatened – at least not by a Jew ... nor was there a single incident of robbery, rape, or serious physical assault."
Bondy was outspoken in her opposition to the Israeli tradition of sending pupils to school trips in concentration camp sites, journeys which often take an aggressive and nationalistic slant.
"Stop taking children to places where Jews died," she once wrote. "Take them to where they lived: Toledo, Segovia, the Netherlands of Rembrandt and Spinoza, and maybe one day even to Baghdad". "The holocaust was not committed by monsters, it was committed by people. The thought that gives me hope is that of the righteous gentiles, the thousands who risked their lives to save others. They, too, are humanity".
​Bondy was married to journalist Rafael Bashan (1930-2001), whom she divorced in 1981, and mother to journalist Tal Bashan. She kept translating, writing, cooking and tending to her plants until her very last days, and her sense of humour remained her allay to the end. In a reference to the 2000 film Saving Grace, she said: "If I run out of money I might start growing marijuana," she told Ha'aretz in 2014. "I have green fingers".
She spoke proudly of how she got rid of the carer her daughter hired to help her with her daily tasks: "I can't have somebody lurking about the house, and her cooking was no good either".
In her life she had won the Buchman Prize for Holocaust Research, Sokolov Prize of Journalism, and The Prime Minister's Prize for Hebrew Authors.
Bondy is survived by her daughter, Tal Bashan, two grandchildren and three generations of Israelis who came to love Czech literature thanks to her legacy of 40 translations.
Ruth Bondy, born Prague 19 June 1923, died 14 November 2017
Register for free to continue reading
Registration is a free and easy way to support our truly independent journalism
By registering, you will also enjoy limited access to Premium articles, exclusive newsletters, commenting, and virtual events with our leading journalists
Already have an account? sign in
Join our new commenting forum
Join thought-provoking conversations, follow other Independent readers and see their replies