Saeed Jaffrey: Actor whose career took in India, Hollywood and the UK and who worked with Lean and Attenborough
He introduced James Ivory to Ismail Merchant, helping form the famous partnership and appeared in The Guru, their 1969 comedy of Anglo-Indian misunderstanding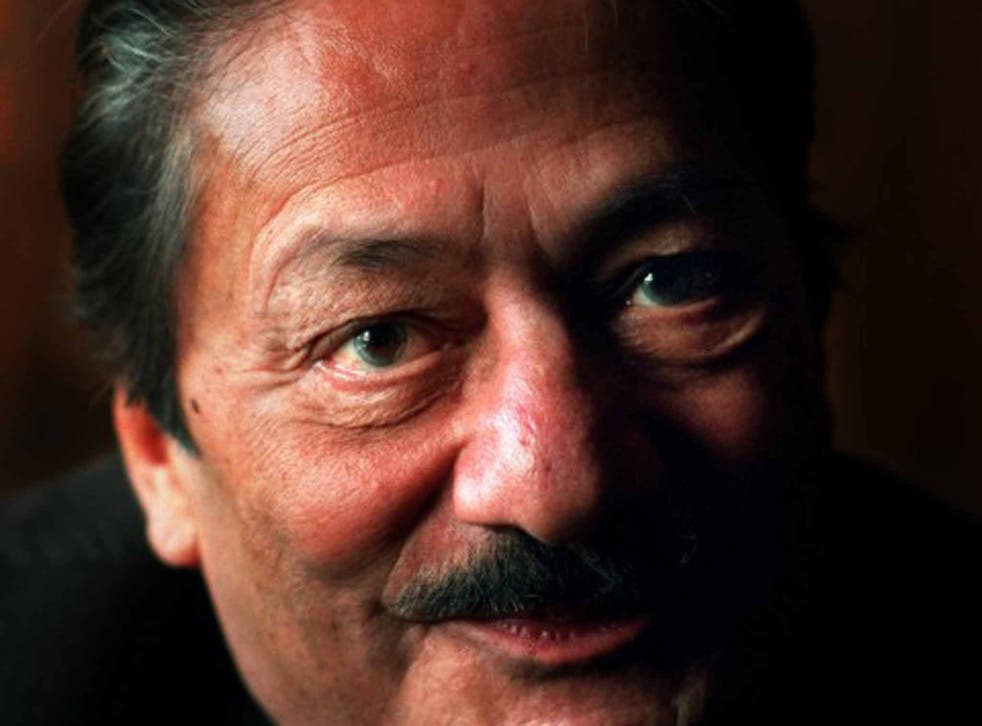 Saeed Jaffrey, who has died of a brain haemorrhage, was one of the best-known Indian-born actors with a career that spanned India, the UK and Hollywood in film, television, stage and radio. In 1995 he became the first Asian actor to be awarded an OBE for services to drama.
Jaffrey was born in Punjab and studied history at the University of Allahabad while training with All-India Radio. He founded an English-language theatre company, mounting classic plays by, among others, Shakespeare, Wilde, Fry, Priestley and Tennessee Williams.
When his wife Madhur, later a well-known cookery and travel writer, wanted to study at Rada, he stepped aside to lessen the competition, saying he would join her the following year. But there were no scholarships available then so he went instead to Washington to study film and television at the Catholic University of America on a Fulbright Scholarship. While in the US he appeared in numerous plays, including playing Professor Godbole in A Passage to India, and his first film, Parable (1964), a short Christian fable set in a travelling circus.
Returning to Britain, he began to carve out a career in television. In 1965 he revisited A Passage to India in a BBC adaptation, this time playing Mr Hamidullah, the uncle of Aziz whose Anglophilia is marked by the novel's main event. From then on there was a regular stream of work in one-off dramas as well as occasional appearances in long-running series such as Z Cars and Callan. He introduced James Ivory to Ismail Merchant, helping form the famous partnership and appeared in The Guru, their 1969 comedy of Anglo-Indian misunderstanding. Two years later he played a district chief in John Frankenheimer's The Horsemen, a drama about Afghan tribal rivalries.
In 1975 came another Afghanistan-set story. Rudyard Kipling's The Man Who Would Be King is set in Kafiristan, an ill-defined area now analogous to Nuristan. In John Huston's adaptation Jaffrey played Billy Fish, the hero's translator, and for this he spoke Urdu, though as it was shot in Morocco the locals replied in Arabic. Jaffrey invested some nobility in what could have been a thankless, clichéd role.
It was only in 1977 that he appeared in his first Indian film, Satyajit Ray's The Chess Players. In his greatest role Jaffrey plays the noble Mir Roshan Ali, whose obsession with chess leads him to neglect Lucknow's defences and allow the British take-over.
Following these successes, Jaffrey returned to British television and, in the mid-1980s, built on his Hindi cinema career. However, at the same time a vast film was finally entering production, offering Jaffrey a major role. Richard Attenborough had played General Outram in The Chess Players, and for Gandhi (1982) he cast Jaffrey as one of the founding fathers of the Indian republic, Vallabhbhai Patel – referred to in the film by his honorary title, "Sardar".
Perhaps it was the success of Gandhi that inspired a brief surge of Raj-nostalgia and, coincidentally, three adaptations appeared in 1984, all finding roles for Jaffrey. The Far Pavilions was a three-part mini-series US/UK co-production, intended for television and cinemas. It was broadcast on Channel 4, staking a claim in the world of prestige drama. Jaffrey played Biju Ram, although other Indian characters were played by non-Indians including Omar Sharif and Christopher Lee, leading Salman Rushdie to denounce it as "a black-face minstrel show". Nevertheless it proved popular and, shorn of two-thirds of its length, the cinema release went ahead, though in some territories it was confusingly renamed Blade of Steel.
Granada's The Jewel in the Crown, a 14-part adaptation of Paul Scott's Raj Quartet, is perhaps the best evocation of the last days of the Raj. The adaptation conventionalises the novels' non-linear narrative, while retaining their panoramic sweep, meaning that no characters dominate throughout, although Jaffrey is powerful as the Nawab of Mirat.
The last of Jaffrey's 1984 Raj films saw him revisiting the role of Hamidullah in David Lean's long-gestating A Passage to India. However, there was one more visit to India in that year as he played Raaz, a boatman, in an adaptation of Somerset Maugham's The Razor's Edge, about a man traumatised by the First World War finding spiritual solace in India and Nepal. Unfortunately the film's success was hampered by the unexpected casting of Bill Murray in the lead.
Back in Britain Jaffrey played the über-capitalist uncle Nasser in My Beautiful Launderette, study of race and sex relations in Thatcherite south London. He also broadcast on the World Service in Urdu, Hindi and English, and read novels including Vikram Seth's A Suitable Boy and the Indian classics Shakuntala and Savitri.
Increasingly Jaffrey divided his career between Indian films and British television. The Indian films, though hugely popular at home, like so many Bollywood productions, did not break out, but 1987 saw a powerful performance in another Western study of Indian history, this one concentrating on 1947. Unfortunately Ken McMullen's minimalist and formally tight Partition, scripted by Tariq Ali, was often overlooked until its recent DVD release.
Saeed Jaffrey, actor: born Malerkotla, Punjab 8 January 1929; OBE 1995; married 1958 Madhur Bahadur (divorced 1966; three daughters), secondly Jennifer Irene Sorrell; died London 15 November 2015.
Join our new commenting forum
Join thought-provoking conversations, follow other Independent readers and see their replies