Saul Zaentz: Litigious record company executive who turned to film producing and went on to win three Academy Awards
Jason Dearen
,
David Germain
Wednesday 15 January 2014 01:00 Comments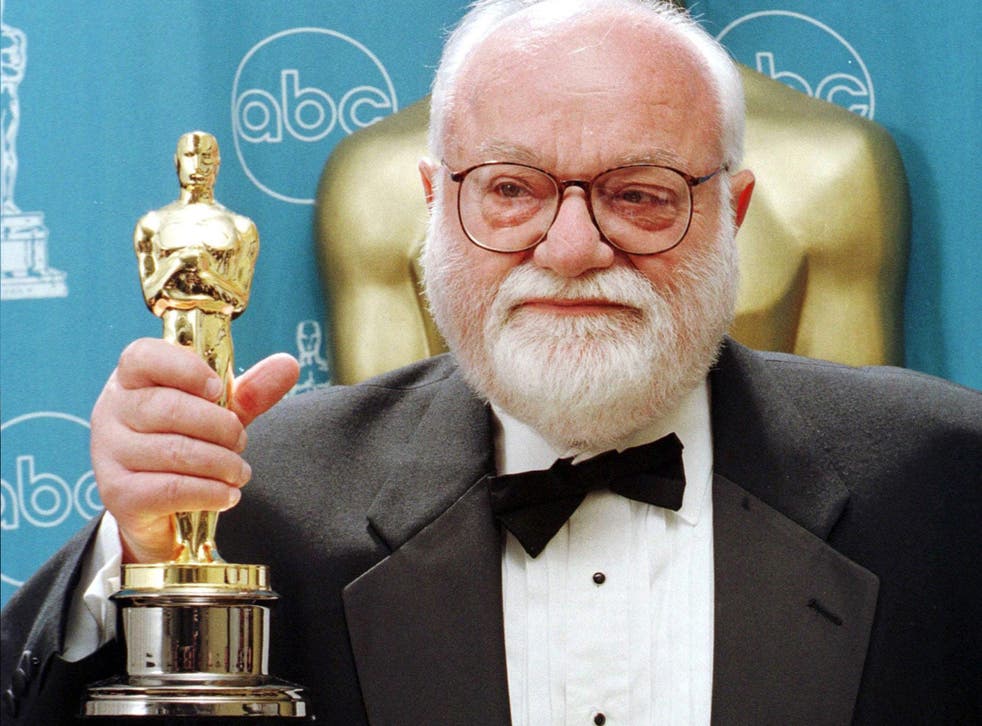 Saul Zaentz was a highly litigious record producer whose second career as a film-maker brought him Academy Awards for One Flew Over the Cuckoo's Nest, Amadeus and The English Patient. He wasn't a prolific film producer, but he took on high-quality projects, specialising in complex literary adaptations.
After moving into cinema at age of 50 with the 1972 low-budget country-music drama Payday he made only nine more films, giving him a remarkable Oscars success rate. Among his other films were the 1978 animated version of The Lord of the Rings, the 1986 Harrison Ford drama The Mosquito Coast, 1998's acclaimed The Unbearable Lightness of Being, which co-starred Juliette Binoche, who went on to win an Oscar for The English Patient, and 1991's At Play in the Fields of the Lord, a critical and commercial flop despite a cast that included Kathy Bates, Tom Berenger and John Lithgow.
Zaentz was a throwback to old Hollywood, a producer who cared about his films and would go to extremes to get them right, often putting his own money up. He appreciated directors with a unique personal vision and was willing to take chances on relatively untested film-makers. The only film of note Anthony Minghella had made was Truly, Madly, Deeply when Zaentz picked him for The English Patient, for which he won an Oscar as Best Director. And the Czech director Milos Forman had worked mostly in his home country when Zaentz and his co-producer Michael Douglas chose him to make One Flew Over the Cuckoo's Nest. Forman went on to make Amadeus.
With Lord of the Rings, whose rights he had acquired in the mid-1970s, Zaentz rejected all proposals to do a live-action version until he saw Peter Jackson's visually striking Heavenly Creatures. Though Zaentz's involvement was limited and he did not share in the producing credits, he gave full blessing to Jackson's epic Lord of the Rings trilogy. He later sued over royalties, however, and the dispute was settled out of court in 2005. A lavish theatrical version was mounted in Toronto in 2006 but closed after six months. Trimmed and reworked for a run in London, it ran for 13 months though it still failed to impress critics.
Zaentz went into the film business after growing bored with his career in the music industry, which centred round the Fantasy Records label he bought in 1967. Largely a jazz label whose catalogue included albums by Miles Davis, John Coltrane and Sonny Rollins, Fantasy also released albums by Creedence Clearwater Revival, whose leader, John Fogerty, feuded with Zaentz in bitter court battles. After CCR disbanded in the early 1970s, Fogerty had carved out a decent solo career. He was signed to Asylum in the US but Fantasy held the rights for the rest of the world; after legal and financial disputes with Zaentz, Fogerty freed himself from Fantasy only by giving up the rights to all Creedence's material – it cost him millions, but gave him peace of mind, he said.
In 1985 his first album for Warner Bros, Centerfield, contained two songs directed at Zaentz, "Zanz Kant Danz" – about a pig who can't dance but will steal your money – and "Mr Greed". Zaentz issued a libel writ, and Fogerty changed the name of the former to "Vanz Kant Danz". Zaentz launched a second lawsuit, alleging that another song from the album, "The Old Man Down The Road", shared the same chorus as "Run Through the Jungle", a Creedence song that remained in the Fantasy library, but Fogerty won the case, establishing that the two songs were completely distinct. Fogerty countersued over lawyers' fees, and eventually won his case in the US Supreme Court. After Zaentz sold Fantasy in 2004, Fogerty made peace with the label's new owners.
Born in 1921, in Passaic, New Jersey, Zaentz earned a degree in poultry husbandry from Rutgers University. He served in Africa and Sicily and aboard troop ships in the North Atlantic and Pacific during the Second World War. Afterwards he went to business college and moved to San Francisco, where he worked for a small record distributor and later joined jazz producer Norman Granz, working on recordings and concerts.
Zaentz had worked in the music industry for nearly two decades when he decided to try his hand at film. He tended to go after the rights to literary works he loved, and one of the first was Ken Kesey's novel One Flew Over the Cuckoo's Nest. Kirk Douglas owned the film rights, and would only sell them, Zaentz later recalled, if he could star in the film. Uninterested, Zaentz went off and produced Payday, which starred Rip Torn. By then, Michael Douglas had obtained the Cuckoo's Nest rights from his father, and he and Zaentz teamed up to produce the film in 1975 with Jack Nicholson.
The film won five Oscars and was the first since It Happened One Night 42 years earlier to sweep the four main categories of best picture, director (Forman), actor (Nicholson) and actress (Louise Fletcher). Zaentz's next film, the 1977 American Indian drama Three Warriors, quickly disappeared, though, and he later admitted that his animated Lord of the Rings from 1978 had missed the mark.
Teaming up with Forman again, Zaentz made Amadeus (1984), adapted from Peter Shaffer's play examining the relationship between Mozart and Antonio Salieri. It won eight Oscars, including best director, and best actor for F Murray Abraham as Salieri. Zaentz topped that with The English Patient, which won nine – but it nearly didn't get made at all. The original backers, 20th Century Fox, shut it down because Zaentz declined to recast it with a bigger-name cast. Miramax came to the rescue, with Zaentz putting up cash of his own to round out the budget. The same night The English Patient triumphed at the Oscars, Zaentz received the Irving G Thalberg Award, a lifetime-achievement honour for producers.
"My cup is full," he said in accepting the award. After The English Patient won Best Picture, he added: "I said my cup was full before. Now it runneth over." He had suffered from Alzheimer's disease for many years.
Saul Zaentz, record company executive and film producer: born Passaic, New Jersey 28 February 1921; died San Francisco 3 January 2014.
Register for free to continue reading
Registration is a free and easy way to support our truly independent journalism
By registering, you will also enjoy limited access to Premium articles, exclusive newsletters, commenting, and virtual events with our leading journalists
Already have an account? sign in
Join our new commenting forum
Join thought-provoking conversations, follow other Independent readers and see their replies