Shadia: Actress of Egypt's golden age of cinema who became a popular singer across the Arab world
She performed roles of empowered women that challenged the strictures of a conservative society – one of her songs became an anthem in the 2011 revolution
Lily Fletcher
Tuesday 05 December 2017 13:32 Comments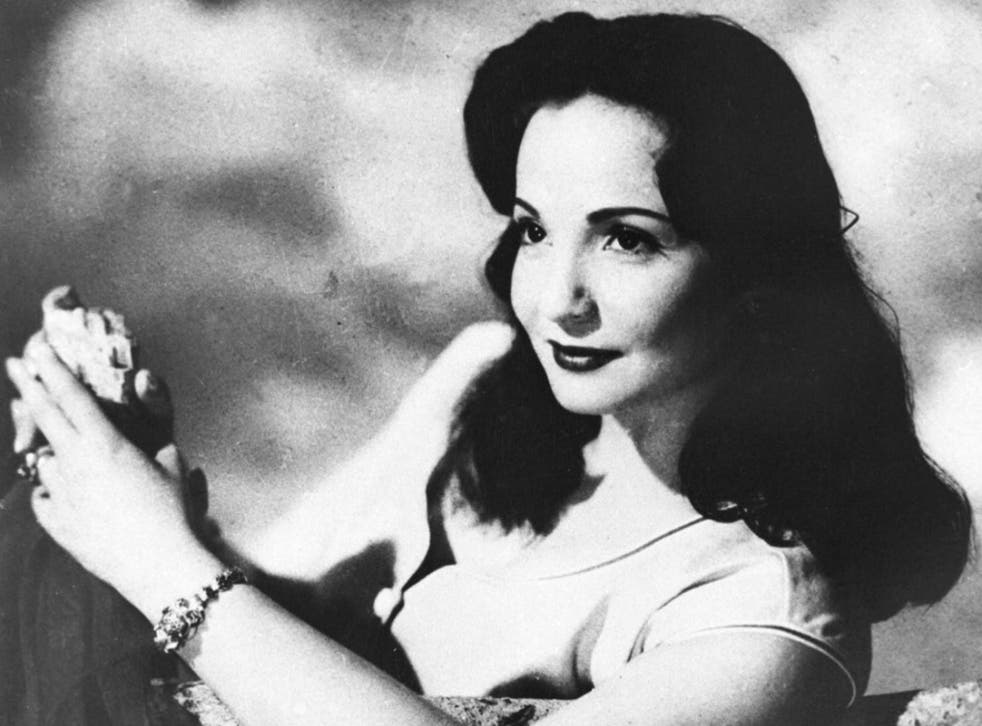 Egyptian actor and singer Fatima Ahmed Kamal Shaker, better known by her stage name Shadia, played more than 100 roles in films, television series and radio plays, and recorded dozens of singles during a career that spanned from 1947 to 1984. She was one of the most prominent stars in Egypt, and also enjoyed a broad fanbase in the rest of the Arab world.
The youngest daughter, Shadia was born into a middle-class family in Egypt's Sharqia Governorate, in the early Thirties. She was first discovered by film director Ahmed Badrakhan while he was on the hunt for new faces. She followed in the footsteps of her sister Afaf Shaker, who also enjoyed a brief acting career, but it was arguably Shadia's musical talent that led her to stardom.
Her patriotic song "Ya Habibti Ya Masr" ("Oh My Beloved Egypt") became a quasi-national anthem, sung in Tahrir Square during Egypt's Arab Spring uprising which ousted Egypt's then president, Hosni Mubarak.
Shadia belonged to a caucus of talented performers of the era who could sing and dance as well as act. Shadia's roles in Midaq Alley (1963) and The Thief and the Dogs (1962), both based on novels by Egyptian Nobel laureate Naguib Mahfouz, won her praise from Mahfouz himself.
"Shadia is a first-class actress who managed to give the prose of my novels body, blood and a distinctive form," he once said.
Egypt had established itself as the capital of Arab cinema by the 1940s, and Shadia's heyday – during the so-called "golden age" – spanned from then until the 1960s. Flick through any TV set in an Arab-speaking country and you will find that films from this era are still frequently watched and enjoyed today.
The golden age was a tumultuous period, defined by major historical events: the end of the colonial era; the Second World War; the rule of Egypt's monarchy – and its overthrow, led by pan-Arabist socialist Gamal Abdel Nasser, who then became President in 1956. Nasser's government actively engaged with popular culture and was eager to encourage the film industry.
The new establishment saw the big screen as a nation-building tool and as a vehicle to promote its ideology. The regime's guidance of cinema was a gradual process; first, it was mandatory for film scripts to be approved by the Censorship Department, and by 1961 the industry was nationalised.
Shadia starred in Something Frightening (1969), a film that was criticised by censors at the time for its depiction of a gang who kidnaps a strong-willed villager called Fuada, played by Shadia, and force her to marry the gang leader, causing the villagers to revolt. President Nasser declared that if the film was supposed to be an allegory for his government with him as the gang leader, then the villagers deserved to burn.
Shadia's film roles often dealt with contemporaneous social issues in Egypt, such as the shifting role of women. She managed to avoid being typecast by working in different genres and playing a diverse range of characters, from career-oriented city women or headstrong country girls, to a more archetypal damsel in distress.
Shadia first established herself as a serious actor for her role in Mahmoud Zulfikar's The Unknown Woman (1959), which was based on Alexandre Bisson's play Madame X. Shadia's character is mistakenly arrested after falling prey to a blackmailing thug, and is consequently divorced by her husband for bringing shame to the household.
In renowned director Fatin Abdel-Wahab's Wife Number 13 (1962), Shadia's character refuses to consummate her marriage after she discovers that her new husband is a serial romantic who quickly loses interest after marriage. In Abdel-Wahab's comedy My Wife the General Manager (1966), she played the wife who is promoted in the workplace above her husband and is forced to redefine her role as both a wife and a boss.
Shadia was married three times; two of her marriages were to other film stars, Emad Hamdy and Salah Zulfaqar, whom she acted alongside in some of her most famous roles. When she retired in 1984, she devoted her time to working with orphans.
After undergoing surgery in America to remove a cyst, Shadia is said to have immediately travelled to Mecca to complete the Umrah pilgrimage. She had always been a practising Muslim, but Egypt was headed in an ever-more religiously conservative direction. Socioeconomic problems and new President Anwar Sadat's relative tolerance towards political parties contributed to the rapid growth of Islamists who were intolerant of people who did not share their worldview.
Shadia joined around 20 other Egyptian actresses who began wearing the hijab in the 1980s and 1990s. In her retirement, she opted to live a more secluded, devout and religious life.
In Whatever Happened to the Egyptians?, published in 2000, Egyptian economist and commentator Galal Amin claims that prior to the 1970s and 1980s, when droves of Egyptians immigrated to socially conservative Gulf states for work, the hijab was only seen in Egypt's countryside.
With the rise of Islamic conservatism in the country, as well as new audiences in the oil-rich Gulf, there came a tendency to eschew sexual subjects, which had previously been an accepted part of mainstream Egyptian cinema. Film actresses began to reject roles involving risqué scenes or requiring revealing costumes, while some gave up acting altogether. However, unlike other actresses who quit and denounced the industry on religious grounds, Shadia did not reject or regret her work.
In stepping back from acting roles, one of her concerns was her image. She said that she would rather be remembered by the public for having played the roles of young heroines, than their older mothers. "I do not want people to see the wrinkles on my face," she said. "I want people to remember the most beautiful image of me."
After suffering a stroke in early November, Shadia was admitted to Cairo Military Hospital, where she was paid a highly publicised visit by Egyptian President Abdel Fattah al-Sisi and his wife. Large crowds of fans gathered the following day outside Cairo's Sayeda Nafisa mosque for the funeral of the artist, whose coffin arrived draped in the Egyptian flag. Along with fans, the funeral was attended by well-known Egyptian stars.
Egyptian singer and actor Sherine Abdel Wahab tweeted: "Farewell Egypt's cinema darling ... God have mercy on your soul, you were the nicest sound that ever sung for love ... you left our world but will never leave our hearts."
Fatima Ahmed Kamal Shaker (Shadia), born 8 February 1931, died 28 November 2017
Register for free to continue reading
Registration is a free and easy way to support our truly independent journalism
By registering, you will also enjoy limited access to Premium articles, exclusive newsletters, commenting, and virtual events with our leading journalists
Already have an account? sign in
Join our new commenting forum
Join thought-provoking conversations, follow other Independent readers and see their replies