Shalom Yoran: Soldier who evaded the Nazis and fought with a Jewish resistance unit
Martin Childs
Monday 30 September 2013 18:55 Comments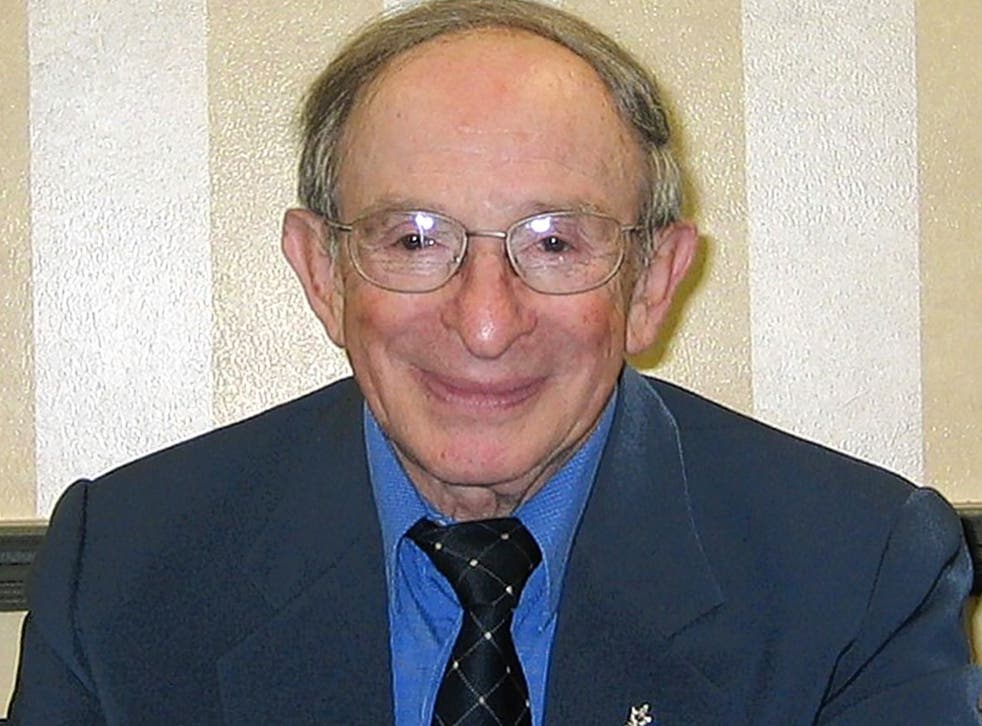 Shalom Yoran was a Polish Jew who survived the Nazi invasion and occupation of his country. He evaded the Einsatzgruppen, or mobile extermination units, survived extreme winter conditions and went on to fight as a partisan in a Jewish resistance unit.
Born Selim Sznycer in Warsaw in 1925, Yoran, as he was later known, was the second son of Shmuel, a lumber yard owner, and his wife Hannah. The family moved to Raciaz, 100 kilometres north of Warsaw, when he was young. In August 1939 the Ribbentrop-Molotov Nazi-Soviet non-aggression pact was signed, dividing Poland, Romania, Lithuania, Latvia, Estonia and Finland into Nazi and Soviet spheres of influence. Germany then invaded Poland from the west, the Soviet Union from the east.
As the Nazi occupation became more brutal, Yoran and his family fled east to Polish areas annexed and occupied by the Soviets, settling in the village of Kurzeniec. But when Germany invaded the Soviet Union in June 1941 it was only a matter of time before their village was overrun by the Germans. Shortly afterwards the Germans established a PoW camp for Soviet troops, who were treated no better than the Jews.
In 1942, the Einsatzgruppen, comprised primarily of German SS and assisted by Ukrainian, Lithuanian and Latvian auxiliary units and some local civilians, arrived to liquidate the Kurzeniec ghetto. Yoran recalled his mother saying, "Try to save yourselves and take vengeance for us." Yoran and his brother Musio escaped to a nearby barn, where they hid. More than 1,000 people were dragged from their homes and hiding places, shot en masse and their bodies burnt.
With the help of a friendly farmer the two brothers headed north-east and arrived in the forests around Lake Narach, in what is now Belarus. Here they found others in hiding. They built and dug a zemlyanka – an underground shelter – and endured a harsh winter, foraging and stealing whatever they could lay their hands on.
In spring 1943 Yoran and his colleagues came out of hiding. Without weapons they were denied entry to many partisan units. One, however, had a Jewish deputy commander, who told them to sabotage a factory in Kurzeniec that manufactured rifle butts for German weapons. Against the odds they succeeded, also managing to secure some basic weapons; Yoran felt he was beginning to fulfil his mother's wish.
Initially, fighting alongside non-Jewish Polish and Russian partisans, he was shocked to encounter antisemitism. "We were fighting against a common enemy, the Germans, whose aim it was to totally annihilate the Jewish people and to take over the Soviet Union," he said, "side by side with fellow fighters whose own hatred of Jews was notorious."
To maintain his morale, he recalled, "I told myself again and again that I was fighting as a Jew, with them, but not as one of them. I dreamed of having my own country, of fighting for it, and even dying for it."
Yoran soon heard rumours of an all-Jewish division of partisans, the FPO, or Fareynikte Partizaner Organizatsye [United Partisan Organisation], which had been established in what is now Lithuania, in Vilna, or Vilnius. Their motto – "We will not allow them to take us like sheep to the slaughter" – inspired Yoran and his comrades, and they joined up. The FPO co-ordinated their missions with Soviet forces; with the German defeat at Stalingrad, Yoran's unit ambushed the retreating Wehrmacht, cut communication lines, blew up bridges, planted mines and sabotaged railway lines.
When the Soviets liberated the partisans' operational area in 1944, Yoran and his comrades were drafted into the Russian regular forces. Fighting in the Red Army, he was appalled by the brutality and political persecution he experienced. Eventually he deserted and made his way to Italy, where he worked for the British Army until the end of the war.
Afterwards he worked for a group which disagreed with Britain's policy of limited immigration into British-controlled Palestine, and helped smuggle Jewish refugees from Europe. Yoran assumed a number of identities on his own journey there, eventually using a forged British Military passport to gain entry. Finally, in 1946, he became a legal citizen, having convinced the authorities that he was not a refugee but a lifelong resident of Palestine by assuming the identity of a dead cousin who shared his name.
Initially Yoran joined the Israeli army fighting the war of independence. With the foundation of Israel in May 1948 he joined the newly formed Israeli Air Force, learning aircraft maintenance and eventually becoming an officer. Here he met Varda and the couple married in 1954.
He later became an executive with Israel Aerospace Industries, which had been created to maintain Israel Defence Forces' aircraft. It went on to manufacture its own aircraft, both military and domestic, although it still remains reliant on US and European fighter planes.
In 1979, the family moved to the US and Yoran became chairman of a commercial aircraft company, manufacturing a variety of planes. In 1996 his memoir, The Defiant: A True Story of Jewish Vengeance and Survival, was published; he had started writing it when he arrived in Palestine but had put it to one side. Thereafter he lectured on his wartime experiences and helped found the Museum of Jewish Heritage. His brother Musio moved to Paris, changing his name to Maurice Sznycer; he became a professor of antiquities and West Semitic languages at the Sorbonne. He died in 2010.
Shalom Yoran, soldier, business executive and author: born Warsaw 29 June 1925; married 1954 Varda Granevsky (two daughters); died New York 9 September 2013.
Register for free to continue reading
Registration is a free and easy way to support our truly independent journalism
By registering, you will also enjoy limited access to Premium articles, exclusive newsletters, commenting, and virtual events with our leading journalists
Already have an account? sign in
Join our new commenting forum
Join thought-provoking conversations, follow other Independent readers and see their replies