Shelagh Wakeley: Experimental artist whose work encompassed architecture and design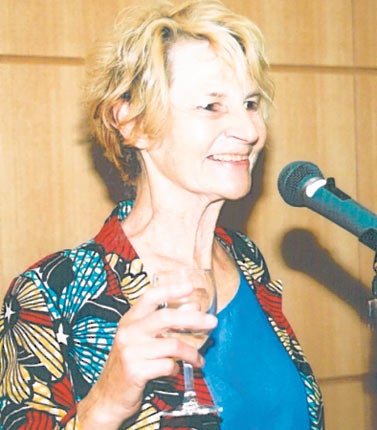 Shelagh Wakely was an experimental artist who combined in a very personal and original way the worlds of visual art, architecture and design. She made many commissioned works for public spaces in Britain and abroad, among them Curcuma sul travertino, made up of loose turmeric scattered in baroque patterns on the travertine marble floors of the British School in Rome (1991). A scent of turmeric filled the air until the piece was swept up at the end of three weeks. More recently she designed a mosaic for the new south porch tympanum of the Royal Albert Hall, and an ambitious installation incorporating the shadow of a tree and glass paving slabs encapsulating aluminium leaf patterned by falling rain for the Marunouchi building in Tokyo.
Wakely had a special way of bringing into buildings a sensation of nature, always giving the floor as much, if not more, attention as the walls. It was the continuity rather than the monumentality of nature that inspired her and her patterns always seemed endless, whether based on vegetation, the sea, or the rain. The large scale of her public works contrasted with the almost private scale of the small objects she made using metallic leaf, thin wire, feathers and powders, and incorporating the process of decay as part of the aesthetic language. She would wrap fruits in gold leaf and allow them to rot and evaporate, leaving delicate empty gold shells. Something, at least, of this play between nature and artifice can be traced to her upbringing.
She was born at Madingley in Cambridgeshire in 1932, the eldest of three daughters of Stella Johnson and Edgar Barton Worthington. The year before Shelagh was born her parents had made a scientific expedition to the great lakes of Africa, and after they returned her father was appointed head of a freshwater biological research station on the shores of Lake Windermere. The family moved to the Lake District and there followed an idyllic period. "Shelagh and I ran wild", her younger sister Griselda remembers. "We explored the fells on our ponies, built cubbies of bracken and heated rusty cans of water over smoky fires; we fished, swam and rowed boats on the lakes and tarns". The sisters attended Moira House, a private girls school where, Griselda recalled, "the staff were all female and modern in outlook, many of them products of the suffragette movement, and great emphasis was put on the arts, drama and dance."
Shortly after the Second World War, Edgar Worthington was appointed secretary general to the Colonial Scientific Council for Africa and the family moved to Kenya. The Mau Mau rebellion and independence movement led by Jomo Kenyatta was gathering strength, but for the time being the privileged colonial life for Europeans continued. Wakely returned to England to study agriculture and worked in research on grassland agronomy. But the call of art was stronger. She followed courses of painting and screen-printing at Chelsea College of Art in the late 1950s and during the next decade worked as a freelance textile designer, making screen prints and clothes.
In 1972 she turned to sculpture. She made her mark initially with delicate objects in plaster collectively titledTowards the Inside of a Container (1979). These were tentative, fragmentary works exploring the inner and outer surfaces of vessels placed directlyon the floor. She showed them at the ICA in London and at the LYC Museum and Art Gallery in Cumbria, built and run by the great Chinese artist Li Yuan-chia. The critic Sarah Kent commented: "The sculptures are very tactile and apparently simple, yet they somehow spark off complex thoughts. Looking at them one becomes aware of one's own hands in relation to the artist's". Three years after these two shows Wakely made her first commissioned public work: five tables in a courtyard garden at St George's Hospital in London.
As her work evolved, her textileexperience flowed naturally into her sculpture, producing ephemeral installations which she described thus: "Calico or silk were cut into seas of rucked and slit pattern, a knife being used as a drawing tool. These filled floors reaching wall-to-wall, sometimes being made in response to a space". Wakely adapted easily to the digital era, which gave her further freedom in the invention of pattern and the incorporation of material processes such as a wandering, glittering line of glass inlay in an incised floor of granite and Portland stone (2004).
In 1989 Wakely met the renowned Brazilian artist Tunga, who was in London for an exhibition of his work at the Whitechapel Gallery. They became firm friends and later collaborated on a number of projects, mainly involving video. During the 1960s and 1970s Shelagh had travelled widely with her then husband, the architect and urban consultant Patrick Wakely; Brazil made a special impact on her. She wrote a study of Candomblé, the Afro-Brazilian religion centred on Bahia de Salvador, and she exhibited work in Brazil. In London her house in Kentish Town became a meeting point for Brazilian and Latin American artists passing through London and interested to meet British artists and curators. With her generous hospitality and forthright manner Shelagh Wakely presided over these memorable evenings.
Guy Brett
Shelagh Barton Worthington, artist: born Madingley, Cambridgeshire 22 October 1932; married 1962 Patrick Wakely (divorced 1972); died London 19 March 2011.
Join our commenting forum
Join thought-provoking conversations, follow other Independent readers and see their replies