Sir Henry Cecil: Celebrated racehorse trainer who had 25 victories in English Classics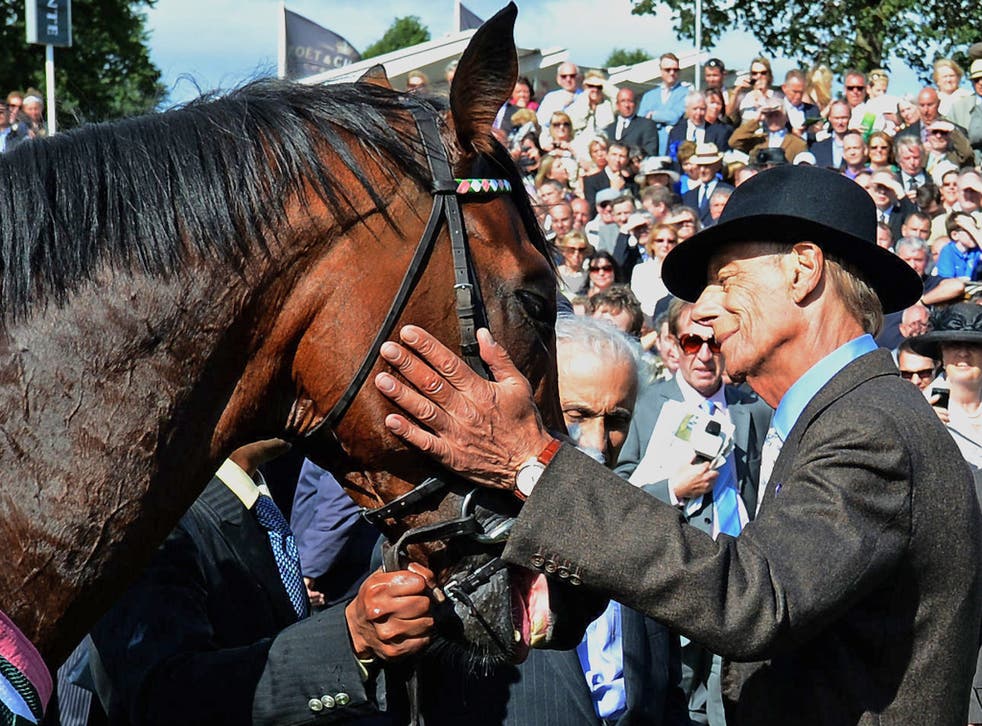 Without horses, Henry Richard Amherst Cecil would, in his own words, have ended up "lying in some gutter somewhere". Happily, though, his background meant that the thoroughbred was part of his life, and the industry and sport that is horse racing was not deprived of one of the greatest trainers of an equine athlete in its three-century history.
Cecil, who died yesterday at the age of 70 from stomach cancer, saddled the winners of more than 150 top-level races worldwide and was champion of his profession 10 times. Among his successes were 25 in the English Classics (a 20th and 21st century record), the series of five races for three-year-olds that are the most sought-after for those in his profession. The Derby is the most famous of them and – even without one particular horse – Cecil, who trained four Epsom heroes, would still be revered.
But that one horse, Frankel, ensured his talent and reputation jumped the fence that divides the arcane world of racing from a wider audience. Frankel, owned by his breeder Khaled Abdullah, is regarded by most as one of the best-ever, maybe even the best, unbeaten in 14 races over three seasons. But without the education and flawless management he was given by Cecil, it is arguable that his innate brilliance would never have been fully and so gloriously expressed.
The skills of a racehorse trainer are almost unquantifiable, but chief among them is an empathy and affinity with an animal who must be physically and mentally prepared for athletic endeavour without a human runner's knowledge of why, where and when. On training grounds, and later on the track, Frankel's superiority was patently evident, but so was his headstrong, explosive temperament and without Cecil's watchful, patient guidance, his career might have gone horribly wrong.
Cecil was born a few weeks after his father, also Henry and the younger brother of the 3rd Lord Amherst of Hackney, was killed in action with the Parachute Regiment in North Africa. He was, by 10 minutes, the elder of twins; his brother David died of cancer in 2000. Their mother Rohays was the daughter of Major-General Sir James Burnett of Leys, whose family seat was Crathes Castle in Aberdeenshire.
Her second husband was Newmarket-based Cecil Boyd-Rochfort, the five-times champion trainer who numbered King George VI and then the Queen among his register of owners. So, Cecil was born with a spoon more golden than silver, but it took him a while to do his own digging with it. Notably unacademic, he was the first boy from his prep school to fail the entrance exam for Eton. And even during the soft option of a short estate management course at the Royal Agricultural College, Cirencester, he showed more aptitude for girls and parties than studying.
In his early twenties he assisted his stepfather, eventually taking over the string of horses at Freemason Lodge (now the base of Sir Michael Stoute) when Boyd-Rochfort retired in 1968. His first winner was Celestial Cloud on 17 May 1969 in a minor race at Ripon and less than two months later he sent Wolver Hollow to Sandown to win the Eclipse Stakes, one of the most important contests of the season, and the first winner of 75 at Royal Ascot, with Parthenon in the Queen Alexandra Stakes.
Any thoughts that Cecil owed his instant success to merely having inherited a smooth-running operation were swiftly put to bed. His first English Classic came in the 1975 2,000 Guineas with Bolkonski, his first Derby in 1985 with Slip Anchor, ridden by the young American Steve Cauthen; Cecil was as good at spotting talent in the saddle as under it.
He picked up the reins at Warren Place stables on the retirement in 1976 of his father-in-law, Sir Noel Murless. Before the turn of the century the roster of horses he had handled – including Wollow, Kris, Ardross, Slip Anchor, Indian Skimmer, Reference Point, Oh So Sharp, King's Theatre, Diminuendo and Bosra Sham – was a who's who of the breed's elite. In 1999 he won three of the five Classics, including the Derby-Oaks double at Epsom with Oath and Ramruma, and had the runners-up in the other two. "Winning is easy," explained Oath's owner, the late Ahmed Salman at the time, "just buy a horse and send it to Henry Cecil."
But by then, events were well in motion that were to result in a spectacular, and partly self-inflicted, fall from professional and personal grace: the deaths of some of the owner-breeders who had supplied him with top-class ammunition (including Jim Joel, Lord Howard de Walden and Louis Freedman); the break-up of his first marriage and then, publicly and rather squalidly, his second; and then the end of his relationship with one of his leading patrons, Sheikh Mohammed. By 2005 his string had shrunk from more than 200 to barely 40 and his tally of winners was just 12. It had become customary to raise a flag bearing the family coat of arms to celebrate a Group 1 winner at Warren Place, but between July 2000 and October 2006 it remained unfurled.
Cecil's fightback to a golden Indian summer started as his health began to decline. His cancer was diagnosed in 2006; he won the Oaks with Light Shift in 2007; the following year he found steady happiness with his third wife. More Group 1s followed with the Abdullah-owned Midday and Twice Over, and then along came Frankel.
The charismatic, complex Cecil had always been a public favourite, for his flaws as much as his talent, and the moving ovation he was given for Frankel's solo tour de force under Tom Queally in the 2,000 Guineas in 2011 was straight from racing's collective heart. But there was always more to him than his image of self-effacing dandyism "I might not look competitive on the outside," he once said, "but I am very on the inside. Actually always have been. I do like winning, it's what motivates you. Nobody likes failure. If your horses are no good, it's not quite so much fun, is it?"
While other patrons had deserted Cecil during his wilderness years, the constant was the support of Abdullah. "It never occurred to us to do anything else" said the wealthy Saudi Arabian prince and businessman's racing manager Teddy Grimthorpe when quizzed about the conspicuous loyalty, "why take horses away from a genius?"
Henry Richard Amherst Cecil, racehorse trainer: born Aberdeen 11 January 1943; Kt 2011; married 1966 Julia Murless (divorced 1990; one son, one daughter), 1992 Natalie Payne (divorced 2002; one son), 2008 Jane McKeown; died Cambridge 11 June 2013.
Register for free to continue reading
Registration is a free and easy way to support our truly independent journalism
By registering, you will also enjoy limited access to Premium articles, exclusive newsletters, commenting, and virtual events with our leading journalists
Already have an account? sign in
Register for free to continue reading
Registration is a free and easy way to support our truly independent journalism
By registering, you will also enjoy limited access to Premium articles, exclusive newsletters, commenting, and virtual events with our leading journalists
Already have an account? sign in
Join our new commenting forum
Join thought-provoking conversations, follow other Independent readers and see their replies