Sir Ian Brownlie: International lawyer who fought for human rights and civil liberties
Thursday 25 February 2010 01:00 GMT
Comments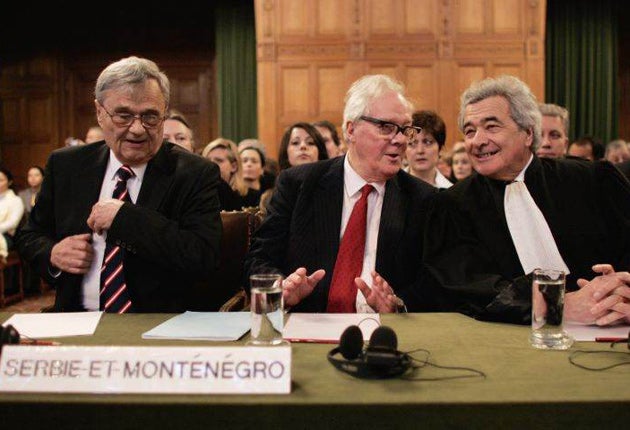 Sir Ian Brownlie QC, who died in a car accident in Egypt where he was on holiday, was an international lawyer who was as successful in practise as he was in academia. Widely respected for his integrity, knowledge of cases and sharp mind, he was also acknowledged for his warmth and sense of humour, and his "cab-rank principle", which meant if he was free he was available, which often saw him taking on unfashionable clients and causes. He practised in public international law and human rights, and appeared in a full range of international tribunals, including the International Court of Justice, the European Court of Human Rights and the European Court of Justice. He also acted as an arbitrator in a number of cases where his clients were usually states.
Born in Bootle, Liverpool, in 1932, Brownlie won a scholarship to read law at Hertford College, Oxford in 1950. He gained a First, and was described by Professor C.H.S. Fifoot as his ablest student. Among his extracurricular activities was membership of the Communist Party, in which he remained until the Soviet Union's invasion of Czechoslovakia in 1968. Brownlie was called to the Bar by Gray's Inn in 1958 while reading for a degree in Civil Law.
His studies were interrupted when he contracted TB from his father, who died from it. He spent a year at King's, Cambridge, where he was a humanitarian trust student, then returned to Oxford to complete his DPhil (1961). His thesis became his first book, International Law and the Use of Force by States (1961), and it was followed in 1966 by Principles of Public International Law. Now in its seventh edition, it has been translated into Japanese, Russian and Chinese; almost every international lawyer and judge has occasion to refer to it.
His first academic position was at Nottingham University, then at Wadham College, Oxford, where he was appointed a Fellow in 1963 and later became Doctor of Civil Law. In 1976, he was appointed Professor of International Law at the London School of Economics and took silk three years later, before returning to Oxford as the Chichele Professor of Public International Law, a post he held until he retired from academia in 1999. At the same time he became a Fellow of All Soul's College and was made a Distinguished Fellow in 2004.
Brownlie began practice in 1967 when he took up a tenancy in the Temple before moving to Hare Court, the forerunner to the Blackstone Chambers, in 1983, where he remained until his death. He soon scored a notable victory in public order cases, which led to his book, The Law Relating to Public Order (1968). Over the coming years his career took off and his reputation grew. Having been an associate member of the Institut de Droit International for six years, Brownlie became a full member in 1985 and in 1988 he became a bencher of Gray's Inn. In 1982 he was appointed Director of Studies of the International Law Association, based in London, remaining in the position for nine years.
In 1984, he won a notable victory at the ICJ in The Hague when representing Nicaragua against the US government over the latter's support for the Contra rebels. This was the first of his more than 40 high-profile cases before the ICJ over a 25-year period, most of which he won and which nearly all enhanced his growing reputation for integrity and independence.
In 1979, Brownlie advised President Jimmy Carter on the freezing of assets during the Iranian hostage crisis; in 1989 he represented the island of Nauru in a dispute with Australia over the phosphate deposits which had severely damaged its habitat. In 1994, he took instruction in two important matters that spanned several years. He advised the Nigerian Government over a border dispute with Cameroon that almost resulted in a war and successfully represented the interests of a Cypriot national against Turkey, in a case heard before the European Court of Human Rights. In 1999 he represented Amnesty International over Spain's request for the extradition of former Chilean dictator, General Augusto Pinochet.
The same year Brownlie took one of his most controversial cases, when he represented Yugoslavia against Nato, after the bombing of Kosovo. In 2006, he appeared for Serbia, accused by Bosnia of genocide during the Yugoslavian Civil War, in the first test case involving the interpretation of the 1948 Genocide Convention. Colleagues tried to dissuade him, but he cited the "cab-rank principle" and said he remembered which side the Serbs had fought on during the Second World War; Brownlie obtained the judgement his client desired.
Brownlie also wrote numerous books, many of which are still used and reprinted on a regular basis. He compiled a pioneering guide, Basic Documents in International Law, now in its fifth edition, a legal and diplomatic encyclopedia on African boundary disputes, and many volumes on human rights. In 1999 a Festschrift devoted to his work was published as Reality in International Law. Reflecting his sense of fair play and independent mind, last January he was the first signatory of a letter signed by academics and lawyers to The Sunday Times which denounced Israel's bombardment of Gaza as an act of aggression rather than "self-defence" and in fact a prima facie war crime.
In addition, Brownlie spent 11 years as a member of the UN International Law Commission in Geneva, having been elected on three occasions, and served as president in 2007. As well as many international awards and honours, he was delighted to be knighted in June 2009, having received a CBE in 1993. Sir Ian Brownlie married twice and had three children, one of whom, Rebecca was also killed in the car accident in which he died.
Martin Childs
Sir Ian Brownlie, international lawyer: born Liverpool 19 September 1932; called to the Bar, Gray's Inn, 1958, Bencher, 1987; QC 1979; Lecturer, Nottingham University 1957–63; Fellow and Tutor in Law, Wadham College, Oxford 1963–76 and Lecturer, Oxford University 1964–76; Professor of International Law, LSE, University of London, 1976–80; Chichele Professor of Public International Law, and Fellow of All Souls College, University of Oxford, 1980–99 (Emeritus); CBE 1993; Kt 2009; married 1957 Jocelyn Gale (divorced 1975; one son, one daughter and one daughter deceased), 1978 Christine Appleby; died Egypt 3 January 2010.
Join our commenting forum
Join thought-provoking conversations, follow other Independent readers and see their replies