Sir Jeremy Morse: Banker who steered Lloyds from the brink of disaster and was the inspiration for Colin Dexter's fictional detective
Colin Dexter named Inspector Morse after him because "Jeremy was the cleverest man I had ever met and I intended Morse also to be fiendishly clever"
Martin Childs
Wednesday 10 February 2016 22:51 Comments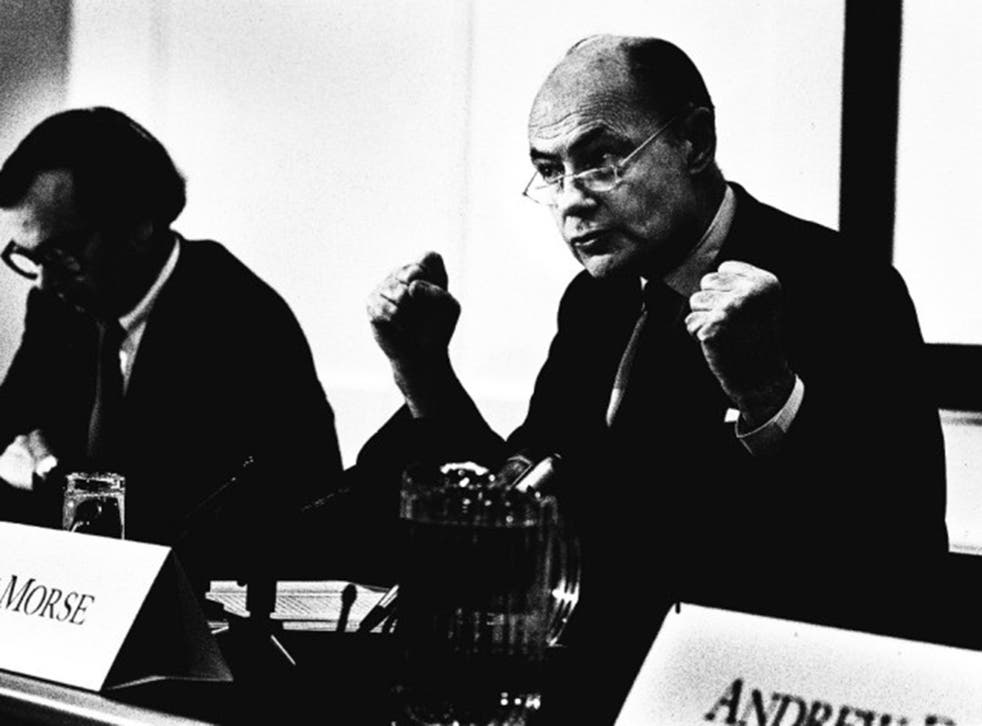 Sir Jeremy Morse was a revered banker and policy-maker who steered Lloyds Bank from the brink of disaster to the top of the clearing banks' profit league. But his progress to two prestigious positions, the governorship of the Bank of England in 1983 and head of the International Monetary Fund in 1989, for both of which he was eminently well qualified, were thwarted due to a lack of backing from the Prime Minister, Margaret Thatcher, whose policies he had openly criticised.
Although she clearly held a grudge, Morse characteristically bore no ill-feeling. "If you're a woman in a man's world, you are going to be guided by your own feelings about who you trust or not," he said. "She never looked very kindly on me. Probably I would have been a bit too independent for her."
One of the most erudite bankers of his generation, the tall, imposing conservatively dressed Morse possessed a rapier-like mind that enabled him to become a chess expert and was supremely clever at solving cryptic crosswords and brain teaser puzzles. It was this latter expertise, completing the Observer's Ximenes crossword, which led to him meeting Colin Dexter, creator of Inspector Morse.
"As I scanned the list of winners I noticed there were a couple of names that used to appear regularly, CJ Morse and Mrs B Lewis," Dexter recalled. One day in the early 1960s Morse appeared over the top of Dexter's hedge and said, "Your name has been appearing in the list of Ximenes winners almost as regularly as mine, so I thought we'd better get acquainted."
From there the friendship blossomed. Dexter later explained that Inspector Morse was named after him because "Jeremy was the cleverest man I had ever met and I intended Morse also to be fiendishly clever." Unlike his fictional alter-ego, Morse said, "I am distressingly unmelancholy"; he enjoyed a glass of wine while listening to Bach rather than Wagner.
Notable deaths in 2016

Show all 42
Born in London in 1928, he was the son of a solicitor whose family had owned the biggest brewery in East Anglia, Steward and Patteson. Morse was to have gone into the business until it was absorbed by Watneys in 1968.
Educated at Winchester College, he was head boy and a gifted classicist, helping the classics master on occasions, but he maintained that he was just "good at exams, rather than academic". After National Service with the King's Royal Rifle Corps he went to New College, Oxford, as a scholar, where he won five of the seven major classical prizes and obtained a double first in Greats; he later became a fellow of All Souls in 1953 and an honorary fellow of New College.
Upon graduating, Morse joined Glyn, Mills & Co as a management trainee. It was a small bank (now part of RBS) with a reputation for grooming City high-flyers. Morse became a director in 1964 before being recruited by the Governor of the Bank of England, Lord Cromer, as an executive director, the second youngest in the Bank's history. As international director, Morse played a crucial role in negotiations leading up to the 1968 devaluation of sterling and the ensuing fall-out among the 56 sterling-area countries.
His analytical abilities and interest in international finance led to his secondment in 1972 as chairman of the IMF's powerful "Committee of Twenty", detailed to reform the volatile global monetary system after the collapse of the Bretton Woods system of fixed exchange rates in 1970. After touring the world's financial centres collating information to produce a more flexible system, ultimately his work was in vain as the 1974 OPEC oil crisis hit and the system, as he recalled, "collapsed on our heads".
Morse left the IMF in 1974. Following his knighthood the following year, he became deputy chairman of Lloyds, rising to the chairmanship two years later, taking over from Sir Eric Faulkner, his former boss at Glyn, Mills.
Lloyds was the smallest of the big four clearing banks, and with recent acquisitions it had acquired a big exposure to deeply indebted Latin American countries. Morse's first challenge was to oversee the gradual wiping-off of the bank's exposure and steer it through the third-world debt crisis, which he did with a combination of expensive write-offs and repeated expressions of optimism. He also avoided expansion into international corporate finance and trading, which was extremely fashionable but very costly for those who pursued it in the mid-1980s.
By 1985 Lloyds was past the worst, and, with Sir Brian Pitman, his chief executive, Morse set about transforming the bank into an industry leader. Through a series of innovative, often aggressive, moves they built Lloyds into a group with interests in areas such as life assurance, insurance and estate agency. But he was unsuccessful with two radical expansion attempts; Lloyds failed in a bid to acquire Standard Chartered in 1986, and lost out to the Hong Kong and Shanghai Banking Corporation in the take-over of Midland Bank in 1992. Lloyds did, though, buy a majority stake in the insurance and pensions company Abbey Life in 1988, before taking full ownership in 1996.
Even at the height of his powers, the self-effacing Morse eschewed the trappings of other directors; rather than driving to work in a fancy car, he took the Underground, where he wrestled with the latest cryptic crossword puzzles and chess problems.
Retiring in 1993 as the longest-serving UK bank chairman, Morse went on to hold a number of other posts, including non-executive director of ICI (later Zeneca), president of the British Bankers' Association and the Banking Federation of the European Community, warden of Winchester College and chancellor of Bristol University.
He became an international chess judge and published Chess Problems: Tasks and Records, a collection of over 800 challenges, many of which he devised himself. He also continued with his love of poetry, particularly TS Eliot, and what he called "coarse gardening", which allowed him time to contemplate, rather than garden. He became president of the Classical Association and the British Chess Problem Society.
Christopher Jeremy Morse, banker: born London 10 December 1928; KMCG 1975; married 1955 Belinda Mills (one daughter, three sons, and one daughter deceased); died 4 February 2016.
Register for free to continue reading
Registration is a free and easy way to support our truly independent journalism
By registering, you will also enjoy limited access to Premium articles, exclusive newsletters, commenting, and virtual events with our leading journalists
Already have an account? sign in
Join our new commenting forum
Join thought-provoking conversations, follow other Independent readers and see their replies