Sir John 'Sandy' Woodward: Admiral who led the British Task Force to the Falklands in 1982
He averted by 20 seconds the shooting down of a Brazilian airliner wrongly believed to be a spy plane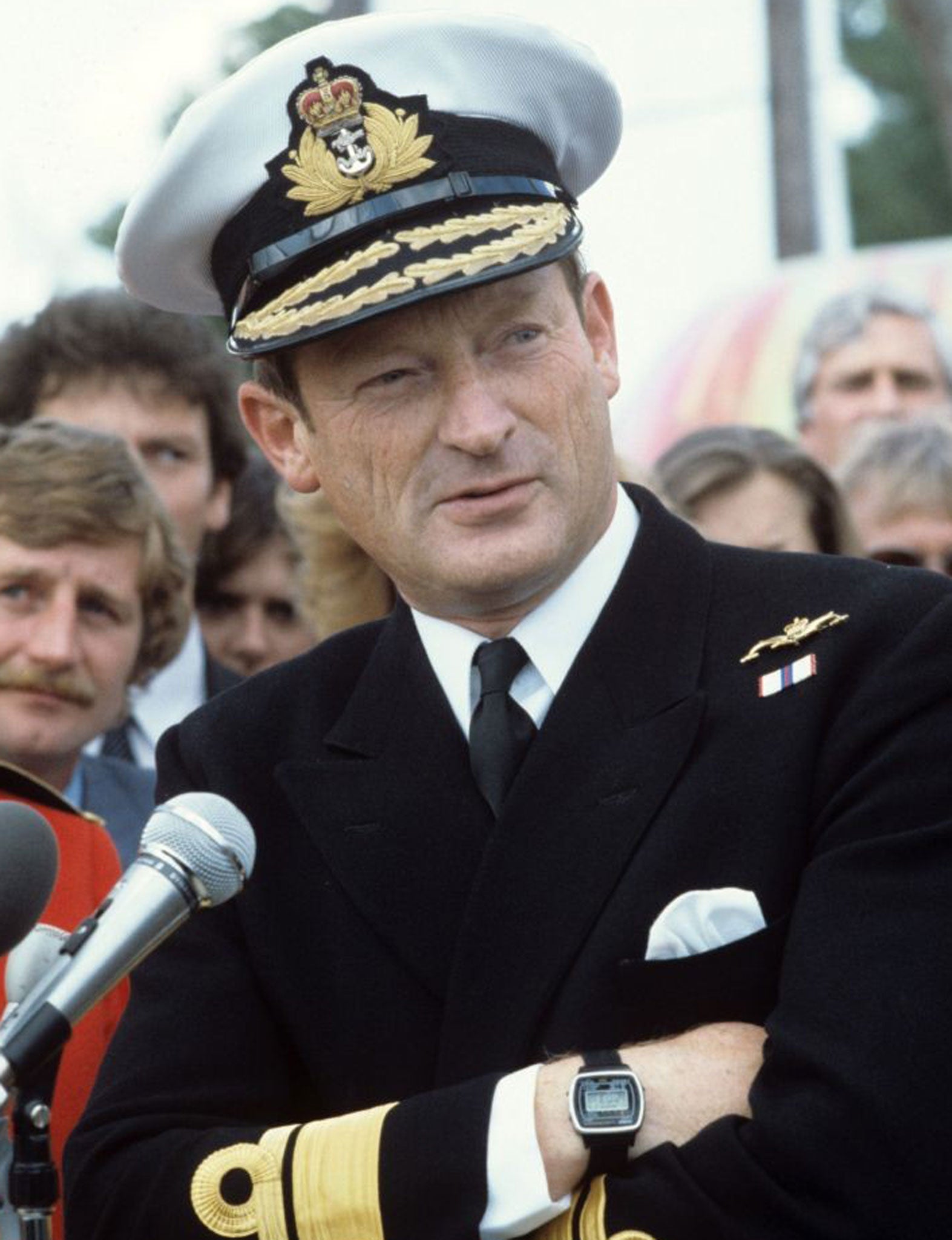 Sir John "Sandy" Woodward became the Royal Navy's most distinguished fighting admiral of recent times when he led Britain's naval Task Force to victory over Argentina in the Falkland Islands in 1982. French commentators likened him to Nelson – and like Nelson, he had spirit enough to step out of line when the moment called.
That moment was when the Royal Navy submarine Conqueror located the Argentine cruiser General Belgrano. A pincer movement by Belgrano and the aircraft carrier Veinticinco de Mayo could have ended all hope of recovering the islands, so Woodward broke the rules to save his mission.
On 2 May, he put on to satellite his permission for Conqueror to attack immediately: "From Commander Task Group 317.8, to Conqueror, text priority flash – attack Belgrano group."
Both he and Conqueror's commander knew submarines were supposed to take orders direct from Fleet headquarters in Britain. Woodward's order was an expedient to get the rules of engagement changed fast, before Conqueror lost Belgrano.
Though staff in Britain took Woodward's order off the satellite, Conqueror received the changed rules of engagement, approved by the Prime Minister and War Cabinet, at 13.30 – and sank the Belgrano just after 18.57.
Woodward gives his account of the war in One Hundred Days, written with Patrick Robinson. As Task Force commander, he made knife-edge decisions. These included averting by 20 seconds the shooting down of a Brazilian airliner wrongly believed to be a spy plane, but bombing a trawler later found to be carrying an Argentine naval officer with espionage equipment.
He found dealing with publicity a greater ordeal during the voyage south. A misunderstanding of his use of the word "walkover" got him a rap over the knuckles, and a report that he had said that the conflict would be "long and bloody" brought another. In each case, he said later, he had been thinking most of all what effect his words would have on men about to go into battle.
Woodward, a naturally shy and modest man, shunned the celebrity that was justly his. Organisers of the Falklands 25th anniversary commemoration in 2007 called him grumpy – and there was only one bashful interview with him during the televised ceremonial conducted simultaneously at Horse Guards Parade and in the South Atlantic.
Nevertheless, Woodward was no shrinking violet when it came to defending the Falklands legacy and speaking up against defence cuts. When, in 2010, the Americans adopted the islands' Argentine name, "Malvinas", and called for sovereignty negotiations, he warned that Britain could now do little to defend them. In 2011 he called for a re-think of the Coalition Government's Strategic Defence and Security Review.
John Forster Woodward was born on 1 May 1932 in Penzance, Cornwall, and educated from the age of 13 at the Royal Naval College Dartmouth. His father was head cashier in a bank, but had fought in the First World War and was descended from an 18th-century soldier, General Forster.
During his training, Woodward scrubbed decks on a surface ship and restored electrical circuits on a submarine. He kept watch alone on a ship's bridge before he was 20, and eight years later passed the gruelling submariners' "Perisher" course to take over his first command, HMS Tireless.
As a lieutenant-commander he did the Nuclear Reactor Course at Greenwich Royal Naval College and was promoted to commander after taking part in trials of the first all-British nuclear-powered attack submarine, HMS Valiant. He became a teacher of Perisher courses, and from 1969 commanded HMS Warspite. He hated jobs ashore, but a stint at the Royal College of Defence Studies in London led to his promotion to captain in 1972. He was appointed to the Directorate of Naval Plans at the Ministry of Defence, before returning to submarines two years later as Captain, Sea Training.
HMS Sheffield, his first surface command, proved troublesome, with less than a quarter of the time spent at sea and the rest in refit, giving him more faith in the skills of the crew than in new computer systems.
He was Director of Naval Plans at the Ministry of Defence under First Sea Lord Admiral Sir Terence Lewin and then Admiral Sir Henry Leach, at a time of fierce political debate about defence cuts. He left the post knowing that his and Sir Henry's arguments had not been listened to when John Nott, the Defence Secretary, proposed in 1981 to sell off aircraft carriers, phase out the amphibious force, lose destroyers and frigates and close the naval dockyard at Chatham.
Back on submarines, Woodward was promoted rear admiral and appointed Flag Officer, First Flotilla, based at Portsmouth Dockyard. At 49 he was one of only three sea-going admirals in the Royal Navy.
On exercise with the Armilla Patrol in the Arabian Sea during the Iran-Iraq war in 1981 he took his flagship Glamorgan close enough to the American carrier USS Coral Sea to have sunk her, had she been the enemy. His ruse was to keep lights on and pretend that Glamorgan was "the liner Rawalpindi". The experience gave him a sharp appreciation the following year of the danger posed to his own Task Force flagship, the carrier HMS Hermes, by the Belgrano.
He was made Knight Commander of the Bath after the Falklands War, and later Knight Grand Cross of the British Empire. He served as Commander, Submarines Eastern Atlantic, Deputy Chief of Defence Staff (Commitments), and, from 1987-89, Commander-in-Chief, Naval Home Command.
In 1960, Woodward married Charlotte McMurtrie and they had a daughter and a son. The couple separated in 1992, but by 2013 had not divorced. Woodward's new partner was Winifred Hoult, known as "Prim". In retirement he enjoyed painting, writing and yacht-racing.
He also delivered repeated broadsides to the Commons Defence Committee, senior Forces personnel, and newspaper interviewers about what he saw as the follies of naval policy. As the only senior naval officer still alive who had taken the Navy to war, he told one interrogator, he "expected to be listened to".
Sir John Forster "Sandy" Woodward, British Admiral: born Penzance, Cornwall 1 May 1932; married 1960 Charlotte McMurtrie (one son, one daughter); KCB 1982; GBE 1989; died 4 August 2013.
Join our commenting forum
Join thought-provoking conversations, follow other Independent readers and see their replies