Sir Lawrie Barratt: Building mogul who brought affordable homes to millions of Britons
Thursday 20 December 2012 20:30 Comments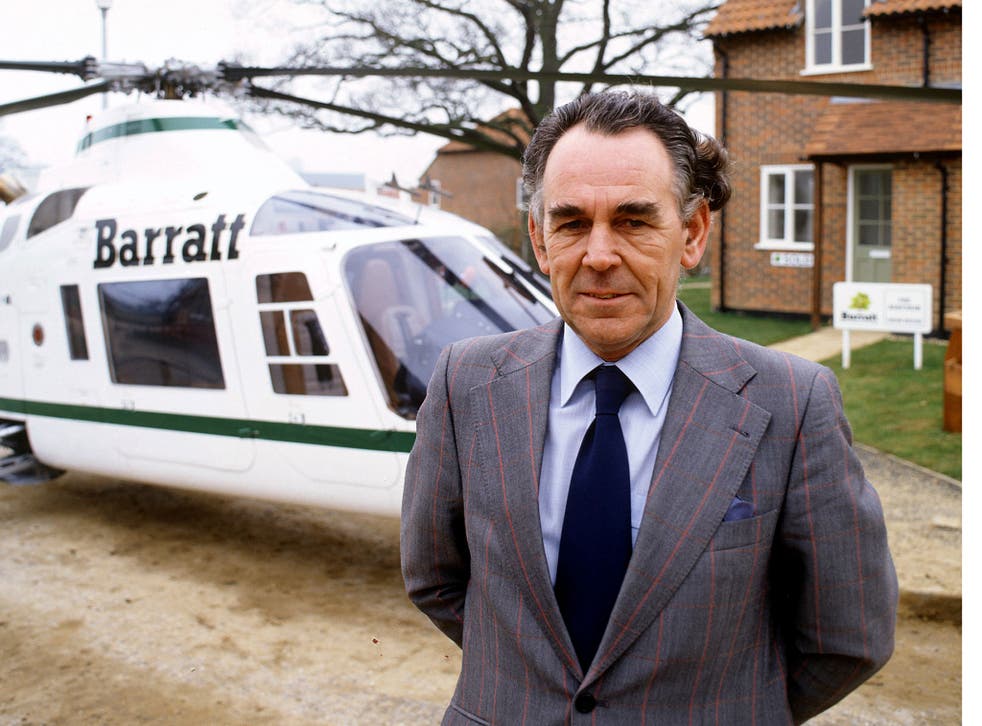 Sir Lawrie Barratt was a businessman who made home-owning affordable for millions of Britons. The company he founded, Barratt Developments, now employs more than 4,000 people and has 25 divisions across Britain.
The house-builder was one of the key players in the process of putting starter homes within the reach of younger, first-time buyers. He achieved national fame in 1977 when his company launched a hugely popular series of television advertisements featuring the actor Patrick Allen in the company helicopter, flying over rows of Barratt homes.
Barratt became involved in the building trade when he was working as an accountant for a legal firm in 1953. Unable to afford the home he wanted, he decided to design and build a four-bedroom house himself at Darras Hall, near Newcastle upon Tyne, where he was born. Not only did he design the house, he also dug the foundations and mixed the concrete.
He followed that by buying a plot across the road on which he built two more semi-detached houses, which he then sold on for a profit. He began buying more land and building more homes, and in 1958 formed a house-building company in Newcastle with his business partner Lewis Greensitt, Greensitt Bros, It was renamed Barratt Developments in 1963, a year after Barratt assumed full control, and floated on the stock market in 1968. It is now worth around £2 billion.
The strategy of providing housing for first-time buyers proved lucrative, and after a slow start, between 1977 and 1979 turnover increased from £99.3 million to £163.2 million. propelling Barratt to the forefront of the housing industry.
For years, more than a third of building in Britain had been subsidised by the government but by 1980, this had changed: the Thatcher government reduced spending on building, particularly public housing. The conpany's fortunes suffered initially, though there was the later compensation of tax incentives to private home-owners. By 1982 sales were more £300 million and the company had built over 1,000 units more than its closest competitor, Wimpey.
Just before that, in 1980, Barratt expanded into the United States, forming Barratt American Inc. Barratt began in southern California, building small condominiums – 400 square feet that cost $50,000. Some of the condominiums were sold from models set up in local Sears stores: the company's advertisements said: "You'll find your new home between the lawn mowers and lingerie." Sears even sold a line of small furniture and appliances to go with the apartments.
Few American builders had ever been quite so aggressive in targeting first-time buyers. The company also built inexpensive single-family homes, though the small condos got most of the publicity. A customer could buy one of the mini-condos for as little as $52 a week, or less than some car repayments. The company subsequently decided to shift its emphasis away from first-time buyers.
Barrett retired in 1988 with the company in good shape. But while the American subsidiary captured a healthy slice portion of the market in southern California, it began to experience difficult times. Barratt had overestimated demand for the units in California, and rising unemployment and contributed to sales figures falling. The early 1990s were marked by faltering residential property markets in both California and Britain, and Barratt began to post losses.
During 1991, the company's chairman John Swanson exited and Barratt came out of retirement, promoting long-serving executive Frank Eaton to chief executive officer. Under their leadership things looked up: unprofitable ventures were shut down, and in 1996 the firm announced plans to increase its output from 7,000 to 11,000 units per year by 2000, and by then the company was the UK leader both in terms of profits and houses built.By then Lawrie Barratt had retired for a second time, this time for good, devoting more time to his hobbies of golf, shooting and sailing.
Two years ago the entrepreneur suffered a harrowing experience when ha and his wife, Lady Sheila, were tied up in their home by three masked men. The raiders, who were armed with crowbars, bound and gagged the couple before eventually making off with a reported £1 million worth of jewellery, inlcuding a ruby and diamond suite – a 338-stone necklace, matching bracelet and earrings – and a 35-stone ruby and diamond cluster ring. Barratt, who died at his home in the village of Corbridge, Northumberland, is thought never to have fully recovered from the ordeal.
Barratt's former colleague and subsequent chief executive of the firm, David Pretty, said of Barratt: "Quiet and reserved by nature, he was a true visionary who revolutionised the selling of new homes across Britain. More than any one single person, he made it much easier for young couples and singles to buy their first home. He was also one of the first to recognise the potential of regenerating Britain's inner cities, well before it became fashionable. He was a true legend and they certainly don't make them like him anymore."
Chris Maume
Lawrence Arthur Barratt, businessman: born Newcastle upon Tyne 14 November 1927; Life President, Barratt Developments, and subsidiary companies 1989–91 and 1997- (Managing Director 1962–88, Chairman 1962–88 and 1991–97); Kt 1982; married 1951 (divorced 1984; two sons), 1984 Mary Brierley; died Corbridge, Northumberland 19 December 2012.
Register for free to continue reading
Registration is a free and easy way to support our truly independent journalism
By registering, you will also enjoy limited access to Premium articles, exclusive newsletters, commenting, and virtual events with our leading journalists
Already have an account? sign in
Join our new commenting forum
Join thought-provoking conversations, follow other Independent readers and see their replies