Sir Ludovic Kennedy: Writer and broadcaster who devoted much of his career to exposing miscarriages of justice
Tuesday 20 October 2009 00:00 BST
Comments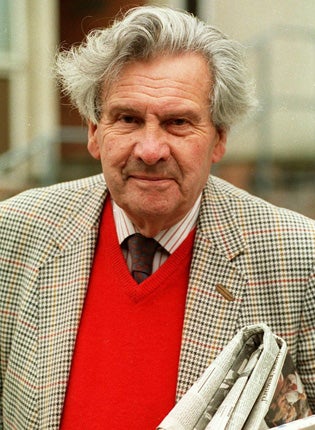 The first time I met Ludo Kennedy was 1 April 1959, in the studio of This Week, Associated-Rediffusion's answer to Panorama. Peter Sellers was there, wearing a red wig and a beard. They were rehearsing an April Fool's hoax with Sellers playing the part of a Hungarian explorer who had just returned from the Himalayas, where he had been the first European to see the Abominable Snowman, photograph it and bring back tufts of its hair. Suddenly, only a few minutes before transmission, Sellers declared that he would prefer to play the part as a Scottish professor with a pawky accent. Unfazed, Kennedy introduced Sellers as Professor Grant-Hamilton of the University of Camelford. The deadpan interview was very funny.
Acting was a role Kennedy enjoyed. He happily interviewed Sir Humphrey Appleby (Nigel Hawthorne) in an episode of Yes Minister and was glad to appear playing the role of a newscaster or television presenter in countless other fictional programmes. He relished the company of impresarios and actors. It was a world he moved into after his marriage.
In 1948 Kennedy, like many others, had fallen in love with the screen image of the ravishingly beautiful ballerina Moira Shearer, the star of The Red Shoes. The following year she and Ralph Richardson were due to present to prizes at a ball, to which Kennedy had been given tickets. He suddenly summoned up the courage to introduce himself and ask her to dance. While he was pondering his affrontery she surprised him by saying that she did not dance very well. It turned out to be true – of ballroom dancing.
Ludo's courtship flourished and in 1950 the dark, handsome newscaster married the glamorous ballerina in "the wedding of the year". Moira was a wonderfully supportive partner for him: wise, witty, the devoted mother of their four children, as well as the lovely creator of many ballet roles and the star of Tales of Hoffmann and several other films.
Kennedy came from a more privileged background than most television presenters. His Scottish ancestors included the Lords Kennedy, later Marquesses of Ailsa. His father, Captain, E.C. Kennedy had been forced to leave the Royal navy in 1922 after a court-martial for not taking adequate measures to suppress an outbreak of insubordination during a period of industrial unrest. His mother was the daughter of an 11th baronet. Ludo went to Eton, where he distinguished himself by getting elected to Pop and by organising a jeunesse d'orée stunt in his last week there. This involved hiring a light aircraft to take him and four friends over to Le Touquet and back between roll calls, to drink champagne and hope to cover the cost of the flight with winnings at the casino.
Kennedy had only one year at Christ Church, Oxford before war broke out and interrupted his course. Following family tradition he immediately enlisted in the Navy and was still a midshipman when his father was killed in the first surface naval action of the Second World War. The Navy had reinstated Captain Kennedy at the age of 60 and given him command of an old passenger liner converted into a semi-armed merchant cruiser, HMS Rawalpindi. It had defied two powerful German battle cruisers in a heroic defeat against odds. Captain Kennedy died a hero. King George VI subsequently granted his widow a grace-and-favour apartment in Hampton Court Palace.
In his best-selling autobiography On My Way to the Club (1989) Ludovic Kennedy recorded, with what some felt to be embarrassing candour, his psychological hang-ups and especially his unloving relationship with his domineering mother. By contrast his very first book, Sub-Lieutenant, published in 1942, paid an affectionate tribute to his father. It gave a vivid personal account of forays against the German battleships Bismarck and Tirpitz as well as the younger Kennedy's experiences escorting convoys to Russia. Later in the war he spent a year as ADC to the Governor of Newfoundland.
Demobilised, he completed his studies at Oxford, where he helped found the Writers' Club. He then sought a means of support while he completed a book on Nelson's captains. This soon led him to broadcasting, and he joined Robin Day and Chris Chataway as early newscasters for Independent Television News.
Although his father had been a Conservative agent between the wars, and his cousin Bob Boothby was a well-known Tory MP, Kennedy showed little interest in party politics until 1956 when Jo Grimond, whom he greatly admired, became leader of the Liberal Party and Anthony Eden led the country into the Suez fiasco. Kennedy became a Liberal and stood the next year in a by-election at Rochdale, hitherto held by the Conservatives. Thanks to the courage of Granada, for the first time two television election programmes were transmitted from Rochdale during the campaign. The seat was won by Labour but Kennedy, with the help of his familiar face and his famous and beautiful wife, drove the Tories into third place.
Kennedy spent the next two years presenting This Week before contesting Rochdale again in the 1959 General Election. Once more he came a good second. He had had to resign from Associated-Rediffusion to fight the election. I offered him a job on Panorama; it offered him much more scope for the work he wanted to do, and did so well.
Panorama at that time had a strong team of reporters which included James Mossman, Robert Kee, Robin Day, Francis Williams and Malcolm Muggeridge. They specialised particularly in the coverage of foreign affairs, and Kennedy reported from such varied places as Moscow, Kashmir and the Democratic National Convention at Los Angeles which nominated John F. Kennedy as the Presidential candidate. The following year he was the only reporter granted an interview when President Kennedy paid a brief visit to Britain on his way back from a summit meeting with Khrushchev in Vienna. His interviews with other leaders included Harold Macmillan and the Dalai Lama.
Three years later Kennedy, with several of his Panorama colleagues, set up an independent production company, Television Reporters International, which made a number of programmes for Lew Grade at ATV. But the contract was not renewed, and Kennedy was back at the BBC introducing a wide variety of programmes on both television and radio. He also made many major documentaries, some about naval battles, some about railway journeys. One was an obituary of Admiral Earl Mountbatten, the first to consist of a filmed interview with the deceased. The programme was repeated on what would have been Mountbatten's 80th birthday supplemented by an interview in which Prince Charles spoke to Kennedy about his uncle.
Convinced of the innocence of Bruno Hauptmann, who had been executed in 1936 for the murder of the baby son of Charles Lindbergh, the American hero who flew solo across the Atlantic, Kennedy wrote and narrated an hour-long television programme Who Killed the Lindbergh Baby? It was later expanded into a full-length book, The Airman and The Carpenter.
Of all Ludovic Kennedy's versatile roles, I believe the one that brought him the most personal satisfaction was that of campaigner against miscarriages of justice. He wrote numerous books and a play dealing with crimes and those he was sure had been unjustly convicted of them. 10 Rillington Place was the best known, concerning Timothy Evans, who lived at that address and was hanged in 1950 for the murder of his wife and baby daughter. Sixteen years later the Queen granted Evans a free pardon, on the recommendation of the Home Secretary, Roy Jenkins. It was Kennedy's book that cleared his name.
Other Kennedy books dealt with Stephen Ward, Patrick Meehan, the Luton Post Office murder and the Portland Spy case. Kennedy's crusading zeal may well have derived from what he regarded as the unfairness of his father's court martial.
While writing these volumes, all of which were well received, Kennedy continued with his television work. For eight years he chaired the discussion group Did You See?, which commented on recent programmes. It was probably this programme that prompted a television critic to write, "He gives me the impression that he has been good enough to drop by to see if he can lend a hand while on his way to the club" – the remark which provided the title for his entertaining autobiography.
Although his television colleagues Robin Day and Alastair Burnett were both given knighthoods, Kennedy discovered that his name had been vetoed by Mrs Thatcher. After her departure as Prime Minister 10 he declined a CBE – it was ridiculous, he said, "to be a commander of a non-existent empire". He assumed that this had effectively ruled him out for a knighthood; he was proved wrong, however, in 1994.
A lifelong atheist, he published All In The Mind: A Farewell To God (1999), and was a supporter of the British Humanist Association. He was also an advocate of the legalisation of assisted suicide, and was a co-founder and former chair of the Voluntary Euthanasia Society. He resigned from the Liberal Democrats in 2001, citing the incompatibility of his pro-voluntary euthanasia views with those of the then Liberal Democrat leader Charles Kennedy (no relation), a Roman Catholic.
He stood as an independent on a platform of legalising voluntary euthanasia in the 2001 general election for the Wiltshire constituency of Devizes. He won two per cent of the vote and subsequently rejoined the Liberal Democrats.
His last book, 36 Murders and 2 Immoral Earnings (2003), revisited several of the criminal cases to which he had devoted much of his time, including that of Timothy Evans, as well as those of Derek Bentley and the Birmingham Six.
Leonard Miall
Ludovic Henry Coverley Kennedy, writer and broadcaster: born Edinburgh 3 November 1919; Kt 1994; married 1950 Moira Shearer (died 2006; one son, three daughters); died 18 October 2009.
Leonard Miall died in February 2005. This obituary has been updated.
Join our commenting forum
Join thought-provoking conversations, follow other Independent readers and see their replies