Sir Roger Walters: Architect whose projects included the Thames Barrier and who pioneered the concept of public consultation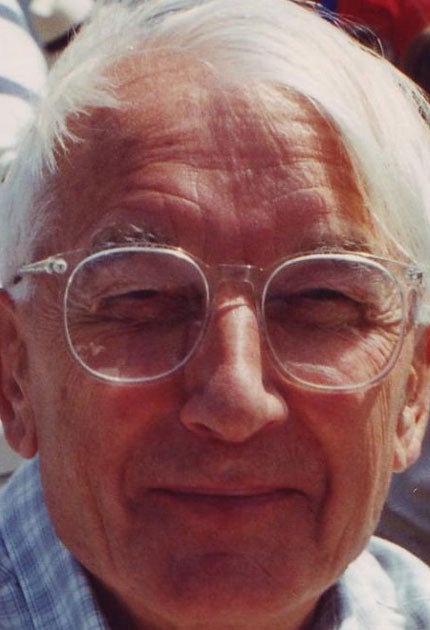 Sir Roger Walters' work as an architect encompassed projects as diverse as the Thames Barrier and the redevelopment of Covent Garden. Just as importantly, he pioneered the concept of consultation between architects and the public.
Roger Talbot Walters was born in Chorleywood in 1917. He was the third of four brothers, the son of Bernard and Marie Walters, one of the seventh generation of a family of silk weavers based in Sudbury, Suffolk to this day. He attended Sudbury grammar school and Oundle School, then studied at the Architectural Association from 1933-35 and the Liverpool School of Architecture, 1937-39. During the Second World War he served with the Royal Engineers, mainly supervising the building of airstrips in and around the Indian Ocean.
Walters left the army as captain, working for the Timber Development Association until 1949 and then British Railways. In 1959 he was asked by Sir Donald Gibson, the director-general of works at the War Office, to join the new, all-civilian Directorate of Works as chief architect in charge of development. During what he called the "most enjoyable three years of my working life", he supervised, inter alia, the design of new systems for army buildings and furnishings.
In 1963, Gibson invited him to become the new deputy director-general of research and development at Geoffrey Rippon's Ministry of Public Building and Works. Later he became director general of production and then controller general. He was awarded a KBE in 1971.
In the same year, Walters left the civil service and was appointed architect to the council of the GreaterLondon Council (GLC), later becoming the controller of constructionservices as well. There he pioneered the now routine practice of "public consultation", encouraging his colleagues to explore what he described as "deeper mutual understanding between architects and those for whom they build".
Rejecting the excesses of high-rise construction of the 1960s, he aimed at "low-key architecture, subtle and human, which the occupants would really enjoy". He encouraged relatively small and low-rise building, "to a more orthodox English tradition". On aesthetic, rather than economic grounds, he encouraged renovation (eg Mercers Estate, Tower Hamlets), or the integration of rehabilitated housing stock with new building (eg Althorpe Grove in Battersea).
Before retiring in 1978, Walters had guided many such developments, also major projects, including the redevelopment of Covent Garden and the commissioning of the Thames flood barrier. The end of his professional career was marked by frustration, though not defeat, by the politics of the GLC. Eventually one morning he murmured to his new wife, Claire, that, "the time has come to make a futile gesture." It was far from that, but he announced his retirement that day.
Partly because he lived such anactive life for so long, probably most of the people who miss Walters now will have known him not as a distinguished, professional public servant, but as a private person and an inspiring man. The metamorphosis began in earnest when he met Claire,who was 25 years his junior, in1973. They married in 1976. The "best thing I ever did," he recorded. The marriage brought happy step-parental responsibilities.
Walters's second life exemplified Hobbes's notion that "there is no contentment but in proceeding", and he did so, studying, writing, being and painting – with quiet determination, for over 30 years. He took a degree course in English at Birkbeck in 1980, then an MSc (with merit) in Life Course Development, in 2000, writing monographs on John Keats and on John Nash and the Prince Regent in between. His collection of "diaries of ideas" – which surfaced only after his death – reveal his love of friendship, his complete fascination with life and an extraordinary determination to explore its manner and meaning. He was always rigorous but only gentle; he lived his belief in the need to be "compassionate, wise and non-judgmental". He loved understanding, but also completely appreciated how elusive all "truths" may be.
As well as a chronology of his life, his widow Claire found – to her complete surprise – four folders of Roger's poetry and other writings. In his notes ("to be opened only after my death") he described these as "binnable". His diffidence ran deep: I once heard him murmur that he thought compliments directed towards him should be treated "with tender contempt".
For all his softness, Roger had a hard head and wonderful wit. More than 40 years ago, he won a competition organised by The Sunday Times, to compose the headline for its 10,000th edition in March 2017. True to form, it was brilliant and simple: "Government computer resigns".
Roger Talbot Walters, architect: born Chorleywood, Hertfordshire 31 March 1917; CBE 1965; KBE 1971; married 1946 Gladys Evans (marriage dissolved 1968), 1976 Claire Chappell (one stepson, one stepdaughter); died London 11 September 2010.
Join our commenting forum
Join thought-provoking conversations, follow other Independent readers and see their replies