Sir Stuart Bell: Labour MP who defended constituents over the Cleveland child abuse scandal
Revel Barker
Monday 15 October 2012 18:05 Comments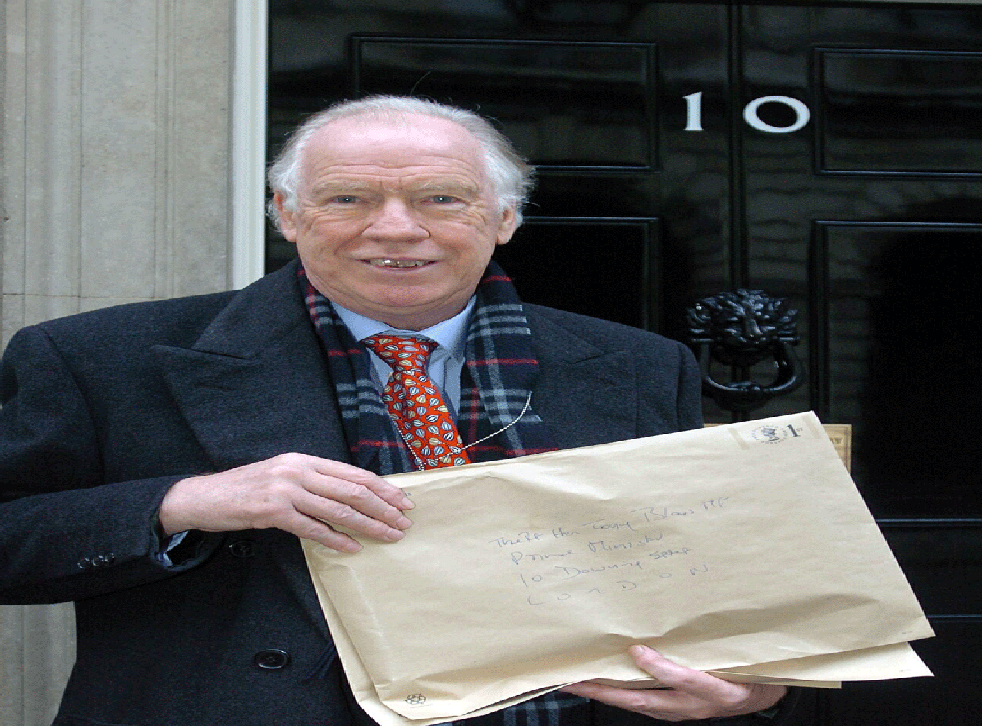 By his mid-30s miner's son Stuart Bell, who has died of pancreatic cancer, was a millionaire international lawyer and a Name at Lloyd's with homes and offices in Paris and London, and had written his first novel. The book was a raunchy semi-autobiographical story of little literary merit that remained unnoticed by everybody except his later political enemies, but in getting it published he had achieved his childhood ambition. His single remaining aspiration was to become a Labour MP (he described himself, in those days, as "what in Europe would be called a social democrat").
A friend on the Daily Mirror introduced him to Hexham Labour Party which, faced with the high-profile Tory cabinet minister, Geoffrey Rippon, as sitting member, plus the rising fortunes of the Liberals, was attracted by the idea of a locally born self-made millionaire from a working-class background and adopted him as candidate. He made sufficient impact in the 1979 general election to draw the attention of Transport House and was a "walk-in" for the safe seat of Middlesbrough in 1983. Tony Blair was a contender but didn't make the shortlist.
From the time he passed his 11-plus and qualified for Hookergate Grammar School in High Spen, Co Durham, Bell had been determined not to follow his father, who would spend 51 years at the coalface down the local pit at Chopwell. He learned elementary shorthand and typing and gained five O-levels, justifying a job in the colliery office. After nine months he found work as a reporter on the weekly Blaydon Courier and at 19 moved to London, where he improved his shorthand to a speed of 150 words a minute at Pitman's College, supporting himself with jobs as a typist at the Daily Telegraph and Lloyd's and with occasional freelance journalism.
Intent on becoming "a writer" he relocated to Paris, where he worked as a clerk in a law firm among whose clients was the European office of Walt Disney. One day, delivering documents there, he was asked whether he was a lawyer, and over coffee was persuaded that he should ask his employer to sponsor his education in the profession. This he did, and in 1970 was called to the Bar at Gray's Inn. The Disney boss next told him to demand a partnership, and when this was refused offered Bell work for his company, along with offices inside the Disney building at 44 Avenue des Champs-Elysées. With such a prestigious client he quickly found others, including Hewlett Packard and General Motors, and started to specialise in the lucrative area of European trade and international tariffs. His success was speedy and he expanded to offices in the exclusive Avenue Montaigne, premises that had been the wartime headquarters of American Forces (complete with an "Oval Office").
Although he had borrowed a house in the constituency from his Daily Mirror friend while contesting Hexham, and as a city councillor in Newcastle upon Tyne (1981-83), his jet-setting pursuit of politics soon started to eat into his fortune. First he had to sacrifice his magnificent country home (swimming pool, tennis court) in Chantilly, outside Paris, then his young mistress, and finally his senior partnership in a firm that employed more than a dozen lawyers, and along with it his apartment (Eiffel Tower view) in Avenue Montaigne. Until his election, when he became entitled to an MP's salary of £15,308, he was reduced to seeking work as a barrister on the Northern Circuit. He wrote more novels, one of which, Days That Used To Be, a hefty tome about several generations of a mining family, was dismissed by its only reviewer as being "eight ounces better than War And Peace", and political works including How To Abolish The House Of Lords.
His first Commons appointment was as Parliamentary Private Secretary to Roy Hattersley (1983-84), the deputy Labour leader, who he supported as a "scourge of the loony Left", then for three years was opposition front bench spokesman for Northern Ireland. Re-elected in 1987, he quit the front bench to pursue the situation wherein 119 children in his constituency had been taken from their parents after allegations of sex abuse – what became known as the Cleveland child abuse scandal. The Butler-Sloss Inquiry would take nearly five years, and in 1988 he wrote a book, When Salem Came To The Boro, which accused social workers and psychiatrists of provoking hysteria under which children were effectively talked into "denouncing" their parents.
The social workers' coven and leftist loonies reacted with personal and political attacks, unearthing details of his 1973 semi-porn novel, Paris '69, plus the fact that he had maintained a mistress called Astrid for whom, to soften their split, he had bought a Parisian parfumerie.
He returned to the front benches under John Smith in 1992 and then under Tony Blair as shadow spokesman for trade and industry. He fully expected to be given a junior ministry when Labour was returned to power in 1997 but was instead offered the post of Second Church Estates Commissioner – effectively the Church's representative in the Commons – a position he initially refused as being too low-key, but then took up and retained enthusiastically. He was appointed to the House of Commons Commission in 1999 and became Chairman of the Finance and Services Committee and the Liaison Committee the same year. He also ran a financial and political consultancy.
In 2009 Bell was appointed to the Speaker's committee for the new Independent Parliamentary Standards Authority in the wake of the expenses scandal. He defended MPs, attacked the leak to a newspaper as "disgraceful" and suggested that MPs might be justified in refusing to repay money. He attracted further controversy last year when it emerged that he had not held a constituency surgery since 1997. He said that he had discontinued sessions after being assaulted in his office, but maintained that he was available for meetings by appointment.
Stuart Bell, colliery clerk, barrister, writer and politician: born High Spen, County Durham 16 May 1938; MP for Middlesbrough 1983-; Kt 2004, Chevalier de la Légion d'Honneur 2006; married 1960 Margaret Bruce (marriage dissolved; one son, one daughter), 1980 Margaret Mary Allan (one son); died 13 October 2012.
Register for free to continue reading
Registration is a free and easy way to support our truly independent journalism
By registering, you will also enjoy limited access to Premium articles, exclusive newsletters, commenting, and virtual events with our leading journalists
Already have an account? sign in
Join our new commenting forum
Join thought-provoking conversations, follow other Independent readers and see their replies