Sir William Macpherson: Judge who led the public inquiry into Stephen Lawrence's murder
His report on the 1993 killing branded the Metropolitan Police as 'institutionally racist'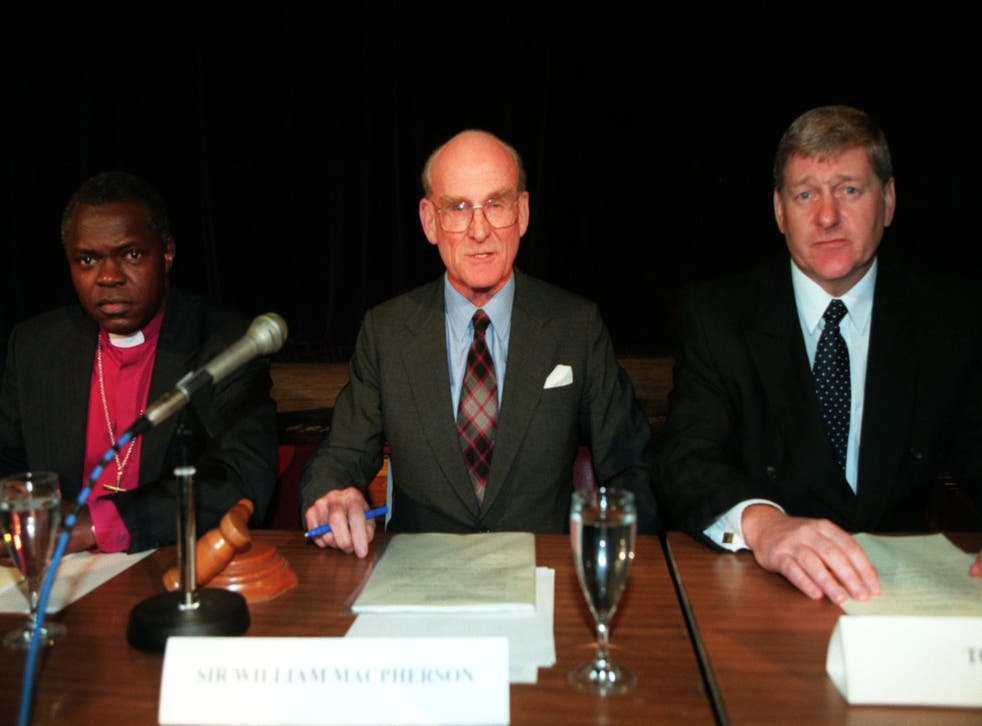 Sir William Macpherson of Cluny and Blairgowrie, who has died aged 94, was a retired High Court judge and former soldier who led the public inquiry into the murder of 18-year-old Stephen Lawrence.
The black teenager's parents, Neville and Doreen – already reeling at the failure of the Metropolitan Police to bring charges following the racially motivated stabbing to death of their son in 1993 despite an "unlawful killing" inquest verdict – were shocked at the appointment of an establishment figure with a reputation as a hardline conservative who had allegedly shown insensitivity in cases involving racial issues.
It was a bigger shock when, in 1999, the Macpherson Report dispelled any fears of a whitewash by savaging London's police force for its failure to bring the family justice, declaring: "The investigation was marred by a combination of professional incompetence, institutional racism and a failure of leadership by senior officers."
The accusation of racism shook the capital's police to their core, but the litany of criticisms laid at their door also included failing to administer first aid to Stephen at the scene of the crime, a lack of direction and organisation by officers in the hours after the murder, insensitivity to his parents, failure to make early arrests of the suspects and inadequate searches of their houses.
These conclusions, in a report running to 389 pages, came after the inquiry heard evidence from 88 witnesses and considered 100,000 pages of statements and documents.
It made 70 recommendations, of which 67 had been fully or partially implemented within two years. Two of the five white suspects, Gary Dobson and David Norris, were finally convicted of murder in 2012.
Astonishingly, following publication of Macpherson's ground-breaking report, some right-wing commentators suggested that he had tried too hard to be even-handed, with one even claiming he had "blood on his hands" for discouraging the police from "stop and search" for fear of being branded racist.
Macpherson – who travelled to the inquiry on public transport each day – reflected in 2019: "I'm pleased we achieved what we did, which was to give a strong push to people in the right direction. There's obviously more to be done, but my feeling is that great steps have been taken."
William Alan Macpherson was born in Blairgowrie, Perthshire (now Perth and Kinross), to Catharine (née Hill) and Alan, an army brigadier. On the death of his father in 1969, Macpherson – affectionately known as "Cluny" – became the 27th hereditary chief of the Clan Macpherson Association.
He was educated at Wellington College, Berkshire, before serving as a captain in the Scots Guards (1944-47), then graduating in philosophy, politics and economics from Trinity College, Oxford.
In 1952, Macpherson was called to the bar at the Inner Temple and practised in London and abroad, but he continued in the military as a lieutenant-colonel (1962-65) in the Territorial Army's 21st SAS regiment. He was also its honorary colonel (1983-91).
His legal career went from strength to strength. He was appointed a QC in 1971 and a Crown Court recorder – part-time judge – the following year, as well as being head of 39 Essex Chambers.
In 1983, he was knighted and became a High Court judge in the Queen's Bench division, where at one time he served as presiding judge of England's Northern Circuit (1984-88).
Among Macpherson's most high-profile cases was the acquittal of three former Surrey detectives at the Old Bailey in 1993 on charges of conspiring to pervert the course of justice in the case of one of the Guildford Four wrongly convicted of IRA pub bombings in 1974. They were accused of manufacturing interview notes, but the judge said it was time to "stop grazing over the entrails".
He also sentenced Robert Black to life in 1994 for the kidnapping and murder of three girls, with the recommendation that the serial killer serve at least 35 years.
A year earlier, Macpherson had been the victim of a crime himself – when his £650 wig was stolen while he was presiding at Cardiff Crown Court.
Accusations of being insensitive to race issues came from Stephen Lawrence's parents at the start of the Macpherson inquiry because of his record for refusing applications for judicial review in immigration cases and the ruling that a white mother could withdraw her child from a school class with a large number of Asians.
He retired in 1996 at the same time as members of the Macpherson clan were celebrating their association's 50th anniversary.
At the clan's ancient home in the Highland village of Newtonmore, more than 500, from as far afield as the US and Malawi, took part in what was reported to be the biggest gathering of Macphersons since the Battle of Culloden.
"We had a very dramatic entrance from about 35 Macphersons from Spain," said their clan chief. "They gave us 20 minutes of flamenco."
In 1962, Macpherson married Sheila Brodie, who died in 2003. He is survived by his partner, Hilary Burnham, and Annie and Jamie, two of the three children of his marriage. His other son, Alan, died in 2007.
Sir William Macpherson, barrister, judge and soldier, born 1 April 1926, died 14 February 2021
Register for free to continue reading
Registration is a free and easy way to support our truly independent journalism
By registering, you will also enjoy limited access to Premium articles, exclusive newsletters, commenting, and virtual events with our leading journalists
Already have an account? sign in
Register for free to continue reading
Registration is a free and easy way to support our truly independent journalism
By registering, you will also enjoy limited access to Premium articles, exclusive newsletters, commenting, and virtual events with our leading journalists
Already have an account? sign in