Sister Wendy Beckett: Catholic nun who became a celebrated BBC art critic
Wowing millions with wit as a presenter never distracted her from her deeper calling – being alone with God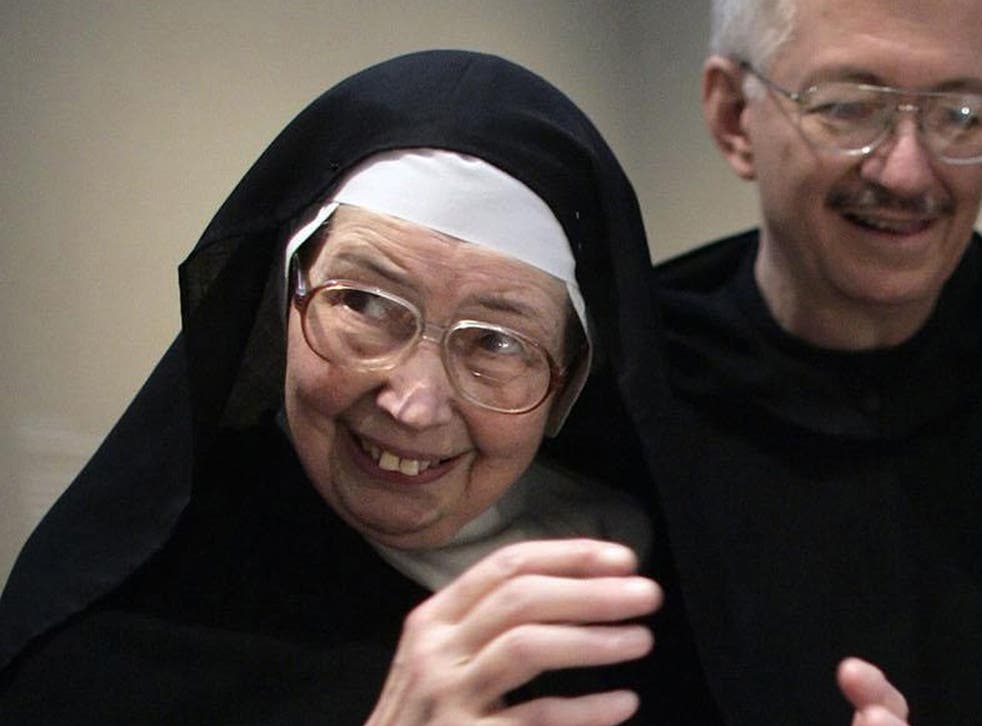 Before appearing on it, Wendy Beckett had never watched television. On the grounds of the Carmelite convent of Quidenham, Norfolk, where she lived from 1971 until her death aged 88, her reclusive life seemed far removed from the secular concerns of public broadcasting.
But the Catholic nun – with her trademark spectacles, rabbity teeth, lisping tones and passion for silent contemplation – became an unlikely TV star presenting history-of-art documentaries for the BBC in the Nineties.
Her lively, improvised commentary brought some of the world's greatest works of art to life for millions of viewers – and made her a much-loved figure of faith both in Britain and America.
Once asked whether she was struck by the paradox of an ascetic nun becoming a television star, she answered with a smile: "Yes, it's bizarre. It's the kind of thing only God would do."
Wendy Beckett was born in Johannesburg in 1930, the first child of Aubrey Beckett, a bank clerk and later a physician, and of Dorothy Beckett, both of Irish descent. Her childhood, spent largely in Scotland, was a happy one, though her father was absent for much of it, having been called into the Royal Air Force at the outbreak of the Second World War.
Her parents, both practising Christians, never missed Sunday Mass. But nor had they intended for her to join the orders.
Still, from as far back as she could remember, she had always wanted to be a nun, such was her desire to be close to God. She recalled her mother saying: "She is an odd child, Aubrey, she has wanted this since babyhood. I think we should let her."
Aged 16, shortly after her father's return home from war, it was her turn to leave. She joined a teaching order, the Sisters of Notre Dame de Namur. From there she was sent to Oxford University, where she proved herself a fine student of English literature. Present at her viva voce was the writer and scholar JRR Tolkien, who was sufficiently impressed with her abilities that he encouraged her to stay on as an academic. She declined.
She returned to South Africa, where she taught for 15 years. But, afflicted with epilepsy, she asked the order to allow her to adopt a less strenuous lifestyle, devoted primarily to quiet, solitary contemplation. Her superiors agreed, and in 1971 Sister Wendy was welcomed by the nuns of Quidenham.
She would live on the convent's leafy grounds for decades, first in a spartan caravan then in a more comfortable mobile home, away from the other nuns. Other than the daily delivery of food, mail and other essentials, she lived in near perfect seclusion.
At first she worked two hours a day, translating medieval Latin sermons. As her health continued to deteriorate, she abandoned this work and spent much of her spare time looking at art instead.
But the convent was pressed for money, and every nun was expected to pull her weight. In her knowledge and passion for art, Sister Wendy found a possible source of income, one that would eventually cover the costs of a new roof for the convent. She managed to sell a book proposal that became 1988's Contemporary Female Artists. The book was the first of around 40 she would produce over the years, most of them about art.
Her writing caught the attention of television producer Nicholas Rossiter. Before long she was presenting documentaries about art to millions of BBC television viewers.
While her sisters of Quidenham busied themselves painting, embroidering and harvesting honey in the confines of the convent, frail Sister Wendy became perhaps the world's most famous peripatetic nun, travelling from the caves of Lascaux to the temples of ancient Egypt and Monet's garden at Giverny – all for television shoots.
The convent's most insular figure had suddenly become its most famous.
Some poked fun at the apparent incongruity. In 1994, a baffled New York Times wrote: "Sister Wendy Beckett is a 63-year-old Carmelite nun with bad teeth and a passion for art. The BBC decided to send her to museums across Europe to record her thoughts on the great works, and she's become a cult hit. But it's unclear whether viewers are captivated by her insights, or by the sight of someone in a habit unblushingly discussing nudes and pointing out the 'lovely, fluffy pubic hair'."
Advising British viewers to tune in to her documentaries over any period drama, the piece's headline read: "Forget Middlemarch. Bring on the Nun with the Nudes".
Sister Wendy certainly did not shy away from any aspect of the art she presented, however erotic or crude. Of Michelangelo's Creation of Man, in the Sistine Chapel, she said in one documentary: "Adam sprawls there in his naked male glory, but he's not alive. All he can do is lift up a flaccid finger."
Many snickered at such commentary. But she rejected the view that nuns should not utter such language. "I'm not going to deny God's glory by pandering to narrow-mindedness," she once said.
In truth, she was a natural. She was dubbed "one-take Wendy" by crews impressed by her ad-libbing and perfect timing.
Her earnest, eager passion drew many fans. One could only be moved and inspired by her accounts of art – even when she got carried away by flights of fancy.
Viewers loved the attention she gave works she loved and how she was dismissive of those she found drab. Standing in front of a painted fresco in Pompeii, she says: "Like the Greeks, the Romans were also interested in realism. But they can't always quite carry it off." Then, shaking her head as she walks away she adds: "These figures are rather unconvincing."
Still, however much she delighted in publicising the great works, her foray into secular life was, to her, "just a little sideline". Her "raison d'être", she said, was always solitary prayer.
"To be alone is to be exposed, not to loneliness, but to God," she said. In silence she found infinite bliss, as therein, she said, lay "no distraction from pure being, pure love".
Some sense of her spiritual life away from the limelight can be gleaned from Spiritual Letters, a collection of her correspondence published in 2013. The many letters addressed to her good friend Sister Ann speak to the internal debates that rippled through the church in the wake of the Second Vatican Council. Her love of art and the divine also shines through, often more brightly even than in her television appearances.
Sister Wendy went to bed each day at 6pm, and woke at midnight. From then till morning mass at 8am, she prayed at home. She enjoyed reading the obituaries pages of The Independent, and followed horse racing. When she felt faint she would swig Baileys straight from the bottle.
Staying in hotels during shoots opened her up to popular culture. "I was moved and charmed by the few episodes of Star Trek: The Next Generation, with Patrick Stewart, that I have seen," she said.
She could be firm, as when she defended herself against the claim that her television commentary was meandering. But she also happily challenged her own views. To Sister Ann, she once wrote: "Your letter made me think with pleasure on my stupid rejection of Klee, that luminous painter."
Sister Wendy often said that her commitment to religious life originated in her inability to split her time between God and anything else. "I wanted to belong totally to God and it seemed that being a nun was the way," she once said. "This was narrow thinking. Anybody can belong totally to God, in any way of life and at any age."
Still, she never regretted her decision to join the orders, saying the bliss she experienced as a young nun only grew over time. Her days, she once wrote to Ann, were "weighted with grace".
Sister Wendy Beckett, Roman Catholic nun and BBC presenter, born 25 February 1930, died 26 December 2018
Join our new commenting forum
Join thought-provoking conversations, follow other Independent readers and see their replies