Sridevi: Bollywood superstar who starred in 300 films and was hailed as 'India's Meryl Streep'
She started off as a child star of Tamil-language cinema and then got her big break in Bollywood where she established herself as a low-key legend
Christine Manby
Monday 26 February 2018 17:02 Comments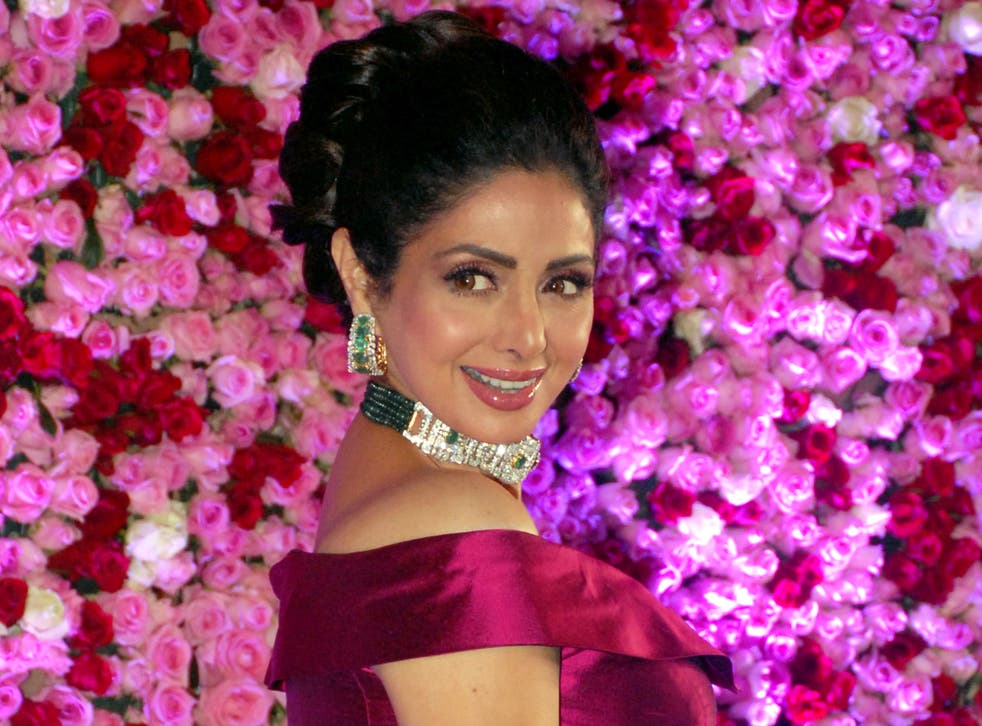 Sridevi Boney Kapoor, known to her millions of fans as Sridevi, spent her life in the spotlight, making her film debut as a small child. Aged only four she played the Hindu god Murugan in the 1969 film Thunaivan, a Tamil-language religious drama.
"I always enjoyed being in front of the camera," the much-loved actress and Bollywood stalwart, who has died aged 54, recently said.
​Sridevi would go on to make more than 300 films, in six languages, and become Hindi cinema's first female superstar, though she could not even speak the language when she made her first Hindi film.
She was born Shree Amma Yanger Ayyapan in Sivakasi, in the state of Tamil Nadu in the south of India. Her father, Ayyapan, was a Tamil lawyer and her mother Rajeswari was a Telugu-speaker – as a consequence Sridevi grew up bilingual. She had a sister and two step-brothers.
It wasn't long before the young actress became the family's main breadwinner. Speaking about her early start in cinema to Mumbai's Filmfare magazine, Sridevi said: "I was a good student. For a while my parents did make me cope with school and films simultaneously. But after a point, this wasn't practical. I had to choose between studies and films. I chose films."
As a child, SriDevi was the undoubted darling of South Indian film but in 1978 she spread her wings with her Bollywood debut, Solva Sawan – a Hindi remake of the 1977 Tamil film 16 Vayathinile by the same director, P Bharanthiraja.
Remembering her as an "actor extraordinaire", he said last week: "When I told her about the remake idea, she was sceptical and refused to set foot in Hindi cinema. Then I promised her that I would take care of everything and convinced her to do the film."
This was the beginning of a sharp upward trajectory. Within five years, she was making dozens of box office hits and the roles she chose were nothing if not diverse. In 1986's Nagina, she played a shape-shifting venomous snake. One commentator said the film's climatic dance scene was "still gives fans goose bumps" – her moves marry force and intention with elegance.
Yet she followed Nagina with Mr India, in which she played a ditsy crime journalist and earned her comedy chops with a pastiche of Charlie Chaplin in a hailed by the Times of India called "the most hilarious act she has ever done".
By the late Eighties, Sridevi's career was at its peak. She refused a role in Steven Spielberg's Jurassic Park to concentrate on making the most of her moment as Bollywood's biggest – and highest paid – female star.
Indian site Scroll noted Sridevi's "naturalistic acting abilities, her comic timing, and her graceful dancing skills. She was among the few female stars in Hindi cinema who could steer a movie's commercial fate on her own merit."
All the same, her choices weren't infallible. In 1993 she starred in Bollywood's most expensive production, Satish Kaushik's, Roop Ki Rani, Choron Ka Raja. The comedy action film, which Sridevi helped finance, was a box-office flop.
However, Sridevi fell in love with the film's producer Achal "Boney" Kapoor, whom she married in 1996.
It wasn't her first marriage. During the Eighties, she was frequently cast alongside Mithun Chakraborty, sparking rumours of a secret wedding – Charkraborty was already married. These were confirmed when a fan magazine published their wedding certificate. Sridevi and Chakraboty had divorced after only three years.
With Kapoor, Sridevi had two daughters, Janhvi and Khushi, named after heroines from Kapoor's films. Taking a break from her career to raise their children, Sridevi said, "Marriage and having children was a different experience altogether, and I wanted to cherish every moment."
After 15 years, and with the encouragement of her daughters, Sridevi made a critically acclaimed return to the screen in 2012's English Vinglish, playing a middle-aged Indian mother learning to speak English in New York.
"Films were always there," she said. "I wasn't excited about any offer until Gauri Shinde came to me with English Vinglish. It just took a second to say yes after hearing the script." The film told the story of a mother, played by Sridevi, whose daughter and husband mocked her poor English-language skills.
A year after the release of English Vinglish, SriDevi was voted "India's Greatest Actress in 100 Years" in a national poll. She was hailed as the "Meryl Streep of India".
A year later, in 2013, she was awarded the Padma Shri, India's fourth highest civilian honour.
And in 2017 she made her 300th film. In thriller Mom she plays a vigilante out to avenge her daughter. Critic Meena Iyer wrote, "she turns in a captivating performance; happiness, helplessness, vendetta and victory, she walks you through the entire gamut of emotions with panache".
But though she was once the biggest female star in Bollywood, Sridevi was famously shy off-screen. Responding to an interview who said she is famously quiet, last year, she said: "The work should talk". Similarly, she said, "I have never felt the need to get agitated or hyper about anything in life."
Sridevi was attending a family wedding in Dubai, in the company of her husband and their younger daughter Khushi, when she died. Her elder daughter Jhanvi was in Mumbai at the time, putting the finishing touches to her own Bollywood debut.
"I am always grateful for what I've got," she once said. "God has been kind to me."
Her last film, Shah Rukh Khan's Zero, will be released in December.
Sridevi, Bollywood actress, born 13 August 1963, died 24 February 2018
Register for free to continue reading
Registration is a free and easy way to support our truly independent journalism
By registering, you will also enjoy limited access to Premium articles, exclusive newsletters, commenting, and virtual events with our leading journalists
Already have an account? sign in
Join our new commenting forum
Join thought-provoking conversations, follow other Independent readers and see their replies