Storm Thorgerson: Graphic designer whose art was central to the work of Pink Floyd
He was a master of the kind of demanding and elaborate set-up that anticipated Photoshop
Pierre Perrone
Friday 19 April 2013 19:12 Comments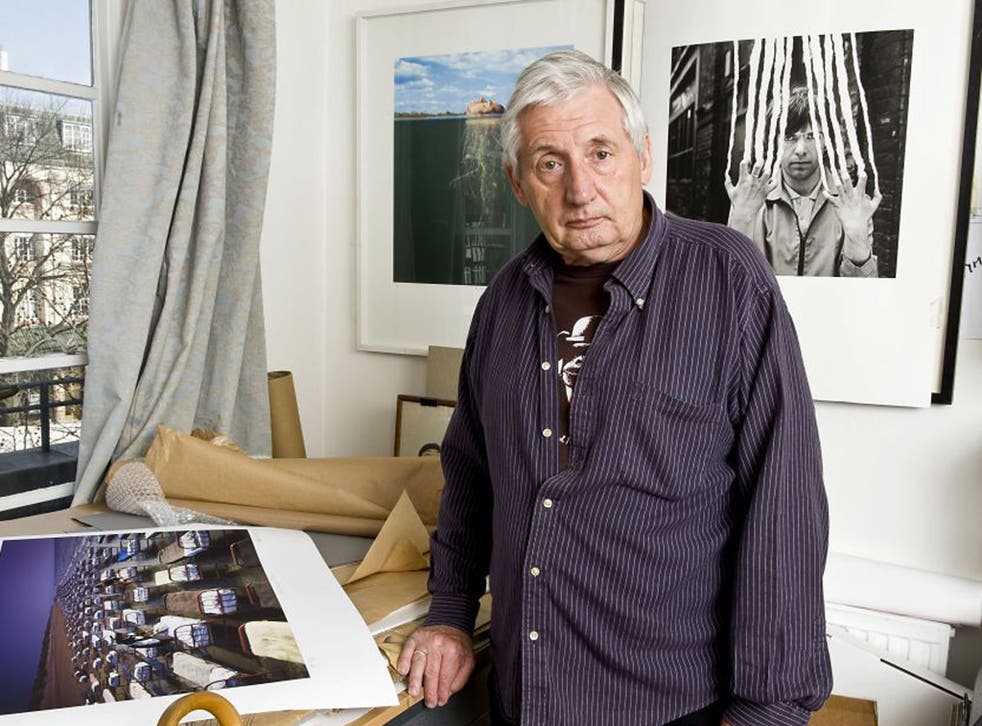 To millions of music fans the graphic designer Storm Thorgerson was as intrinsic to the Pink Floyd mystique as the members of this most progressive of British groups. Hipgnosis, the partnership he formed with his fellow designer and flatmate Aubrey Powell in 1968, created the eye-catching, surreal cover art that adorned Floyd albums from the psychedelic collage of A Saucerful Of Secrets to Animals, the 1977 release featuring an inflatable pig floating over Battersea power station, based on an idea by Floyd bassist Roger Waters, via the prism of The Dark Side Of The Moon.
"I was passing a bookshop and saw an image of a prism ... and thought maybe that would work," he said last month. "It was about light, which was featured in their show; the triangle is a symbol of ambition which was in the lyrics, and the prism is also a common property – except I made one big change. I made the background black and it makes all the difference."
A master of the elaborate, technically demanding, photographic set-up that appeared to anticipate Photoshop, Thorgerson gloried in the possibilities of the gatefold sleeve. "I like photography because it is a reality medium, unlike drawing, which is unreal. I like to mess with reality, to bend reality. Some of my works beg the question of is it real or not? Why is there a cow on the cover? It doesn't have anything to do with the album, or does it?"
His creations became ever more elaborate as he moved to the intricate packaging of 1975's Wish You Were Here and its image of two businessmen, one on fire, shaking hands, achieved with the help of two stuntmen on a Los Angeles film lot. After Hipgnosis was dissolved in 1983 he launched Storm Studios and continued his association with the Floyd, creating ever grander designs such as the 700 hospital beds on a beach for A Momentary Lapse Of Reason in 1987 and the double-decker sized metal head sculptures facing each other in a field for The Division Bell in 1994.
With Hipgnosis he also designed memorable covers for Bad Company, ELO, Genesis, Peter Gabriel, Roy Harper, The Nice, the Pretty Things, Rainbow, Al Stewart, 10CC, T Rex, UFO and Wings. His fondness for bad puns could get him into trouble. His submission of a tennis racket was considered disrespectful by Led Zeppelin guitarist Jimmy Page, who didn't think his group made a racket, and sacked him, resulting in Powell taking over to create the collage of naked children crawling over the Giant's Causeway in Northern Ireland for Houses Of The Holy in 1973. The Hipgnosis team, also including Peter Christopherson and George Hardie, masterminded the packages for the Zeppelin albums Presence, The Song Remains The Same, In Through The Out Door and Coda.
His ideas might have been far-fetched, and their execution time-consuming, but his modus operandi hardly changed. "I listen to the music, read the lyrics, speak to the musicians as much as possible. I see myself as a kind of translator ... I like to explore ambiguity and contradiction, to be upsetting but gently so. I use real elements in unreal ways."
Thorgerson was a keen cricketer, often playing other musicians and record industry figures. His love of cricket inspired the fast bowler rubbing the ball on his trousers shown on There's The Rub, the 1974 album by Wishbone Ash. Over the last two decades he remained in demand and developed distinctive imagery for many of the bands keen to take the Floyd's ambition into the new millennium, including Catherine Wheel, Biffy Clyro, The Mars Volta and Muse.
Born in Potters Bar in 1944, he attended Summerhill, the progressive boarding school, and took on many of its free-thinking principles. Following his parents' divorce, he moved with his mother to the Cambridge area and went to the same school as Syd Barrett, the Floyd's original frontman, and Roger Waters, the bassist, and also befriended future Floyd guitarist David Gilmour, a pupil at a different Cambridge school and Powell, at nearby Ely. He studied English and Philosophy at Leicester University before studying Film and Television at the Royal College of Art in London and gaining an MA in 1969.
By then, he had founded Hipgnosis, whose name conveyed "a nice sense of contradiction, of an impossible co-existence, from Hip = new, cool and groovy, and Gnostic, relating to ancient learning," he wrote in his 1978 book Walk Away René: The Work of Hipgnosis. He set about redefining the parameters of what could be done around the LP following the pop art concepts developed for the Beatles by Peter Blake on Sgt Pepper's Lonely Hearts Club Band and Richard Hamilton for the White Album. In Classic Album Covers of the 60s he was critical of the record companies' cursory attitude to design, especially when they attempted to cash in on psychedelia. "What amazes me in retrospect is how some of the groups ever put up with it," he wrote.
You could never accuse Thorgerson of kowtowing to marketing teams. He admitted he had "a rampant ego" and was "inclined to be despotic". He and his collaborators staged unlikely juxtapositions on a grand scale and broke new ground time and again. In the early 1980s he moved into advertising and pop videos and briefly thrived in the big-budget MTV era. His signature sweeping style infused the grandiose videos he directed for the Floyd tracks "Learning To Fly" and "High Hopes".
He suffered a stroke in 2003, and was later diagnosed with cancer. Floyd drummer Nick Mason recalled "a scourge of management, record companies and album sleeve printers; champion of bands, music, great ideas and high, sometimes infuriatingly high, standards. Defender of art over commerce, and tireless worker right up to the end. Two days before he passed away ... he was still demanding approval for art work and haranguing his loyal assistants ... Breathtakingly late for appointments and meetings, but once there invaluable for his ideas, humour, and friendship."
Storm Elvin Thorgerson, graphic designer: born Potters Bar 28 February 1944; twice married (one son from first marriage); died London 18 April 2013.
Register for free to continue reading
Registration is a free and easy way to support our truly independent journalism
By registering, you will also enjoy limited access to Premium articles, exclusive newsletters, commenting, and virtual events with our leading journalists
Already have an account? sign in
Join our new commenting forum
Join thought-provoking conversations, follow other Independent readers and see their replies