Sylvia Kristel: Actress who became typecast by her role in the erotic classic 'Emmanuelle'
Friday 19 October 2012 01:11 Comments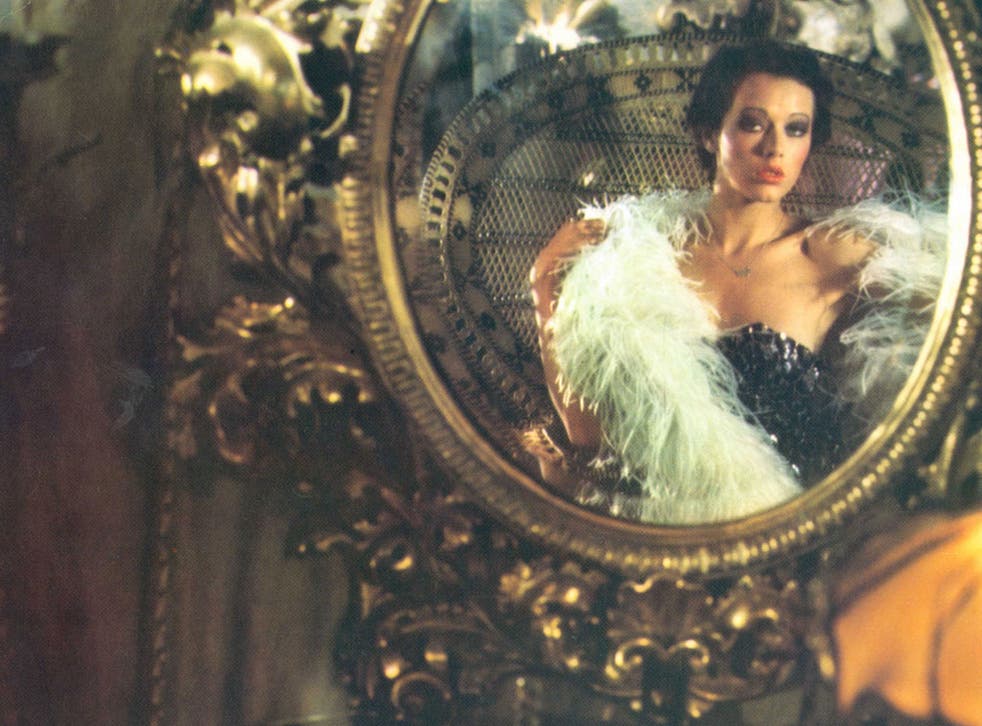 When she auditioned for the part of Emmanuelle, a young diplomat's wife who embarks on a series of ever more daring sexual adventures during a trip to Thailand, the Dutch actress Sylvia Kristel didn't expect the eponymous erotic film directed by Just Jaeckin to ever get finished or be passed by censors in France or anywhere else.
Based on a supposedly autobiographical novel credited to Emmanuelle Arsan, but in fact penned by real-life diplomat Louis-Jacques Rollet-Andriane, Emmanuelle became a box-office sensation in France during the summer of 1974.
It made soft porn fashionable there, a year before Deep Throat reached French screens, and played at the same cinema on the Champs-Elysées in Paris for over a decade, while the poster featuring Kristel reclining on a wicker chair in a state of undress, toying suggestively with a string of pearls around her neck, adorned bachelor bedroom walls. Emmanuelle fever spread across continental Europe and reached the US and Japan, too. In Britain a censored version was screened on a double bill with the local comedy Percy's Progress, featuring the "continental" charms of Elke Sommer and Julie Ege.
Even though Emmanuelle was eventually seen by 300 million cinema-goers, and the same number have caught up with it since on video, DVD and TV channels around the world, Kristel only received the Fr18,000 – then equivalent to $6,000 – fee originally agreed. However, her contract included an option for two follow-ups, which she duly appeared in, upping her fee to $100,000 for Emmanuelle II in 1975, and she participated in several more well into the 1990s.
She found herself typecast in roles such as Lady Constance Chatterley, in the 1981 adaptation of Lady Chatterley's Lover, also helmed by Jaeckin, and Mata Hari, the 1985 film directed by Curtis Harrington. And, while based in Hollywood, she took bad financial decisions as she battled alcohol and cocaine addictions. In 1981, she played a foreign maid who seduces a teenage boy in Private Lessons, but sold her interest in the film to her agent for $150,000, and lost out on a windfall when it went on to gross over $26 million at the US box-office.
She remained a source of fascination for many, and was the subject of several TV documentaries, including Emmanuelle: A Hard Look, directed by Alex Cox for Channel 4 in 2000, which examined the cultural and social impact of the franchise. "Whenever my finances are low, I agree to appear on TV shows in Germany or Japan. And that keeps the wolf from the door for a few months. I don't need much to live on anyway," she said in 2004, two years before she published her autobiography Undressing Emmanuelle: A Memoir.
The eldest of three children, she was born in 1952 to parents who ran a hotel in Utrecht and seemed to rely on alcohol to smooth things over, until her father left for another woman and kicked the family out. "It was as if we were staff and he had dismissed us," she told The Independent in 2007. After leaving school, she worked as a waitress and a secretary but was noticed by a photographer and became a model. She won Miss TV Holland and was then crowned Miss TV Europe at a London ceremony presented by Katie Boyle. She appeared in a couple of films in her native Holland and auditioned for the French actor-turned-producer Jacques Charrier – Brigitte Bardot's ex-husband – with whom she had a brief liaison before returning to Amsterdam, where Jaeckin noticed her in 1972.
Her daring audition for Emmanuelle was rather out of character. "It was weird, because I am actually quite prudish," she recalled, but found herself slipping the dress straps off her shoulders and baring her breasts. "It's always humiliating to be asked to strip so I chose to take the initiative."
Following Emmanuelle, a breakthrough that turned into something of a dead-end, she lost out to Jessica Lange for the part of Dwan in the King-Kong remake produced by Dino De Laurentiis, and had a child with the Belgian author Hugo Claus, who was 23 years her senior. The relationship floundered after she met Ian McShane while making The Fifth Musketeer (directed by Ken Annakin in 1979), and moved to California with the British actor. She appeared in The Concorde ... Airport '79 disaster movie and the Get Smart update The Nude Bomb (1980) but split from McShane after five years. "He was witty and charming but we were too much alike," she wrote in her autobiography.
Kristel was forthright about her cocaine use. She thought it was "a supervitamin, a very fashionable substance, without danger, but expensive, far more exciting than drowning in alcohol, a fuel necessary to stay in the swing," yet quit after a conversation with her Los Angeles accountant. "He basically told me: 'You can continue with this nonsense and lose your house or have a healthy lifestyle and keep your house'. That was an easy choice to make," she reflected.
She returned to Europe, settling in Saint-Tropez then moving to Amsterdam in reduced circumstances. "I said yes too may times, I don't know why, maybe out of laziness," she said of her continued involvement with the Emmanuelle franchise, which concluded with Emmanuelle Au 7ème Ciel (Emmanuelle in 7th Heaven) in the mid-1990s, but the statement might as well have applied to her two brief marriages to an American businessman, and to the film producer Philippe Blot, whose debts she helped to pay off with appearances in the road movie The Arrogant, and Dracula's Widow.
Kristel found a greater degree of happiness with the Belgian poet and critic Freddy De Vree, but he died in 2004. A heavy smoker, she was diagnosed with throat cancer in 2001, and suffered a stroke in June. Reflecting on Emmanuelle in 2007, she thought the film "was charming. Very innocent. I was struck by how young I looked at the time but I thought I was so adult, that I knew it all and I was going to conquer the world."
Pierre Perrone
Sylvia Kristel, actress: born Utrecht, Netherlands 28 September 1952; one son with Hugo Claus; twice married (marriages dissolved); died Amsterdam 17 October 2012.
Register for free to continue reading
Registration is a free and easy way to support our truly independent journalism
By registering, you will also enjoy limited access to Premium articles, exclusive newsletters, commenting, and virtual events with our leading journalists
Already have an account? sign in
Join our new commenting forum
Join thought-provoking conversations, follow other Independent readers and see their replies