Tam Dalyell obituary: Campaigning Scottish Labour MP who was 'far too inquisitive for his own good'
The veteran firebrand parliamentarian, who has died after a short illness aged 84, doggedly pursued the role of single-issue politician for over four decades to the detriment of any potential career advancement
James Fergusson
Thursday 26 January 2017 20:41 Comments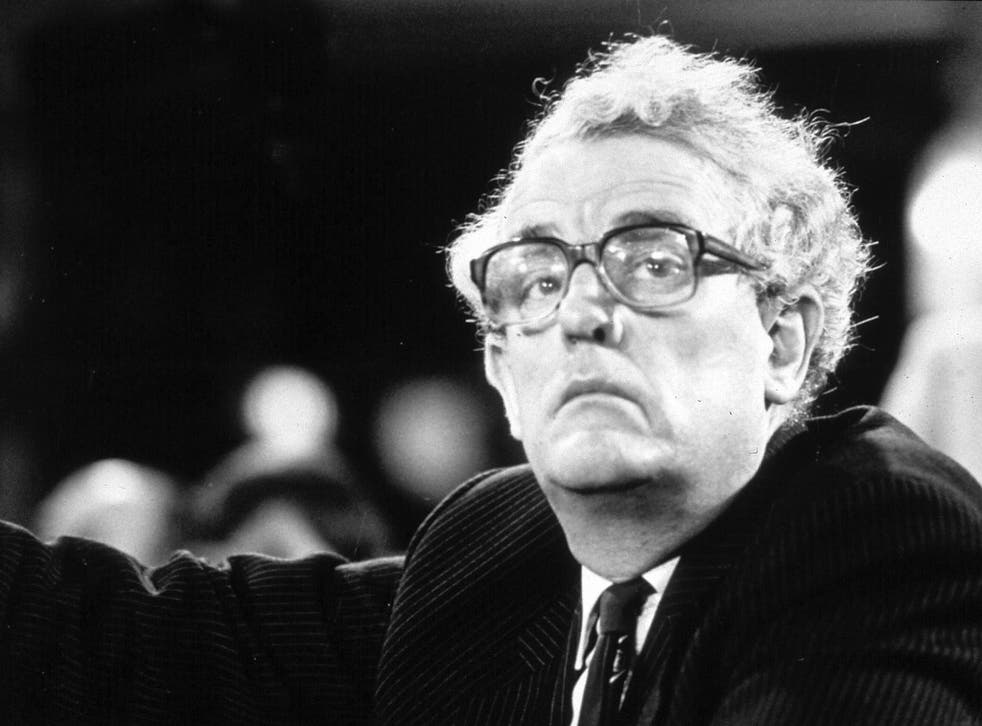 James Callaghan called him a "chump", Alan Clark derided him as "too innocent". "Tam makes good points," recorded Tony Benn, "but he always raises them at the wrong time." Richard Crossman (his political mentor) said: "Well, I hand it to you, your capacity to annoy your colleagues surpasses my own."
Tam Dalyell's stubbornness, his thick skin and relentless pursuit of his chosen causes over 43 years as a campaigning Member of Parliament exasperated his colleagues but won, too, ungrudging, even affectionate, cross-party respect. As Father of the House of Commons from 2001 to 2005, succeeding the former prime minister Sir Edward Heath, he became something of a benign guru. Ever defensive of Parliament as an institution, and scrupulously knowledgeable of its ways and procedures, a master of the parliamentary question and arch-deployer of the adjournment motion, he defied the routine mockeries of the Commons mob. "I am a placid fellow," he said, "who can laugh at bombastic insult."
Old-fashioned, "unembarrassable", Dalyell described himself as a "single-issue" politician. He believed not only in the principle of public service but in the power of an individual, if he or she worked hard enough, to affect events – to get things done. Unafraid of hierarchies, he would lobby and bully and needle and write and telephone (one should not mind "being a bore", he said), until he made his point or got his way. If his causes might eventually come to seem arcane or somehow illusory – Lockerbie, Westland, devolution, the sinking of the Belgrano – one larger principle behind them held good. Governments must be accountable and their mechanics should be transparent. Politicians had above all a duty of truth. Did he lack a politician's necessary pragmatism? Crossman worried that he was not a team player. His final CV looks lean: he occupied no ministerial office in his long parliamentary career.
Although he was 64 when in 1997 the Labour Party returned to power after 18 fallow years, he had, unlike many, had his chances before. Yet the most senior position he achieved was as opposition spokesman on science, appointed by Michael Foot in 1980. Dalyell was "absolutely brilliant", Robin Cook told the Conservative MP for Plymouth Sutton, Alan Clark, in 1981, but "unreliable". "Unreliable? " asked Clark. "What do you mean? " "Well, he sometimes goes his own way, you cannot always rely on him to speak to the ministerial brief." Which, added Cook, "hurriedly but unconvincingly", "is a good thing, of course".
In 1982 he went his own way, and voted against the Falklands War. Foot sacked him. Earlier, from 1964, Dalyell had had a good start on the ministerial ladder working as Parliamentary Private Secretary ("Sancho Panza") to Richard Crossman, variously Minister of Housing, Leader of the House of Commons and Secretary of State for Social Services. Crossman defended him, but there was no defence against his dressing down by the Speaker in 1968 for "a breach of privilege and a gross contempt of the House". As a member of the first Select Committee on Science and Technology, he had leaked sensitive papers from the chemical defence experimental establishment at Porton Down to The Observer. Harold Wilson, the then Prime Minister, later told him: "I could not give you a ministerial job after that." He added: "A lot of your trouble is that you are far too inquisitive for your own good."
Tam Dalyell regarded inquisitiveness as both a virtue and a duty. It was perhaps no coincidence that his secondary career, following in Crossman's footsteps, was as a journalist, writing a column for the weekly magazine New Scientist from 1967 to 2005, and contributing obituaries, prolifically and industriously, to The Independent, from 1989. As much as anything, it was his background that unnerved his colleagues. Here was a former President of the Cambridge University Conservative Association who became a darling of the Labour Party's hard left. An Old Etonian, he was one of three Scottish MPs – with Donald Dewar and Robin Cook – sponsored by the National Union of Railwaymen. ("Cook, Dalyell and Dewar," expostulated John Smith, the Labour leader. "They would be hard pressed to be driver, fireman and guard on any train!") A baronet by inheritance – he laid formal claim to the title after his mother's death in 1972, but never used it – who lived in a splendid castellated mansion overlooking the Forth, he was a schoolteacher before standing for Parliament, teaching for four years at a secondary school down the road, and coaching football. (His childhood idol, he said, was the Scotland inside-forward Tommy Walker.)
Perhaps, if he had not stood for Parliament, he would have remained in teaching. He certainly looked the schoolmaster part. He was a great amiable bear of a man, politely but carelessly dressed (journalists noted that his trousers didn't reach his ankles) and completely unpretentious. He was serious (one of his favourite terms of approval was "heavyweight") and it was not completely clear if he had a sense of humour. He might gaze stonily and steadily at you for some moments, and then shout with laughter. His small talk was rarely small and he was a very hard worker. When not at work on his "causes", or for his constituents, or serving on parliamentary committees, he would throw himself into chess or, when younger and fitter, tennis and squash. At home he devoted much attention to his peacocks and his bees.
Tam Dalyell was born Thomas Loch, son of Lt-Col Gordon Loch and Eleanor (née Wilkie, later Wilkie-Dalyell), in Edinburgh in 1932. His father's family served in India for three generations, his father in the Indian Political Service, but also in the Persian Gulf and Mesopotamia (he was said to have been present at the drawing of the line between Kuwait and Iraq), his grandfather Lt-Col William Loch as ADC to six Viceroys. When Tam was three his grandfather Sir James Wilkie-Dalyell Bt died and his mother inherited the title (she is defined as a de jure baronetess) and the estate of the Binns, the handsome house outside Linlithgow built in 1621-30 by her seven-times-great-grandfather Thomas Dalyell, a butter merchant who accompanied James VI and I to London as one of his "hungrie Scottis" in 1603. The house's best-known owner was Tam's namesake, Thomas's son "Bluidy Tam" Dalyell, Charles II's general, "much feared for his cruelty and indifference to human life" (in the words of Walter Scott, Old Mortality). General Tam, who was incarcerated in the Tower of London but escaped, was said to roast people alive and play cards with the Devil. His giant boots are still to be seen at the Binns, which was given by Eleanor Dalyell in 1944 to the National Trust for Scotland, the first house to be received by the trust under the Country Houses Scheme.
Tam, an only child, was evacuated in 1939 with Edinburgh Academy Infants to a farm in Banffshire, where his appendix had to be taken out by the local vet (this accounted, he said, for his later "rather ungainly movement"), then sent in 1940 to Harecroft Hall, a prep school in Cumberland where one of his masters was the children's writer Geoffrey Trease. He went briefly to Edinburgh Academy, before going south to Eton, where he was Nicholas Ridley's fag (and Jacob Rothschild was his). He won a place at King's College, Cambridge, to read Mathematics (he changed in the event to History and Economics), but first did his National Service in the Royal Scots Greys, the regiment "Bluidy Tam" had raised in 1679. His experience as tank-crew in Germany in 1950-52 was decisive. First, his commanding officer, Lt-Col Douglas Stewart (a gold medallist horseman at the 1952 Olympics), arranged for his troops to visit Belsen. "His actions," Dalyell later wrote, "began the process by which I became an ardent European, determined that a European war should never happen again."
Second, his regimental sergeant major, Tarry Shaw, taught him a lesson about loyalty that he never forgot. As the only German-speaker in his cohort, he was deputed to buy coffee and cigarettes. "I was like a travelling merchant," he remembered. A lot of money was made, but one day he was picked up by the Military Police with his bulging Gladstone bag, and it looked as though he would be put on a criminal charge. ("You know," he would later say, "it's the first question they ask of a parliamentary candidate, Do you have a criminal record?") He might never have been an MP but for RSM Shaw. "You have been a bloody nutcase," said Shaw. "But you're our nutcase."
At Cambridge was born in him a particular reverence for scholarship, personified in such supervisors as Arthur Hibbert, Eric Hobsbawm, Noel Annan, Nicky Kaldor, Harry G Johnson and Joan Robinson. Apart from being active in Cuca, he was vice-president of the Cambridge Union to Giles Shaw, the future Conservative MP, and made many political friends for life. By the time he first stood for Parliament, in 1959, he had already been teaching at Bo'ness High School for three years (having done teachers' training at Moray House, Edinburgh). The Suez crisis of 1956 had altered his politics irrevocably and he contested Roxburgh, Selkirk and Peebles in the Labour interest, earning the party the highest vote it had ever had. After spending 15 months teaching on the British India ship-school Dunera (another formative experience: he was to write two books on the subject), he was offered the more winnable seat of West Lothian when the party's Deputy Chief Whip, John Taylor, died suddenly in 1962. The by-election, held during the Whit recess in May, was historic. Jeremy Bray, standing at the same time at Middlesbrough West, overturned a Conservative majority of 8,710. Dalyell, challenged for the first of a record seven times by the Scottish National Party candidate Billy Wolfe, saw the Conservative vote fall from 18,083 to 4,784. Humiliatingly, the Tories lost their deposit. Not for the last time, Tam Dalyell seemed the acceptable face of socialism. There is a touching photograph of Bray and Dalyell being greeted on their arrival at the House of Commons by George Brown, the Labour deputy leader, two insouciant and remarkably young-looking figures (Dalyell was 29).
Insouciant they may have been, but the Conservative Party was thrown into turmoil. In the butchery of 13 July 1962, the "Night of the Long Knives", Harold Macmillan sacked half his Cabinet ("the wrong half", Dalyell was fond of quoting Harold Wilson). The Chancellor of the Exchequer, Selwyn Lloyd, as well as the Lord Chancellor, Viscount Kilmuir, the Education Secretary, Sir David Eccles, and the Minister of Housing and Local Government, Charles Hill, were among the fallen. Dalyell was looked upon with some respect in the corridors of the Palace of Westminster. He was appointed to the Public Accounts Committee and served from 1962 to 1964 as secretary of the Labour Party Standing Conference on the Sciences, the laboratory of the new leader's white-hot technological revolution. It was Dalyell's interest in the sciences, and his habit of asking parliamentary questions on science policy, that attracted Richard Crossman to him when he was looking for a PPS after the return of Labour to government in 1964. Crossman was clever and extrovert but widely perceived as arrogant. The combination of the forward Wykehamist and the tentative, ever-civil Etonian was improbable, but, to the surprise of many, it worked.
Dalyell and his wife, Kathleen – the personable and sympathetic daughter of John Wheatley, a Scottish judge (ennobled in 1970), former Lord Advocate and Labour MP, whom he had married on Boxing Day 1963 – lodged with the Crossmans in London at their house in Vincent Square for 10 years. Crossman died aged 68, having prepared his Diaries for publication, in 1974. Dalyell's book Dick Crossman: a portrait, published 15 years later, is a frank and anecdotal record of a powerful and brilliant man he admired for his "brutal candour". If the Army gave Dalyell, as he alleged, his thick skin, the long nights of debate at Vincent Square gave him his political muscle.
The issues that this single-issue politician was most proud of, he said, were Aldabra and Lockerbie. Aldabra was the coral atoll in the Indian Ocean, the sanctuary of giant tortoises, the pink-footed booby and the flightless rail, which he saved in 1967 (the far reach of his lobbying extending to the White House – he claimed kinship with President Harry S Truman) from being turned into a military airstrip for the American base at Diego Garcia. After Pan Am flight 103 exploded over Lockerbie in December 1988 with the loss of 270 lives, Dalyell campaigned ceaselessly for a full inquiry – thwarted, as he saw it, by the eventual trial of two Libyans at a Scottish court in the Netherlands that began in 2000. Dalyell was proud, too, on a larger scale ("I am a Euro-fanatic"), of being one of the few Labour MPs to vote in 1971 in favour of entering the EEC. When in 1975 he was nominated as a Member of the European Parliament, some said it was to get rid of him, but he served there with relish for four years.
But the single issue with which he was most associated in the public mind was Scottish devolution. Tam Dalyell manned every barricade to prevent the establishing of a Scottish parliament from 1974, when the idea was first mooted, believing that such a concession would be a no-exit route to full independence; that it would lead to the breakdown of the United Kingdom. His leading role in the "Labour Vote No" campaign up to the first devolution referendum of March 1979 was seen by some, such as Roy Hattersley, as decisive in the fall of the government the same month. Dalyell's most cogent argument was what his friend Enoch Powell, another parliamentary stickler, immortalised as the "West Lothian question" (after Dalyell's constituency; the question kept its name even after, with boundary changes, he became MP for Linlithgow in 1983): why should a Scottish MP be entitled to vote on English matters when an English MP was unable to vote on Scottish matters (that were the province of a Scottish parliament)? With the inauguration of the Scottish Parliament in 1999, following a second referendum in which Dalyell was equally vociferous (to the unhappiness of his constituents), the question is still unanswered. Many Scottish MPs, for example, voted to ban hunting in England when hunting in Scotland had been none of their business. Dalyell himself consistently refused to vote on any such issue.
He was most obviously a member of the "awkward squad" when it came to overseas military deployment. Brought up in the Second World War, his politics shaped by Suez, he sought at all costs to avoid the waste of British lives, as he saw it, in the pursuit of the dubious foreign policies of the armchair elected. He was proud of having influenced Harold Wilson – by briefing the then head of MI6, Sir Maurice Oldfield – not to send a battalion of bagpipers to cheer the Americans in the Vietnam War. (President Lyndon Johnson had beseeched Wilson to send him token support.) Tony Blair, whom Dalyell came to despise, did not come well out of this comparison in the matter of President George W Bush and the invasion of Iraq. Dalyell opposed the Falklands War in 1982, and made it his mission to reveal the "lie" that he was convinced Margaret Thatcher had told over the sinking of the Argentine cruiser General Belgrano. (He was to be as assiduous in pursuing her over "lies" that she told over the vexatious affair of the Westland helicopter company from 1986.)
Had the Peru-brokered peace proposals backed by President Ronald Reagan been delivered to the British prime minister before she gave the orders to fire? He believed that they had, and that Thatcher ignored them because she wanted nothing short of a military victory, whatever the casualties. When Clive Ponting, a Ministry of Defence employee, was tried in 1985 for breaching the Official Secrets Act in sending Dalyell material helpful to his Belgrano case, the jury acquitted him, to Dalyell's delight, on the grounds that it was in the public interest.
Dalyell opposed the first Gulf war in 1990, as he opposed the second in 2004. He visited Iraq, as he visited Libya and other "rogue" regimes, in pursuit of diplomatic solutions. He believed that the international sanctions imposed on Saddam Hussein did nothing but bolster his position and demean his people. He supported the "Troops Out" movement in Northern Ireland in the 1970s, and opposed military intervention in the Balkans in the 1990s. He was relentless in his campaigning on these issues, travelling on missions, writing letters to the newspapers, putting down parliamentary questions. He was the author of a number of campaigning books, from The Case for Ship-Schools (1960) and Devolution: the end of Britain? (1977) to One Man's Falklands (1982), A Science Policy for Britain (1983) and Misrule: how Mrs Thatcher has misled Parliament from the sinking of the Belgrano to the Wright affair (1987).
The first obituary he wrote for The Independent was an ancillary piece on Lord Bowden, former Principal of Umist, in 1989. From then until his death he became a diligent and enthusiastic contributor, writing on a huge variety of subjects, from "heavyweight" scientists and politicians (of all ranks and stripes) to constituents with a remarkable war record. Civil servants, trade-unionists, teachers, university administrators (he himself was an active Chancellor of Edinburgh University) and Scottish grandees (the Duke of Atholl, the Marquess of Bute, Earl Cawdor, Cameron of Lochiel) took their place beside footballers, economists, miners, soldiers, airmen, historians, priests and church ministers, journalists, lawyers, engineers and businessmen, and the sheep-breeder, inspector of schools, gardener, forester, sculptor, jeweller, master plasterer, geneticist, chemist, botanist, biophysicist, ornithologist, police officer, bookseller, film director, geologist, ecologist, anthropologist, sherry taster, nuclear physicist, banker, traffic manager, graphic designer, diplomat, architect, astronomer, molecular biologist and GP. "I believe the dead have rights," Dalyell wrote in an introduction to Dick Crossman: a portrait, "and one of these rights is, where possible, the right of fair treatment by posterity and certainly by their friends. Those of us who remain have obligations to the dead."
He fulfilled these obligations by paying attention to the qualities and achievements of the departed and drawing both on his own extraordinary memory and the memory of others, in his phrase, "in a position to know". While he was no great stylist, his obituaries represent the best sort of historical witness, snapshots of a reputation by one who was there. He worked hard at them, and delivered them as often as not, in an old-fangled way as though he were an antique theatre reviewer, by telephone. If they have faults, it is because they were thus dictated: speaking very slowly, in that deliberate voice familiar from a thousand radio broadcasts, he tended to improvise his text from notes as he went along, and he was too trusting of his copytakers, and they, perhaps, too indulgent of him for, despite an apparent stiffness, he had a gift of instant rapport. Scotch expressions would be mysteriously debased in transmission, and proper names were a minefield. But he was nothing if not conscientious. "I'll drop everything," he would say, and deliver 3,500 words (as might be) on John Smith in three hours.
Many of his subjects were not, as is indeed true of most of those who appear on a newspaper obituary page, "in the public eye", and it was notable and touching the effect a Dalyell obituary had on the friends and survivors. He did his subjects justice. "As an issue politician myself," Tam Dalyell once wrote, "I can say that one of the nice things about the Labour movement is that it warms to its marathon runners." Dalyell was that unlikely animal, "an honest politician", in the words of his constituency chairman Allister Mackie; "awkward, stubborn but lovable", in the words of his minister, Richard Crossman. He ran a good marathon, and it was not only the Labour movement that warmed to him.
Thomas Loch (Tam Dalyell), politician: born Edinburgh 9 August 1932; MP (Labour) for West Lothian 1962-83, for Linlithgow 1983-2005; PPS to Richard Crossman 1964-65, 1966-70; succeeded 1972 as 11th Bt (confirmed by Privy Council 1973); MEP 1975-79; Father of the House of Commons 2001-05; Rector, Edinburgh University 2003-06; married 1963 Kathleen Wheatley (one son, one daughter); died 26 January 2017.
Register for free to continue reading
Registration is a free and easy way to support our truly independent journalism
By registering, you will also enjoy limited access to Premium articles, exclusive newsletters, commenting, and virtual events with our leading journalists
Already have an account? sign in
Join our new commenting forum
Join thought-provoking conversations, follow other Independent readers and see their replies