Tereska Torrès: War heroine and reluctant queen of lesbian pulp fiction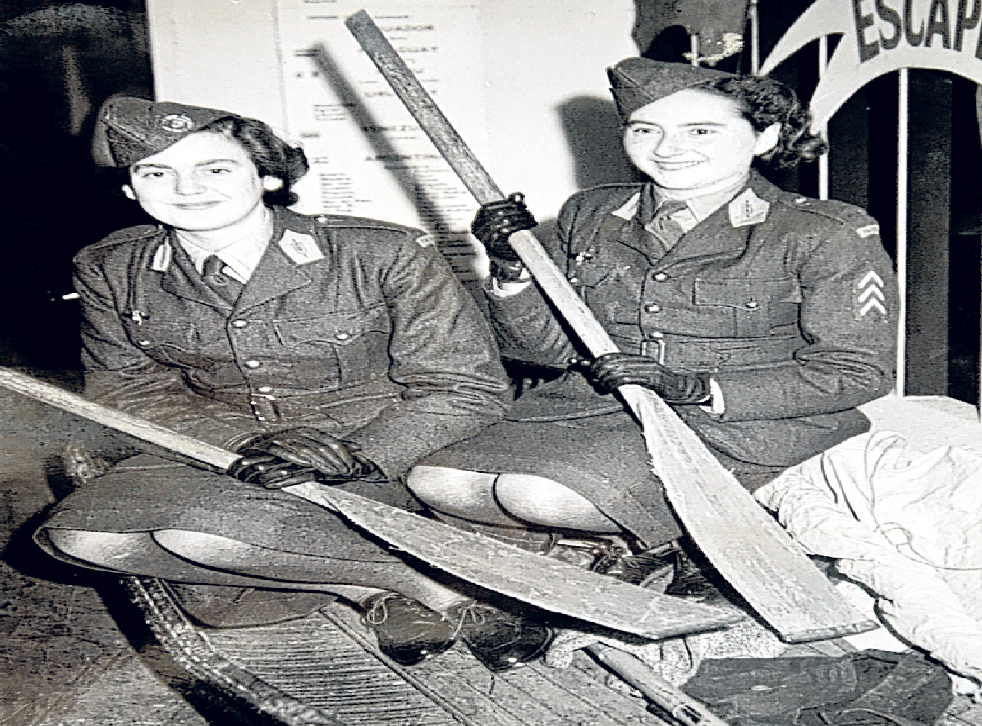 Some lives are so full that even nine decades seem too short to have contained them. Tereska Torrès was the last survivor of the small band of French women soldiers who joined Charles de Gaulle's Free French forces in London in 1940. She became a well-regarded novelist, a twice-married mother of three and a fighter of apparently hopeless causes. To the rest of the world she was, to her amusement and dismay, the mother of lesbian-erotic pulp fiction.
Torrès began her first published novel at the age of 17 and completely rewrote her best-known, or most notorious novel, Women's Barracks, at the age of 89. The book, describing the love affairs of five women soldiers in wartime London, sold 4,000,000 copies after it was published with a lurid cover in America in 1950. It went on to sell many more millions in 13 other countries. The novel was revived in the US 10 years ago as a "lost classic" which had broken the taboo on lesbian-themed popular literature.
"I look on the internet and I learn that I am the literary queen of the lesbians, the person who wrote the first lesbian, erotic pulp novel. I hate it. I hate it," Torrès told The Independent in 2007. "If you look at Women's Barracks, there are five main characters. Only one and a half of them can be considered a lesbian."
Two years ago, she rewrote the book into French, using additional material from her published diaries of wartime London. The diaries are one of the finest accounts – sadly never published in English – of what it felt like to be a young person working, clubbing and pubbing in London in 1940-41 as Luftwaffe bombs fell nearby (Une Française Libre: Journal 1939-1945, Phebus, 2000).
"For me, the real heroes of the war were London and the people of London," she used to delight in telling British visitors. "The city was as a strong as a bull."
Her first, brief marriage to a fellow French soldier, Georges Torrès, required prime-ministerial intervention. The young couple took a taxi to Downing Street in May 1944, three weeks before D-Day, to appeal in person to Winston Churchill for a special marriage licence. Clementine Churchill agreed to help.
A few days later, the Churchills sent a basket of hydrangeas to their wedding. Sadly, Georges was killed that October fighting with the Free French forces in Alsace, four months before the birth of their daughter, Dominique (now an award-winning French documentary film-maker).
After the war, Torrès married the American-jewish journalist and writer, Meyer Levin. They lived in Paris, New York and then Israel and had two sons, Gabriel Levin, now a poet and translator, and Mikael, a photographer. Meyer Levin, who died in 1981, claimed to have been the first person to recognise the literary and historic importance of the Diary of Anne Frank. His obsession with what he believed to be his ill-treatment by Anne's father, Otto Frank, was the subject of a darkly moving book by Tereska (Les Maisons Hantées de Meyer Levin, Phebus, 1974).
Tereska was born in Paris as Tereska Szwarc in 1920, the daughter of Marek and Guina Szwarc, émigré Polish Jews who had converted to Catholicism. Her father was a successful sculptor and painter.
In June 1940, Tereska, then aged 19, travelled through Spain and Portugal to join the small group of men and women who answered Charles de Gaulle's appeal to continue the fight against the Nazis from London. She said she did not hear de Gaulle's celebrated BBC radio broadcast and had never heard of this "obscure colonel". But she decided that she must go to London as soon as a friend told her about his appeal because of her "shame" at Marshall Philippe Pétain's surrender to the Germans.
She was enrolled into the women's section of the Free French forces, originally known, as she delighted in pointing out, as the "corps feminin" [female body]. Her first novel, Le sable et l'écume, begun when she was 17, was published in 1946. The book was a critical success but brought in little money. Hence the decision to write Women's Barracks, which was translated into English by Levin and sold to an American publisher of pulp novels. Torrès refused for more than half a century to allow it to be published in French because, she said, it gave the "wrong impression" of what the Free French forces were doing in London.
She wrote 16 books in all. Her last, published earlier this year, was Mission Secrète (Tallandier), an account of her daring campaign over two decades, first with Meyer Levin and then alone, to help the "black Jews" of Ethiopia to emigrate to Israel.
With her warmth, energy, bubbling curiosity and stinging wit, Tereska Torrès remained, almost to the end, startlingly young. When asked how she could rewrite in her late 80s a book that she had written in her early 20s, she said: "Oh, but I feel no different now. I am the same person. I find that I can easily think like a young woman."
She died in the same room in an artists' colony in Paris that had been her bedroom when she was six. Her daughter Dominique Torrès said: "Something very strange and moving happened in the minutes before she died. Two little girls from next door came to sit on her doorstep directly below her room. This was not at all their usual behaviour. The last sound that mummy heard was the sound of children laughing and singing where she had herself lived as a little girl in the 1920s. It was as if life had gone full circle."
Tereska Szwarc, author: born Paris 3 September 1920; married 1944 Georges Torrès (died 1944; one daughter), secondly Meyer Levin (died 1981; two sons); died Paris 20 September 2012.
Register for free to continue reading
Registration is a free and easy way to support our truly independent journalism
By registering, you will also enjoy limited access to Premium articles, exclusive newsletters, commenting, and virtual events with our leading journalists
Already have an account? sign in
Register for free to continue reading
Registration is a free and easy way to support our truly independent journalism
By registering, you will also enjoy limited access to Premium articles, exclusive newsletters, commenting, and virtual events with our leading journalists
Already have an account? sign in
Join our new commenting forum
Join thought-provoking conversations, follow other Independent readers and see their replies