Terry de Havilland: Shoe designer who counted the great and glamorous as clients
His hedonistic nature, cheeky personality and imaginative footwear made him a celebrity fixture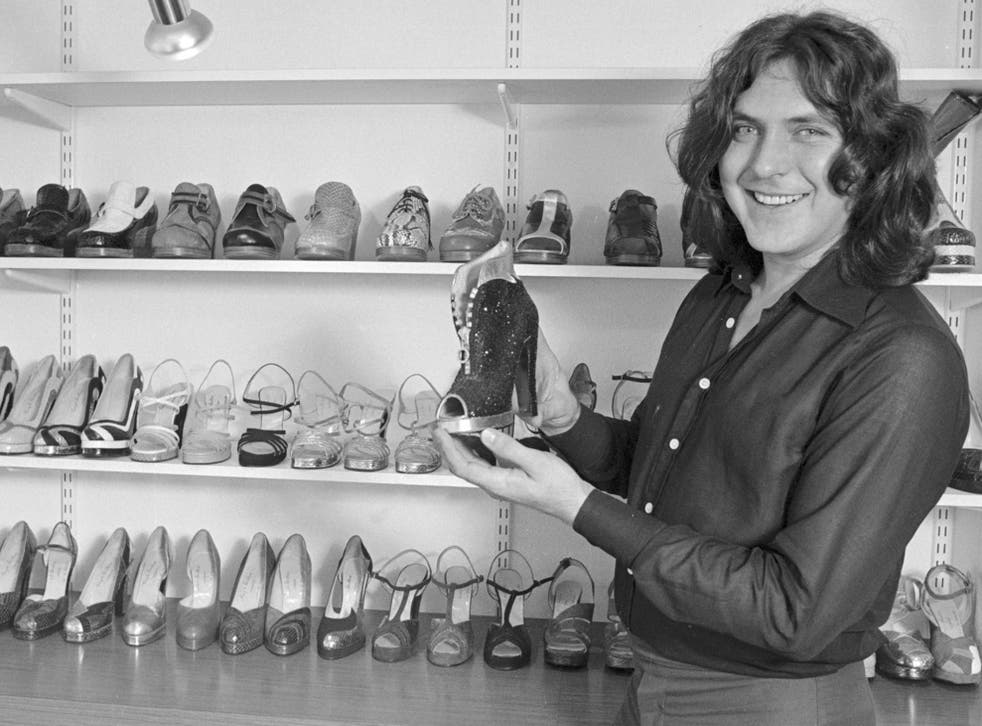 Terry de Havilland, "the rock'n'roll cobbler", was a shoe designer who managed to reinvent himself several times over the decades to appeal to successive generations, his highly imaginative and often erotic creations always stirring interest.
De Havilland, who has died aged 81, counted among his famous clients Cher, Bette Midler, Dita Von Teese, Twiggy, Rudolf Nureyev (python knee boots) and Jackie Onassis (black leather thigh boots lined in red satin with risque drawstrings). He created Tim Curry's platforms for The Rocky Horror Picture Show and 30 pairs of biker boots for Angelina Jolie's Tomb Raider.
Born Terrence Higgins in Barking, east London, to bespoke cobbler parents who ran a company that catered to wealthy West End clientele and showgirls, young Terry spent his infant years playing with leather scraps in their workshop. By the age of five he was helping them out with simple tasks.
He declined to follow his parents into the trade, changing his surname to De Havilland to pursue a career as an actor. Failing to become a star, he returned to the family business at the end of the 1950s: their winklepicker shoes were in high demand, being worn by the Krays and many other youths who fancied themselves as flash.
In 1964 De Havilland's then-girlfriend, the model Perin Lewis, was wearing a pair of his self-designed shoes, which caught the eye of the editor of Queen magazine. She featured them in the magazine, thus launching his career as a designer.
The timing was perfect: British rock music was storming the charts and London suddenly found itself swinging. De Havilland shoes were purchased by the "beautiful people" and, as the decade wore on and the drugs got stronger and fashions more permissive, his designs became increasingly outre.
Opening a store, Cobblers to the World, on the King's Road in 1972, De Havilland embraced excess all areas. His elevated platform boots would be the footwear of choice for the new British rock gods – glam stars Marc Bolan and David Bowie and heavy metal giants Led Zeppelin all strutted in them.
He would later note that he'd been inspired to create such shoes by his copious intake of LSD. His hedonistic nature and cheeky cockney personality won him plenty of famous friends and lovers. Enjoying being in the spotlight, however, was one of the reasons his businesses often failed: his shoes were much loved by the cognoscenti but he rarely produced a range for the new season and was indifferent to changes in popular culture. When punk swept all before it in the late 1970s, he suddenly found his shoes deemed old-fashioned.
De Havilland rose to the challenge in 1980 by setting up Kamikaze Shoes to design goth footwear and, for much of the rest of the century, would focus on producing footwear for the fetish scene. He met his third wife, Liz, when she was modelling fetish wear in 1990, and she also became his business partner, with her hard-headed approach lending structure to his creativity.
In 1997 the couple opened Cobblers to the World in Camden Stables Market, reinterpreting his 1970s creations with fetish touches. This led to commissions for films while the likes of Kate Moss and Lady Gaga loved to be seen in De Havillands.
A minor heart attack in 2001 resulted in the couple closing the Camden shop to focus on rebuilding the brand. After receiving a settlement from Prada, when the fashion house produced near copies of his Seventies platforms, De Havilland began licensing his classic designs while reinventing them for his own new creations. "If shoes don't flatter, I don't get it," he declared in a 2011 interview. "It's all about elegance."
He is survived by Liz and three adult sons from earlier relationships.
Terry de Havilland (Terrence Higgins), shoe designer, born 21 March 1938, died 27 November 2019
Join our new commenting forum
Join thought-provoking conversations, follow other Independent readers and see their replies