Terry Lightfoot: Clarinettist and Trad jazz pioneer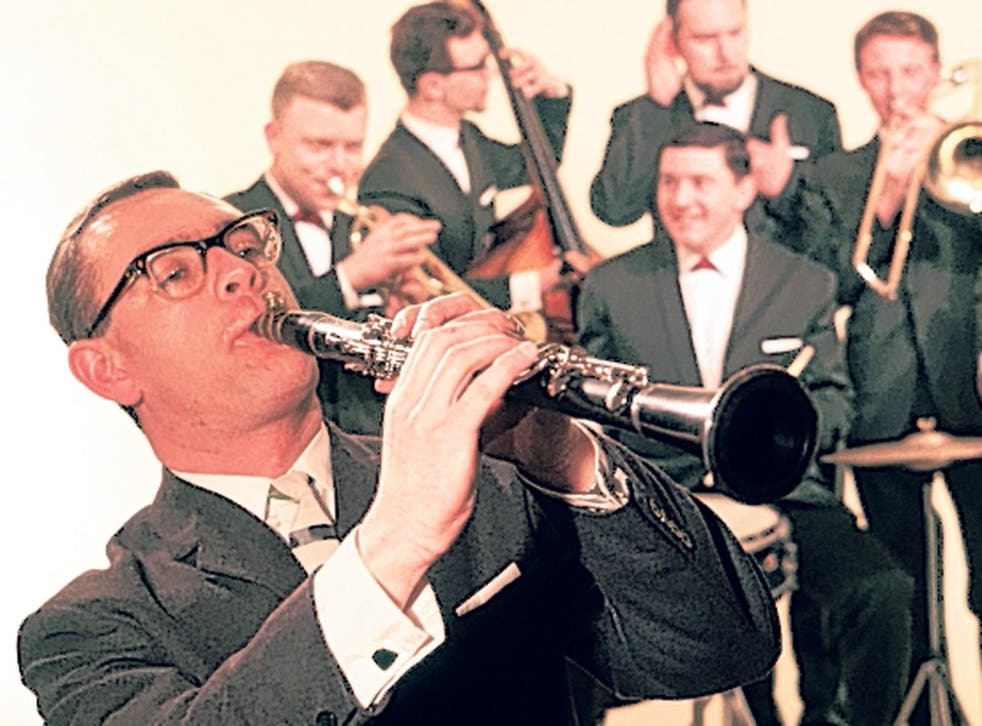 Just before the advent of Beatlemania in 1963, the musical crazes were the twist and related dances from America and bright and breezy tunes from British jazz bands, known as Trad. "We can be credited with being the first band to use the word Trad", claimed Terry Lightfoot, who formed his New Orleans Jazzmen in 1955, "Starting in 1959, we made a series of extended-play records which were called Trad, More Trad, Trad Again and Still Trad. I'm surprised we didn't do a Son Of Trad as well."
Terry Lightfoot was born in Potters Bar, Middlesex in 1935 and his brother Patrick (Paddy) two years later. They showed an aptitude for music with Terry playing piano and cornet before settling on clarinet in the school jazz band. Both he and Paddy, a banjo player, were in the Wood Green Stompers but Terry had to leave for national service in 1953. He played with fellow servicemen and appeared on the BBC's Forces Show.
In 1955 he formed Terry Lightfoot's New Orleans Jazzmen, turning professional within a year. They toured with variety shows supporting the American country star, Slim Whitman, and the rock'n'roll acts, Frankie Lymon and the Teenagers and Freddie Bell and the Bellboys. Lightfoot's personal highlight was playing UK dates with the New Orleans trombonist, Kid Ory, in 1959. The band recorded for Pye ("My Bucket's Got A Hole In It") and EMI's Columbia label ("I Saw Mommy Kissing Santa Claus").
Paddy joined his brother after his own national service and the band became a very popular touring act, well placed for success alongside Ball, Barber and Bilk in the Trad boom. Although jazz was associated with beards, sandals and duffle coats, all these bands were smartly dressed and Lightfoot looked a city gent in a neat suit and tie. One unusual record, "Slab's Blues", featured four clarinetists – Archie Semple, Terry Lightfoot, Acker Bilk and Sandy Brown.
In 1961, following Kenny Ball's lead with a frenetic "Samantha", they recorded another Cole Porter from High Society, "True Love", with Terry taking a gravel-voiced vocal. "It was a waltz originally and we put into 4/4" Lightfoot told me, "but we did that kind of thing all the time. We did a lot of standard jazz tunes like 'Dippermouth Blues' but we also did Chopin's "Polonaise in A major". We found that we couldn't play that in A, so we did it in B flat but I don't think anyone noticed."
The band's most successful single was with a tune from an African musical in the West End, "King Kong", written by Todd Matshikiza. They appeared on Granada TV's Trad With A Twist alongside Chubby Checker and had residences on both Morecambe and Wise's and Des O'Connor's first TV series. Their stage favourite, "Big Noise From Winnetka", was a popular single and they performed "Tavern In The Town" in Dick Lester's film It's Trad, Dad! (1962).
Lightfoot knew that the Trad boom would not last. "Jazz bands were almost totally acoustic," he reflected, "and to have an amplified instrument in a jazz band was almost unknown. I can remember playing for a dance at the Tower Ballroom in New Brighton and the Beatles were on with us. It was obvious that their music was going to have a hell of a big following although it was totally alien to me."
Paddy Lightfoot played with the band until 1961 and then joined Kenny Ball for 10 years. In 1966, Lightfoot disbanded his band and became a publican. He soon returned, joining Paddy with Kenny Ball for a year and then striking out on his own. The brothers played together in the 1970s and then became publicans of different pubs. Lightfoot returned to performing regularly in 1983 and featured his daughter Melinda as a vocalist.
Terence Lightfoot, clarinettist and bandleader: born Potters Bar, Middlesex 21 May 1935; married (three daughters); died 15 March 2013.
Join our new commenting forum
Join thought-provoking conversations, follow other Independent readers and see their replies