Terry Richards: Stuntman who battled four James Bonds, Luke Skywalker and Rambo and was famously shot dead by Indiana Jones
Anthony Hayward
Tuesday 08 July 2014 21:52 Comments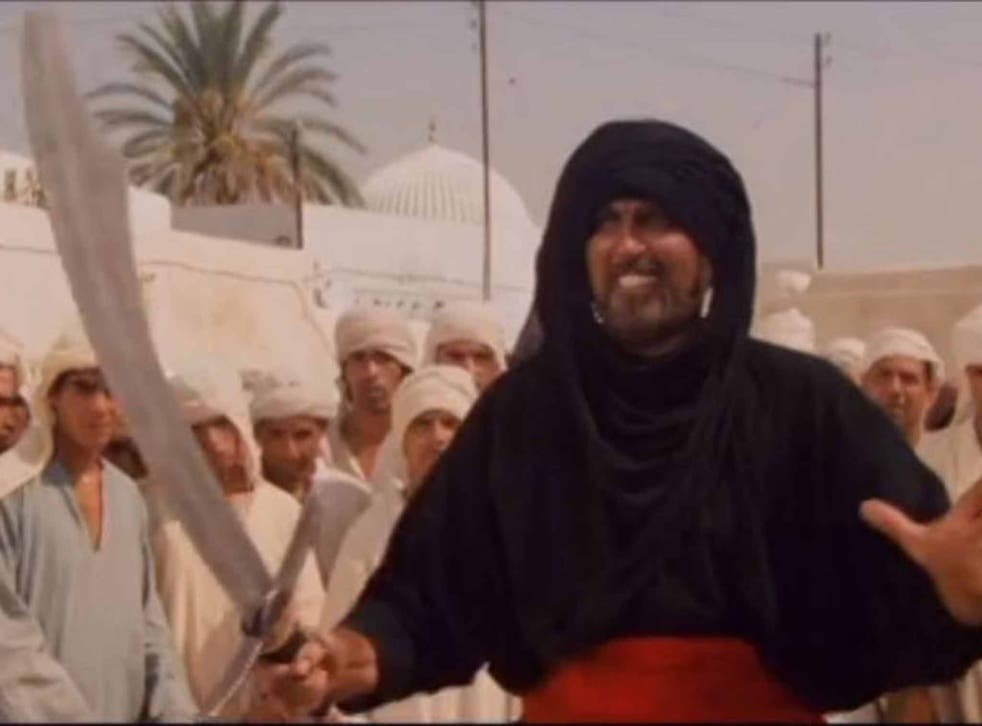 Film and television stunts can create a big impact on screen, but those who perform the daring routines never get fame in return for their sometimes death-defying antics. Terry Richards was one such stunt performer. He doubled for Christopher Lee, Donald Sutherland and Tom Selleck, and battled four James Bonds, Luke Skywalker, Rambo and Kevin Costner's Robin Hood, but he was known best as the unnamed scimitar-wielding Arab taking on Harrison Ford's Indiana Jones in Raiders of the Lost Ark (1981), the comic-book-style adventure brought to the screen by director Steven Spielberg and producer George Lucas.
However, the action sequence set in a Cairo marketplace but filmed in Tunisia was, to Richards' disappointment, remarkably short on the sword skills he had spent weeks learning. It was intended to run to several days' shooting, but Ford was grappling with dysentery and unable to spend more than 10 minutes at a time in front of the camera. So instead of a long-drawn-out duel between the bullwhip-wielding archaeologist and the swordsman from the Cairo underworld, it was decided that, after a short display of taunting the adventurer by twirling his weapon and juggling it from hand to hand, the black-robed Arab would be swiftly despatched with a gunshot. As a result, cinema audiences were given an unexpected laugh after the dramatic build-up.
"Probably the greatest contest for any part in the film was over this, because both Steven and George were convinced that you could throw a salami in the air and slice it into wafer-thin slices with a sword," Ford said. "But this guy had trained and trained and trained, and we had to tell him that he was gonna die." The large Arab was immortalised as a Lego character and Playboy magazine listed the sequence as No 5 in its all-time great film scenes.
Richards was born in south London of a Welsh father, George, a former Welsh Guard who was serving in the City of London Police, and an Irish mother, Catherine. During the Second World War he was evacuated to live with his grandmother in Wales.
On leaving school in London, Richards was briefly an apprentice in the printing industry and took jobs on building sites, before doing National Service in the Welsh Guards and spending six years as a steward in the Merchant Navy. In 1957, while working as a scaffolder, he started appearing in films after being tipped off by a former Army colleague about a company looking for extras with military training. With his 6ft 5in frame and good physical shape, he progressed to stunt work; his first job saw him falling off scaffolding in a riot scene.
He followed it with appearances, often in fight sequences, alongside Kirk Douglas in The Vikings (1958), Stanley Baker and Michael Caine in Zulu (1964), Lee Marvin and Charles Bronson in The Dirty Dozen (1967), and Richard Burton and Clint Eastwood in Where Eagles Dare (1968). Richards made his Bond début in From Russia with Love (1963), starring Sean Connery, and was in seven further 007 films, alongside Connery, George Lazenby, Roger Moore and Pierce Brosnan, as well as the 1967 spoof Casino Royale.
His other high-profile pictures included The Pink Panther Strikes Again (1976), The Wild Geese (1978), The Empire Strikes Back (1980), Superman II (1980), Brazil (1985), Red Sonja (1985) and Total Recall (1990), both alongside Arnold Schwarzenegger, The Princess Bride (1987), Indiana Jones and the Last Crusade (1989), reuniting him with Harrison Ford, Erik the Viking (1989) and Robin Hood: Prince of Thieves (1991). He had previously taught Ray Winstone, as Will Scarlet, to sword-fight for the television series Robin of Sherwood (1984-86). He was also in television programmes such as The Avengers (twice, 1967 and 1968), The Persuaders! (1971), The Protectors (1974), Boon (1989) and The Bill (1990).
Richards retired in 1999 after his final screen appearances, in the Bond films Tomorrow Never Dies (1997), in which he beats up Pierce Brosnan's 007 in a German recording studio, and The World Is Not Enough (1999). Alongside his film and television work, Richards appeared in jousting shows around the world as the Black Knight and spent more than 10 years in a medieval sword-fighting show at the Beefeater restaurant next to the Tower of London. He was a founder member in 1960 of the Stunt Register, which lists available performers and arrangers.
In 2012, Richards – who suffered nothing more than a broken cheekbone, wrist, ribs and sternum over the years – reflected on the changing art of stunt performing: "Now, it's all CGI," he said. "After a day's stunting when I was doing it, you really knew you'd done a day's work, covered in bruises. Now, they've got all this body armour that they can wear. It's a different ball game altogether."
David Terence Richards, stuntman and actor: born London 2 November 1932; married 1969 Adele Damon (marriage dissolved; one son, one daughter); died Ruislip 14 June 2014.
Register for free to continue reading
Registration is a free and easy way to support our truly independent journalism
By registering, you will also enjoy limited access to Premium articles, exclusive newsletters, commenting, and virtual events with our leading journalists
Already have an account? sign in
Join our new commenting forum
Join thought-provoking conversations, follow other Independent readers and see their replies